James Franco Receives Backlash After Being Cast as Fidel Castro in New Film
James Franco is receiving backlash online after he was cast as former Cuban President Fidel Castro in the new film Alina of Cuba.
The Pineapple Express star, 44, will star alongside Argentinian actress Mía Maestro, set to play Natalia Revuelta—Castro's mistress—and Ana Villafañe, who will portray Alina Fernández —their daughter.
Fernández is a Cuban anti-communist activist. The 66-year-old was a vocal critic of the Cuban government under her father and uncle's rule. She fled Cuba in 1993 and was granted political asylum in the United States, The New York Times reported at the time. Fidel Castro died at age 90 in 2016.
Following news of Franco's casting, fellow actors and industry professionals took to Twitter to share their reactions.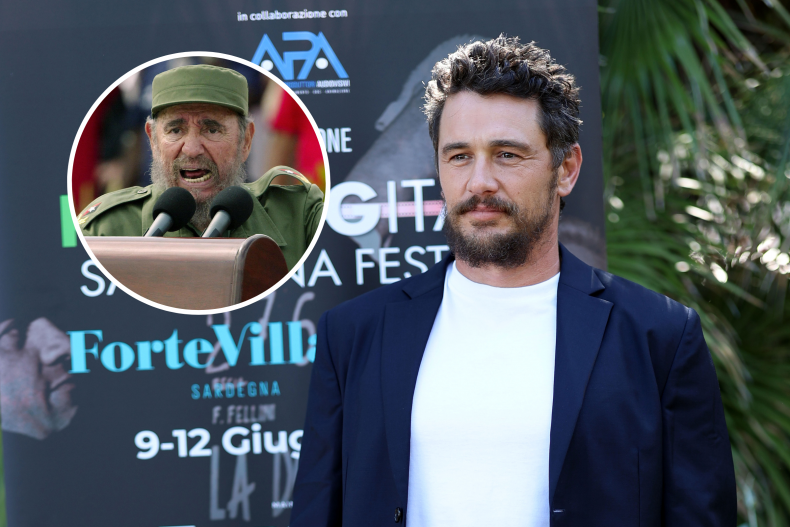 "So we're too white or too black or too whatever to play our own people, but James Franco can just waltz right in and no one producing that movie was like '….. uhhhh isn't this kinda f***ed up? Isn't James too white?' Nope. But we get told when and how we can play ourselves," Latino actor Jeff Torres tweeted on Friday, August 5.
"LMAO James Franco is making his big comeback by playing a Cuban dictator? While actual Latinx-led movies/TV shows get under-promoted and cancelled?" Latina writer Cat Cardenas wrote via her verified Twitter account. "You almost have to laugh!"
Lucia Suarez Sang, Director of Digital Content at Fox61 News, added: "But also... There are amazing Latino actors who would be a MUCH better fit than James Franco... pick one of them!"
"WTF bullshit is this?" actor Kirk Acevedo shared with his 225,000 followers. "How come non Latino actors get to play Latino roles and Latino actors can ONLY PLAY Latinos?!"
Argentinian-born star Sol Rodríguez agreed, writing: "Not me reading that James Franco will have to 'build' an accent for Castro, when my entire life I've been made fun of for not speaking English like an American and been told countless times to work hard to get rid of it..."
"Shoutout to our Latin American movie star James Franco," said Erick Galindo, Telly Award-winning writer, director and producer known for The Mexican Beverly Hills.
Others, meanwhile, referred to the sexual assault allegations made against Franco.
"'You know what will get them to stop talking about the sexual misconduct stuff? Brownface!'—James Franco's publicist, probably," reporter Glenn Garner posted.
In an article published by The Los Angeles Times in January 2018, Franco was accused of sexually inappropriate behavior by five women, four of whom were his acting students. Franco settled the case in February 2021, agreeing to pay $2.2 million.
In December 2021, the Columbia University graduate spoke out about the claims made against him.
"In 2018, there were some complaints about me and an article about me and, at that moment I just thought, 'I'm gonna be quiet. I'm gonna be, I'm gonna pause.' Did not seem like the right time to say anything," he recalled on SiriusXM's The Jess Cagle Podcast. "There were people that were upset with me and I needed to listen."
The 127 Hours actor added that he's "been doing a lot of work" since then and revealed he struggled with sex addiction for years after tackling alcohol problems.
"I did sleep with students," the Palo Alto, California native confessed.
"Over the course of my teaching, I did sleep with students, and that was wrong. But like I said, it's not why I started the school and I wasn't the person that selected the people to be in the class. So it wasn't a 'master plan' on my part," he continued. "But yes, there were certain instances where, you know what, I was in a consensual thing with a student and I shouldn't have been."
The Eat, Pray, Love alum opened his acting school Playhouse West Studio 4 in 2014. It closed in 2017.
Franco has not addressed the casting backlash. Newsweek has contacted his representative for comment.