Jamie Lynn Spears Says Britney's 'Accusatory' Posts Have Sparked 'Death Threats'
Britney Spears' estranged sister, Jamie Lynn Spears, has accused the star of sparking death threats toward her family through "accusatory" social media posts.
The Spears siblings addressed one another on social media on Thursday, following claims Jamie Lynn Spears, 30, has made about her big sister in her new memoir, Things I Should Have Said.
After "Toxic" singer Britney Spears, 40, took to Twitter to lash out at her sister's recent appearance on Good Morning America, where she promoted the book, the younger Spears sister said on Instagram that she and her family have faced threats.
"Quite frankly, the things being said are absolutely not the truth," the mother of two wrote, "and I have to clarify that, because now it's getting harder for me to rationalize to my oldest daughter why our family continues to get death threats, as a result of their aunt's vague and accusatory posts, especially when we know she could tell the truth, and put an end to all of it in one second if she wanted to.
"Sadly, after a lifetime of staying silent, I have come to realize this isn't going to be a reality, and I may have to set the record straight myself in order to protect mine and my family's well being."
Concluding her post, in which she insisted that her book "is not about" her sister, Jamie Lynn Spears wrote: "There are no sides, and I don't want drama, but I'm speaking my truth to heal my traumas, so I can close this chapter and move forward, and I wish my sister could do the same.
"No matter what comes, I will always love my big sister, and be here for her. It's time to put an end to the unhealthy chaos that has controlled my life for so long."
In her book, Jamie Lynn Spears shared her account of her sister's mental health struggles, which led to her being placed under a conservatorship—with her personal and financial decisions being taken out of her hands—for almost 14 years.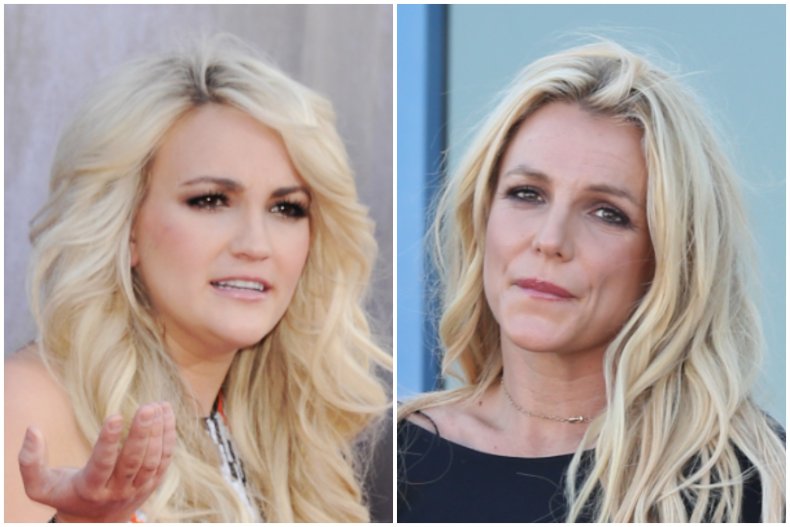 Discussing one argument she had with her famous sister, Jamie Lynn Spears said in her Good Morning America interview, which aired on Wednesday: "She cursed at me and so I just walked out of the room. I was like, we're just all family under one roof. I'm not trying to argue.
"And when I try to remove myself from the situation, that's when I guess she just got really angry and my oldest daughter tried to, you know, mediate the situation, I hated that, like, that's not what you're supposed to do, you're 12."
Hitting back in her own statement on Twitter, Britney Spears wrote: "The 2 things that did bother me that my sister said was how my behavior was out of control. She was never around me much 15 years ago at that time... so why are they even talking about that unless she wants to sell a book at my expense ??? REALLY ???"
Elsewhere in her post, Britney Spears said that her family had "ruined my dreams 100 billion percent and try to make me look like the crazy one."
"My family loves to pull me down and hurt me always so I am disgusted with them!!!" the mother of two went on.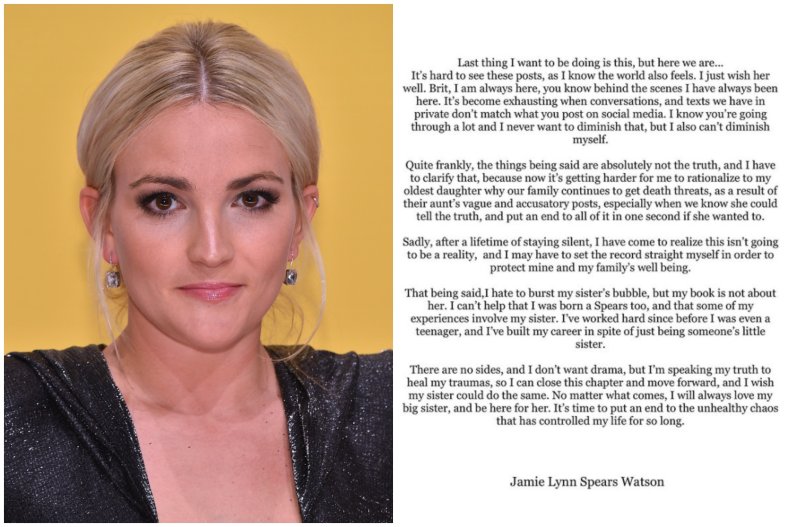 The sisters' bad blood has received much attention in recent months, with Britney Spears criticizing her younger sibling in a number of social media posts.
Back in October, after Jamie Lynn Spears unveiled the cover for her book, Britney Spears appeared to take a swipe in an Instagram post.
She wrote, in part: "Psssssss also great news ... I'm thinking of releasing a book 📚 next year 😜 but I'm having issues coming up with a title so maybe my fans could help !!!!
"Option #1 ... 'S***, I really don't know' Option #2 ... 'I really care what people think' 😂🙄🤷🏼‍♀️ !!!!' What do you guys think 🤔🤔🤔 ????"
Jamie Lynn Spears' book was originally set to be named I Must Confess: Family, Fame, and Figuring It Out, drawing a line from Britney Spears' debut hit single "... Baby One More Time." It was changed soon after the working title was leaked.
The younger Spears sibling faced further controversy ahead of the book's release, when mental health charity This is My Brave, to which she had planned to donate the proceeds from her book, rejected her offer.
Britney Spears fans commented on the charity's page in droves, pointing out the singer's claims that her family was complicit in her controversial conservatorship, which was officially dissolved in November.
For her part, Jamie Lynn Spears said of the conservatorship in her Good Morning America interview this week: "First off, I don't understand what it was [that was] put into place. I was 17 years old, I was about to have a baby.
"So I didn't understand what was happening. Nor was I focused on that. I was focused on the fact that I was 17 and about to have a baby. I understand just as little about it then as I do now."