Jamie Raskin: Executive Privilege Is Not for Peter Navarro To 'Plot Coups'
Rep. Jamie Raskin said executive privilege dos not apply to those who "plot coups or organize insurrections"—as the House committee investigating the January 6 assault on the U.S. Capitol voted to hold former Trump advisers Peter Navarro and Dan Scavino in contempt of Congress.
On Monday, the panel voted 9-0 in favor of referring criminal charges for Navarro, former president Donald Trump's trade adviser, and Scavino, a White House communications aide under Trump, for their refusal to comply with subpoenas.
Navarro was subpoenaed for his testimony in early February, and the panel wants to question him about his role in efforts to overturn the results of the 2020 presidential election. But he has repeatedly rebuffed the panel and cited executive privilege as the reason for not cooperating.
The Biden administration has denied claims from him, Scavino and former national security adviser Michael Flynn, saying an assertion of executive privilege was not justified or in the national interest.
The recommendation of criminal charges now goes to the full House, and if approved there, the charges would be sent to the Justice Department, which has the final say on prosecution.
In impassioned remarks during Monday's meeting, Raskin slammed Navarro's claims of executive privilege, saying Trump has not invoked privilege and President Joe Biden would not allow him to use it.
"There is plainly no assertion of executive privilege here, either by the actual president or by any former president," the Maryland Democrat said.
" And even if there were, even if President Biden tried to assert executive privilege for Peter Navarro, it would fail immediately because the privilege does not apply to private political business, much less to criminal activity, like conducting coups or insurrections against the government."
The privilege applies "only to professional speech on government policy by advisers rendering confidential advice on matters within their domain of professional responsibility," Raskin noted.
"Now, Peter Navarro was the White House trade adviser. It was not within his job description to overthrow presidential elections, coerce vice presidents into abandoning their constitutional responsibilities or impose counterfeit regimes in place of the U.S. Constitution."
He continued: "We are not seeking documents or testimony from Navarro related to his official duties as trade adviser and indeed on a press call to announce release of his outlandish and cartoonish three-part report on outright fraud in the 2020 election on his personal website, Navarro acknowledged publicly that he was writing as a private citizen and not as a federal government official.
"So, please spare us the nonsense talk about executive privilege, rejected now by every court that has looked at it.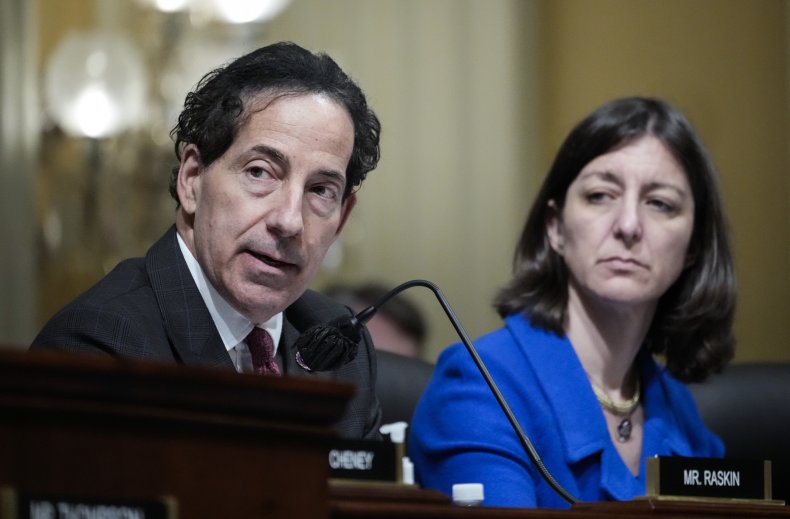 "This is America. And there's no executive privilege here for presidents, much less trade advisers, to plot coups and organize insurrections against the people's government in the people's Constitution, and then to cover up the evidence of their crimes. The courts aren't buying it and neither are we."
Raskin said Navarro continues "to spread the big lie that Trump won" and "makes noises about the next insurrection."
He concluded: "We are fighting to defend the institutions and values of democracy at home against coup plotters and insurrectionists and we are supporting other democracies around the world under siege by autocrats and kleptocrats, bullies and despots. We are on the side of the people of Ukraine against Vladimir Putin, who is not a genius, but a mass murderer. And we stand strong on the side of democracy, freedom, the Constitution and the rule of law against people who smashed our police officers in the face with Confederate battle flags and tried to cancel out the results of our presidential election.
"These two men are in contempt of Congress, and we will cite them both for their brazen disregard for their duties and for our laws and our institutions."
In a statement on Monday night, Navarro said the select committee's "witch hunt is predicated on the ridiculous legal premise that Joe Biden can waive Donald Trump's executive privilege.
"The Supreme Court will say otherwise when the time comes—as it surely must—and the DOJ [Department of Justice] knows such nonsense would gut Executive Privilege and the critical role it plays in effective presidential decision making."
Navarro and Scavino have been contacted for comment.