Jamie Spears' Lawyer Denies Britney's Birth Control Claims
The lawyer representing Britney Spears' father, Jamie Spears in the ongoing conservatorship battle, has denied the pop star's claims that she was forced to stay on birth control despite expressing wishes to have a baby.
The 39-year-old pop star first spoke of being on birth control while under her court-appointed conservatorship in June, when she said that under her father's ruling, she was required to be fitted with a contraceptive intrauterine device (IUD).
An IUD is a small coil inserted into the womb to prevent pregnancy. It can only be removed by a health care provider.
Spears said during her bombshell 24-minute testimony on June 24: "I would like to progressively move forward and I want to have the real deal, I want to be able to get married and have a baby.
"I was told right now in the conservatorship, I'm not able to get married or have a baby, I have an IUD inside of myself right now so I don't get pregnant.
"I wanted to take the IUD out so I could start trying to have another baby. But this so-called team won't let me go to the doctor to take it out because they don't want me to have children—any more children."
She added: "So, basically, this conservatorship is doing me way more harm than good."
However, in court on Wednesday, the attorney for Jamie Spears, Vivian Throeen, denied this, saying that the singer can make her own medical decisions.
"I'm not sure Miss Spears understands she can make medical decisions and have birth control implanted or not," Thoreen said.
On Wednesday, Britney Spears spoke in court again where she told judge Brenda Penny she wants her father charged with conservatorship abuse.
"I want to charge my father with conservatorship abuse after he broke down the door and shook my son," she said, citing a 2019 incident in which Jamie Spears shook his 13-year-old grandson, Sean Preston.
She said she would be happy to allow co-conservator Jodi Montgomery to remain in the meantime.
"My dad needs to be removed today and I will be happy with Jodi helping me," she said.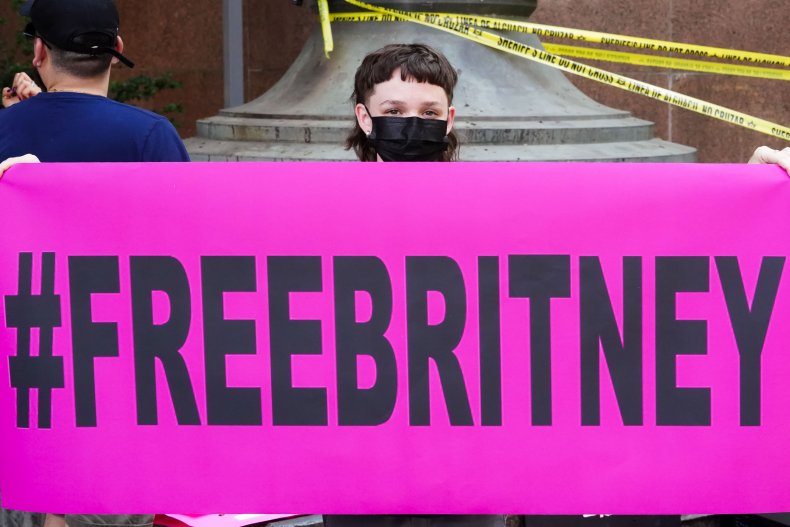 Spears went on to say: "This conservatorship has allowed my dad to ruin my life," Britney said.
Thoreen responded to say that the pop star was "misinformed" and made "misstatements" both in this hearing and the last
She also said she has a "lack of understanding and lack of recollection."
Addressing claims made by Britney Spears, including the IUD claim, Thoreen said: "These are serious claims that need to be vetted," and added: "I'm not sure Miss Spears understands she can make medical decisions and have birth control implanted or not."
Wednesday's hearing saw Spears granted permission to appoint her own lawyer and she will now be represented by Matthew Rosengart.