Jan. 6 Rioters' Testimony 'Certainly Incriminating' Trump: Glenn Kirschner
Former U.S. Army prosecutor Glenn Kirschner assessed that testimony from Capitol rioters saying they were following Donald Trump's orders is "certainly incriminating" for the former president.
Several people who have been arrested for their involvement with the January 6, 2021, attack against the federal legislative branch of government have said in court that they believed they were doing the bidding of then-President Trump. "If the president's giving you almost an order to do something, I felt obligated to do that," Capitol rioter Dustin Thompson, 38, of Ohio, said in court before he was convicted on all charges by a grand jury on Thursday.
Kirschner, who now works as a legal analyst for MSNBC and NBC News, gave his assessment of Thompson's trial and the implications it could have for the former president in a video uploaded to YouTube shortly after the jury handed down its verdict. The attorney said it was a "pretty good day for justice."
The former Army prosecutor, who has repeatedly called for Trump's indictment, laid out the argument made by Thompson and other January 6, 2021 defendants. Kirschner explained that Thompson is not the only rioter who said they were acting on what they believed to be Trump's orders.
"I only did this because Donald Trump told me to, because he convinced me that my vote was stolen," the lawyer explained rioters have said. "So why would I not act on his command to go stop the steal? To 'fight like hell' or I won't have a country anymore?"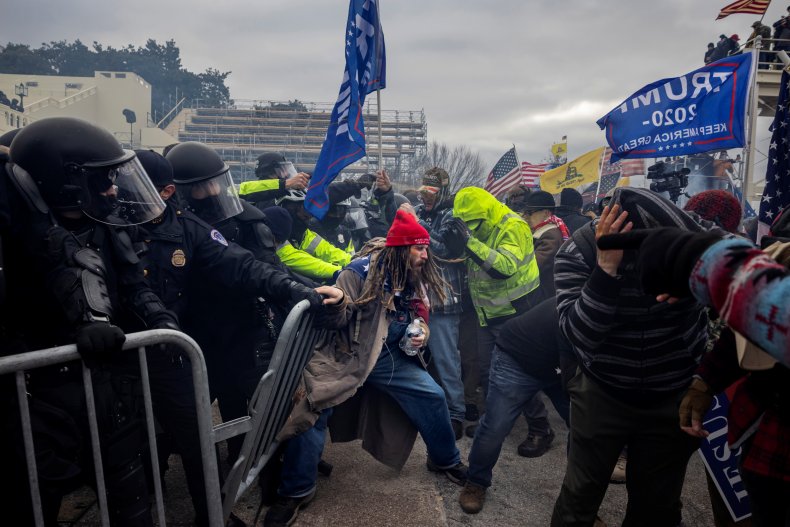 Kirschner said that "when Donald Trump is indicted" these testimonies from Capitol rioters should be used against him by the prosecutor. He said that this could "prove to a jury—with witness after witness after witness—that Donald Trump is the reason these people marched on the Capitol and tried to stop the certification of [President] Joe Biden's win."
"Because Donald Trump told them to," the attorney continued. "Not a defense to their conduct, but it's certainly incriminating of Donald Trump. It is certainly evidence that he incited this insurrection. No two ways about that."
As Kirschner noted, other Capitol rioters have made similar arguments to that of Thompson.
"The boss of the country said, 'People of the country, come on down, let people know what you think,'" Michael Scibetta, a defense lawyer for Dominic Pezzola, a member of the Proud Boys extremist group, told Reuters in February 2021. "The logical thinking was, 'He invited us down.'"
"I believed I was following the instructions of former President Trump," Garret Miller previously told ABC News in a statement through his lawyer about his actions on January 6, 2021. "I also left Washington and started back to Texas immediately after President Trump asked us to go home."
Another Capitol rioter, Robert Bauer, told FBI agents in an interview that he "marched to the U.S. Capitol because President Trump said to do so."
Jenna Ryan, a Texas real estate broker, told KTVT shortly after the riot that she "deserved" a pardon from Trump. Ryan explained that she believed she was doing her "patriotic duty" and thought she was following the president's call to action.
"I was doing what he asked me to do," Ryan said. "I would like a pardon from the president of the United States. I think that we all deserve a pardon."
Whether these arguments from those involved with the January 6, 2021, attack will ever result in action against Trump remains to be seen. Some legal experts have urged the Justice Department to hold the former president accountable—particularly as he continues to spread lies about the 2020 election and tease the possibility of another White House campaign in 2024.
The hundreds of Trump supporters who attacked the Capitol were allegedly animated by his false claims that Biden only won the election due to widespread voter fraud. At a large rally in Washington, D.C., just ahead of the assault, Trump told his supporters to walk to the Capitol and to "fight like hell" in order to save their country. The former president has denied inciting the ensuing violence, while also contending that the rioters are being treated "very unfairly."
Despite Trump's and his allies' allegations, no evidence has emerged corroborating the claim that the 2020 election was "rigged" or "stolen." To the contrary, more than 60 election challenge lawsuits filed by Trump and his supporters failed in state and federal courts. Even judges Trump appointed dismissed the allegations. Audits and recounts across the country, including in state's where the election was overseen by pro-Trump conservatives, have consistently reaffirmed Biden's win.
Former Attorney General William Barr, who was widely viewed as one of Trump's most loyal Cabinet members, has said repeatedly that there is "no evidence" to support claims of widespread voter fraud being behind Trump's loss. Barr wrote in his memoir published in March that he told the former president directly to his face that the claims were "bulls**t."
"You know, I think our democracy is in trouble," Judge Reggie Walton, the federal judge who oversaw Thompson's trial, said in court on Thursday. "Because unfortunately, we have charlatans like our former president, who doesn't in my view really care about democracy, but only about power. And as a result of that, it's tearing this country apart."
"I have a concern that we have, unfortunately, American citizens who were so gullible that they were willing to accept what was being said without any proof that the allegations about the election had any merit whatsoever," he warned.
Newsweek reached out to Trump's press office for comment.