Japan Issues 'Severe Protest' After U.S. F-16 Drops 'Simulated' Bomb on Private Land
Japan is demanding answers after a U.S. F-16 fighter jet dropped a practice bomb on private property miles away from a joint U.S.-Japanese airbase, the latest incident in a long, troubled history regarding the large U.S. deployment to its top Asia-Pacific ally.
While no injuries were reported, a perceived lack of transparency and the potential for grave harm nevertheless provoked tensions between the Aomori province and the central government in Tokyo.
The event occurred Wednesday, about three miles from the Misawa Air Base in Aomori, but the U.S. military reportedly did not notify the Japanese side until the following day, eliciting further anger from the local community and questions from the media.
"We immediately issued a severe protest against the U.S. side and requested to be provided with further information and effective measures to prevent any recurrence," Defense Minister Kono Taro told reporters at a press conference. "Training involving simulated munitions will be suspended for the time being. The mock munition was recovered and, fortunately, no one was injured, but I think it is a very serious incident."
He denied speculation that an effort was made to cover up the incident, arguing that "local understanding is a major premise for maintaining and strengthening the Japan-U.S. alliance and for the stable presence of U.S. forces in Japan." Kono said that "the first step is to provide this information, and at the same time, it is important that safety is given maximum consideration and that no accidents occur."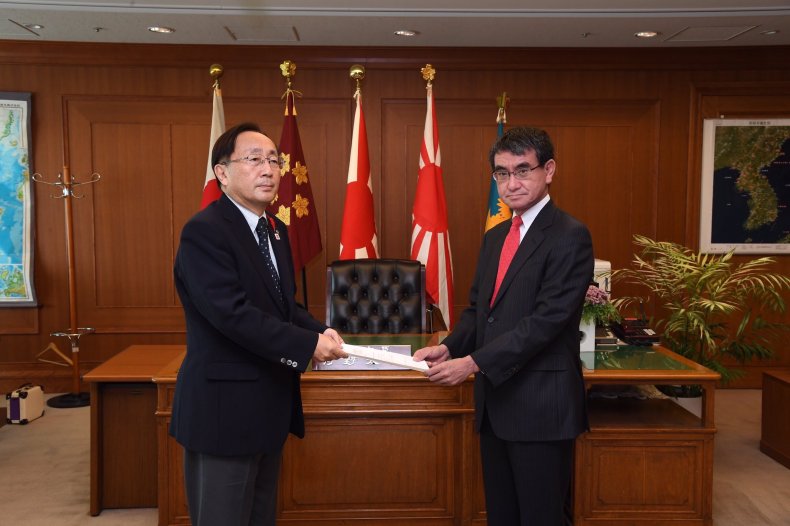 Aomori Governor Mimura Shingo met later Friday with Kono to express local concern, leading the minister to apologize for the delay in government response. He told Mimura that the roughly 500-pound unarmed device "was very heavy, so it could have caused a major accident," according to the Mainichi newspaper.
"It will cause great concern among people in the prefecture and amplify distrust of the safety management of U.S. forces," Mimura told Kono.
The U.S. Air Force offered its own account of the incident in a statement issued Thursday and attributed to the 35th Fighter Wing Public Affairs.
"An F-16 Fighting Falcon stationed at Misawa Air Base released a training device 5 Kilometers off from the designated training range late Wednesday. The device is an inert object and there are no reports of damage or injuries. The cause of the incident is still under investigation," the statement said. "The 35th Fighter Wing takes the safety and security of our host-nation and local community very seriously."
"We have suspended dropping inert objects as part of our training sorties until further notice and we are working with the appropriate parties to recover the device," it added. "We are committed to performing our mission in a responsible manner and we will work with the Japanese community to ensure the well-being of our counter-parts."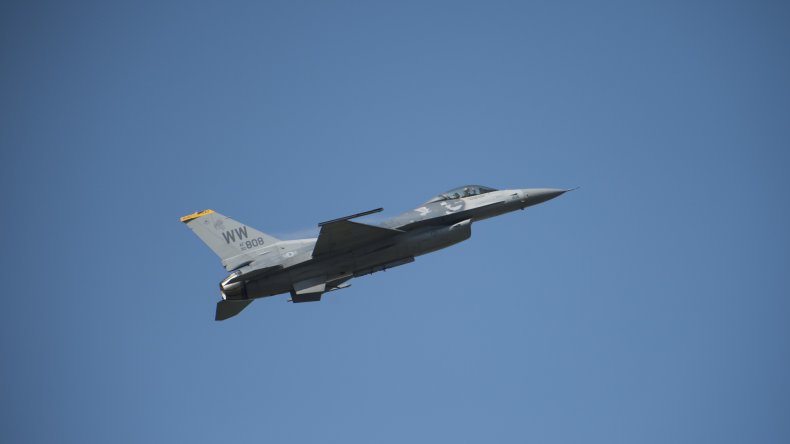 The U.S. has maintained a constant, extensive military presence in Japan since defeating the country in World War II, much of it in Okinawa province. While Washington and Tokyo have maintained a robust alliance in the decades since, scores of accidents and crimes involving U.S. personnel have brought controversy to this deployment and alienated local communities.
In addition to the frequent falling of equipment from aircraft and occasional misbehavior⁠—often involving alcohol, U.S. personnel have been implicated in a number of assaults, rapes and murders targeting Japanese citizens over the years.
Still, the U.S. and Japan view the placement of these personnel as vital toward maintaining a powerful posture in the face of perceived threats posed by the likes of North Korea, China and Russia. Both Washington and Tokyo have argued they actively try to foster relations between U.S. military personnel and Japanese locals.
One Japanese government official told Newsweek in September that many local communities "have very good relationships with the commanders of these bases," where activities such as English classes and sporting events are sometimes held. Asked about the protocol regarding incidents between U.S. military personnel and Japanese citizens, the official simply said: "When something happens that shouldn't, we have to request that they prevent that from happening."