The first family batted away accusations that President Donald Trump abused his power by forcing through top-secret security clearances for daughter Ivanka Trump and her husband, Jared Kushner, despite protests from senior White House and intelligence officials.
As the scandal rumbled on, critics asked why Ivanka and Jared would need top-secret clearance in their roles as senior advisers to the president, and, given concerns that their private business dealings might pose conflicts of interest, whether they should be trusted with such sensitive material.
Kushner was the first of the power couple to come under scrutiny. The New York Times reported last week that Trump had personally pushed through his security clearance despite objections from then-Chief of Staff John Kelly and then-White House Counsel Don McGahn.
Kelly was reportedly so concerned over the pressure applied by the president that he wrote an internal memo outlining his opposition to the decision. Regardless, Kushner secured his top-secret security clearance.
Days after this story appeared, CNN reported that Ivanka Trump had been given the same treatment, once again despite the warnings of senior White House and intelligence staff. Earlier this month, the first daughter told ABC News that her father had "zero" influence in securing her clearance.
Both Kushner and Ivanka Trump have been accused of improper business dealings and murky quid pro quo relationships with foreign governments. Donald Trump and his family have been accused of using the presidency to enrich themselves, and House Democrats have begun to investigate alleged improper conduct that reportedly ran rampant during the campaign and since the president took office.
Though the president's actions may constitute an abuse of power, how concerned should Americans be that Jared and Ivanka have top-secret clearance?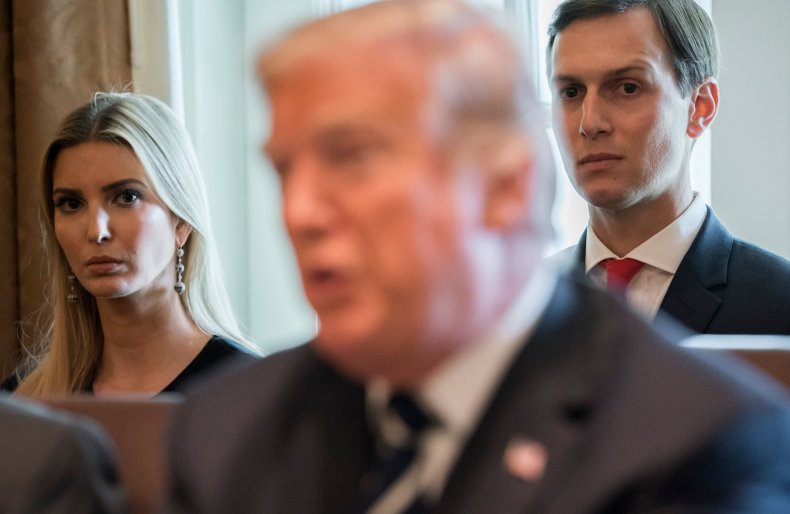 Bradley Moss, a partner at the Washington, D.C., law office of Mark S. Zaid, P.C., and an expert whose specialties include national security and security clearance law, told Newsweek that top-secret clearance did not necessarily give the couple free-rein access to America's most potent secrets.
The status "does not mean you have a need to know all information classified up to that level," Moss said. "Your specific need-to-know information will be based upon your particular work responsibilities and requirements. Classified information is classified information, whether it concerns foreign affairs, economic matters or military matters."
While top secret is, technically, the very highest level of classification, Moss emphasized that there were additional "compartmentalized levels of access" sometimes put above top secret, known as Sensitive Compartmented Information and Special Access Programs.
Some observers have questioned whether Kushner and Ivanka Trump even need such high-level clearance. But the nuanced day-to-day business of the White House means that some senior officials must be able to handle classified information.
Moss explained, "The press secretary needs to be able to sit in on and provide input on policy matters, including with respect to foreign policy. Senior advisers with 'walk-in' privileges to the Oval Office need to be able to execute that privilege without concern for what particular meeting might be going on or documents might be visible at the time.
"Ultimately, the level of access to which you are granted eligibility is supposed to be based upon the specific requirements of your position," Moss said.
Regardless of their requirements, Aileen B. Xenakis—an associate counsel at Washington, D.C., law firm Bigley Ranish, LLP, which specializes in security clearance matters—told Newsweek, "Politics—whichever side of the aisle one is on—have no business being tied up in the security clearance process."
"The American public needs to be able to trust in the integrity of the adjudications process," Xenakis added. "We all need to feel secure that objective professionals will adjudicate these cases based on the facts and the governing policy—not based on any bias, or on an outlier source like family connections or even on the undue influence of, for example, a powerful commander insisting that someone particularly skilled needs to get back to work ASAP.
"Naturally, the integrity of the adjudications process is dependent upon the idea that security officials are acting without their own improper motivations or biases," Xenakis explained. "Ultimately, the question remains whether the president should intervene, rather than whether he has the authority to do so."
Potential foreign influence is a key factor in decisions regarding security-clearance approvals. For Kushner, this poses a significant problem.
Trump's son-in-law has built an extensive web of foreign connections, which is now of serious concern to lawmakers, particularly Saudi Arabia. The 38-year-old is known to be close to Saudi Crown Prince Mohammed bin Salman, who is alleged to have ordered the murder of Washington Post columnist and Saudi dissident Jamal Khashoggi in Istanbul last year.
Last week, Kushner traveled to Saudi Arabia to meet with Salman for the first time since Khashoggi's murder. It is not known what the two discussed, and embassy staff has reported being shut out of meetings during his trip.
Last year, Salman reportedly bragged that Kushner was "in his pocket" after having been given classified information by the president's son-in-law, according to The Post, though the crown prince has denied this ever happened. The material allegedly pertained to wealthy Saudi royals opposed to the ruling regime, many of whom were eventually arrested and allegedly tortured into compliance.
Kushner has also built contacts in Qatar, the United Arab Emirates and China—among other countries—as part of his efforts to finance Kushner Companies. Critics have warned such efforts to grow his private business may have had an impact on U.S. foreign policy.
Kushner stepped away from day-to-day involvement in Kushner Companies after he entered the White House, but the firm unsuccesfully approached Qatar multiple times over potential investment in its deeply indebted flagship property, 666 Fifth Avenue in New York City. At least one pitch took place after Trump took office, according to NBC News.
Just weeks after representatives from Kushner Companies were turned away once again, the White House came out in support of a Saudi- and UAE-led economic and diplomatic blockade on Qatar, launched in protest over Qatar's alleged support of terrorism.
Ivanka Trump, too, has foreign business interests. Despite her father's costly trade war with Beijing, the first daughter has secured a number of potentially lucrative trademarks for commercial use in China, covering a wide range of products.
In 2017, the power couple sold a Manhattan penthouse to Angela Chen, a Chinese woman who heads a company that sells access to Chinese officials, and who is believed to be linked to Chinese military intelligence, Forbes reported.
None of these links prove quid pro quo collusion with foreign powers, and foreign links alone do not necessarily preclude an individual from clearance. As Xenakis explained, "There's no brightline rule against having foreign contacts or interests. Rather, the analysis done examines how extensive those contacts or interests are, how extensive the applicant's ties to the U.S. are, and whether there's a likely scenario in which a conflict of interest might arise.
"Foreign ties would be cause for concern if they result in a divided allegiance or could be used as leverage to coerce the individual to act against U.S. interests," she added. "Ultimately though, a security clearance is a privilege, it's not a right. It is not going to be granted unless it is clearly consistent with the interests of national security, so it shifts a pretty high burden to the applicant to show why any concerns should be considered mitigated."
"One way an applicant might do that is to demonstrate that they are so wealthy and have such deep financial, familial, and professional ties in the U.S. (or even in a variety of countries) that the likelihood of them being compromised by their ties to one particular country are slim."
Nonetheless, Moss told Newsweek such foreign dealings might make top-secret approval for Jared and Ivanka a more risky proposition. "Extensive foreign contacts, foreign family members, foreign financial ties, etc., are all things that adjudicators consider in determining if the risk and exposure is too significant to permit the person to have a clearance," he explained.
"It is not necessarily about the person's loyalty to the United States or even if there is any indication they would ever knowingly share classified information with unauthorized foreign nationals: It's all about the risk assessment, and if the U.S. government believes that risk is too great."
This article has been updated to include comments from Aileen B. Xenakis.