'Don't Threaten Me': Jared Kushner's Last Meeting With Palestinian Negotiator Reportedly Got Very Heated
The chief Palestinian negotiator for the embattled U.S.-led peace process with Israel said his most recent encounter with President Donald Trump's point person was more than one year ago, suggesting talks have stalled.
Addressing the Doha Forum in Qatar, Palestinian diplomat Saeb Erekat said Sunday that he had met with the Trump administration 33 times since the U.S. leader took office early last year, but the last one took place on November 30, 2017. During that meeting, Jared Kushner, Trump's senior adviser and son-in-law, reportedly informed the Palestinian delegation that the White House would go ahead with a controversial decision to recognize Jerusalem as the capital of Israel and move Washington's embassy there, despite it being claimed by both Israelis and Palestinians.
Though Trump had previously stated his intention to do so last year, he later recanted by signing a six-month waiver to push back the move, and apparently promised Erekat's team that he would renew this waiver when negotiations began. During their November 30 meeting, however, Kushner reportedly told Erekat that "we're not going to sign" the waiver.
"It's our business, and we will conduct our policies according to our interests," Erekat quoted Kushner as saying during their last encounter, according to Buzzfeed News.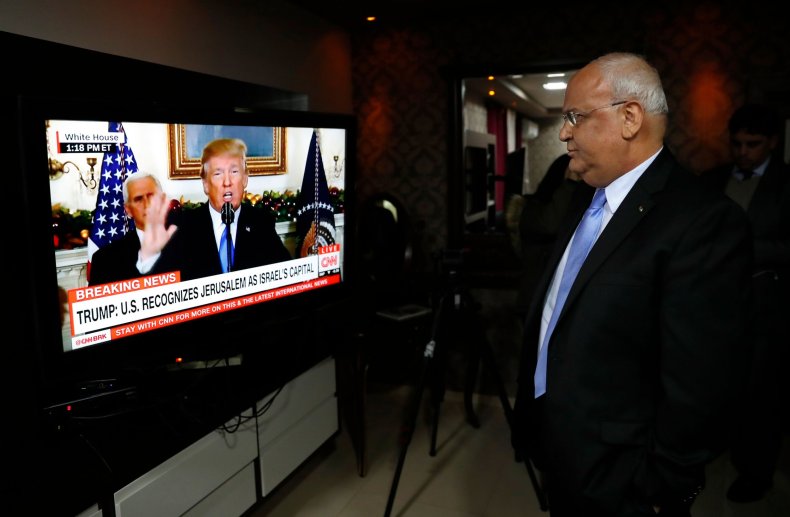 Control over the city of Jerusalem—which contains some of the holiest sites in Judaism, Christianity and Islam—has changed hands over the last few centuries. It was part of the Ottoman Empire for 500 years until being captured by the United Kingdom during World War I. The city then became a part of the U.K.-controlled Mandate of Palestine. That colonial administration later fell as rival Israeli and Palestinian nationalist movements descended into mass violence, and eventually full-scale war, following the 1948 establishment of Israel.
Jerusalem was ascribed international status by the United Nations but was effectively split between Israel in the west and Jordan in the east after the first Arab-Israeli War. Israel would eventually go on to take control of the whole city after a second conflict in 1967, and annexed it 13 years later in a move not recognized internationally, leaving Jordan with limited administrative control over holy sites in East Jerusalem.
Though the U.S. has traditionally sided with Israel in the dispute, Trump made his intentions to officially move Washington's embassy from Tel Aviv to Jerusalem known during his presidential campaign, breaking with the international status quo. When Kushner reportedly told Erekat that the administration was going through with this last year, the diplomat challenged Kushner's credentials.
"I told him, 'Look: if you do this, you will have disqualified yourself from any role in the peace process,'" Erekat recalled to his audience in Doha. "He replied, 'Don't threaten me.'"
"I said, 'Read my lips: You will have disqualified yourself from any role in the peace process,'" Erekat continued. "He said, 'You don't know the changes that are happening around you in the Arab world.'"
This reply appeared to have puzzled Erekat, who said he responded, "The best thing for me is to be a student—so teach me," but Kushner allegedly shouted back, "Don't be sarcastic." To that, Erekat said he explained: "'I'm not being sarcastic. What do you mean by changes? Do you think Arab countries will open embassies in Tel Aviv and accept Jerusalem, with the Al-Aqsa mosque, as Israel's capital? To them, Jerusalem is a red line—all of them! Saudis, Qataris, Egyptians, Jordanians, Bahrainis. So what are you talking about?'"
Kushner reportedly maintained, however, that "this is our business, our policies," according to Erekat, who warned the young official, "If you do this, you will bring Israelis and Palestinians to [the] brink of disaster."
"Theodore Roosevelt once said the White House is an office of international morality. And he's right," said Erekat. "But this White House needs giant statesmen, not real estate agents."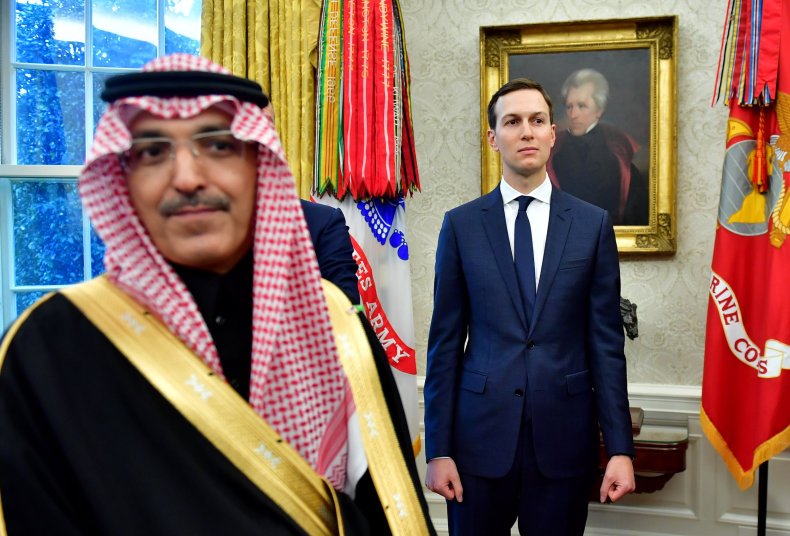 About a week after Kushner and Erekat met, Trump officially announced his decision, which immediately prompted protests at home and abroad, especially across Arab and Muslim countries. The U.S. used its privilege as a permanent member of the U.N. Security Council to veto a resolution condemning Trump's move there, but was itself condemned in a landslide 128-to-9 vote at the U.N. General Assembly.
In the year since, few details of Trump's Middle East peace plan have emerged, with special representative for international negotiations Jason Greenblatt saying in August that neither Israelis nor Palestinians would be "fully pleased" with it.
Further hindering the proposal's chances was the international downfall of Saudi Prince Mohammed bin Salman, believed to be a key player in the White House's plans to broker peace. Mounting allegations that he ordered the killing of Saudi journalist Jamal Khashoggi at Riyadh's consulate in Istanbul in October and oversaw war crimes through the Saudi-led campaign against Zaidi Shiite Muslim rebels in Yemen, however, have damaged his legitimacy.