Jared Kushner's Closeness to Trump Could Help Finally Deliver Prison Reform, Former U.S. Attorney Says
Senior White House adviser Jared Kushner's close relationship with his father-in-law president could make prison reform legislation a reality at long last, one advocate said after listening to Kushner speak at a closed-door meeting on the issue Wednesday.
At two meetings he hosted at the Capitol with bipartisan congressional leaders and advocates, Kushner seemed to support a prison reform bill aimed at rehabilitating prisoners through educational programs and therapy, Timothy Heaphy, a former U.S. attorney for the Western District of Virginia during the Obama administration, told Newsweek.
Related: Jared Kushner's Office Sued for Lacking Transparency on Infrastructure Plan 'Ripe for Cronyism,' Complainant Says
Kushner, Heaphy added, appeared "very engaged and seemed very personally interested" in prison reform at the meetings and credits him for it.
"I think that encourages particularly Republican members of Congress. When Jared Kushner is in the building, people are going to come listen. He elevates the profile of the issue. I think that's good," Heaphy, a member of Law Enforcement Leaders, a nonpartisan group of current and former police chiefs, sheriffs, attorneys general and federal and state prosecutors, said. "This would be much harder to do if he had the indifference of the White House or opposition of the White House."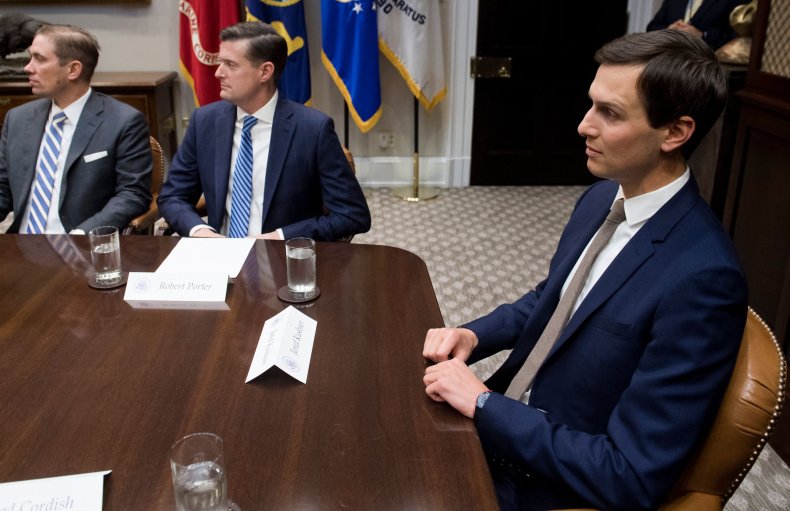 Kushner, who was appointed by President Donald Trump despite a total lack of political experience, has been besieged by controversy in recent weeks, including the recent downgrade of his top-level security clearance and reports over his alleged business deals. However, according to Heaphy, those issues did not come up or seem to put a stain on his involvement in the discussions on Wednesday.
"I think the currency he has is he's close to the president," he said. "As a result of that, he has a card to play. As long as that's still the case, I think he'll be a player as this moves forward."
Kushner and the White House have pushed for a different approach to many advocates, however.
On Wednesday, Heaphy said, Kushner suggested it would be easier to pass prison reform separate from more polarizing sentencing reform, and that consensus on the former could lead to momentum on the latter. Lawmakers and outside advocacy groups have argued for prison and sentencing reform to be done simultaneously. Sentencing reform would reduce the prison population and free up more resources for reentry programs, Heaphy added.
As well as pushing for sentencing reform in any criminal justice reform legislation, some lawmakers, including Senator Chuck Grassley, who is chairman of the Judiciary Committee that is expected to vote on the bill next week, have reportedly cast doubt on the sincerity of Kushner's efforts.
Heaphy said it was "hard to tell" if Kushner and the White House are sincere in their criminal justice push, but that he took Kushner's message that prison reform could create momentum "as either a tacit or explicit endorsement of some sort of sentencing reform."
But Charisma Troiano, a spokeswoman for the watchdog group Democracy Forward that scrutinizes executive branch activity, was more skeptical of Kushner's agenda. Democracy Forward sued the Department of Justice in February after it refused to disclose information the watchdog requested to shed more light on reports that Kushner's prison reform efforts are designed to deliver a windfall to the private prisons.
"Jared Kushner has been all talk and no action on prison reform," Troiano told Newsweek. "And a close look at the Administration's prison policy reveals that the only thing President Trump seems to be serious about is steering profits to his cronies in the private prison industry."
The Justice Department has not yet provided any documents, Troiano said.
The Obama administration directed the Justice Department to end the use of private prison facilities—an order that was rescinded almost immediately by Trump's Attorney General Jeff Sessions—but the bill that prison reform advocates hope will reach the House floor soon would be the first legislative change in a long time.
Spokespeople for Kushner and the White House did not immediately respond to a request for comment from Newsweek on Wednesday.