Jenna Bush Hager Describes Moment Charles Learned of Queen's Ill-Health
Former first child and broadcast journalist Jenna Bush Hager has described witnessing the moment Prince Charles, now King Charles III, was informed that Queen Elizabeth II was ill on Thursday, just hours before the monarch died.
Charles and his wife, the now queen consort, Camilla, were at the Scottish residence of Dumfries House where Bush Hager was scheduled to interview the duchess in connection with her book club "The Duchess of Cornwall's Reading Room" at 14:30 on Thursday, September 8th.
Speaking to NBC's Today show, Bush Hager described the shock of the announcement that the queen was gravely ill and the royals' swift departure for Balmoral, considering she had spent a very easy evening with the then-prince the night before.
"Some of you may not know that [Camilla] actually has a book club in the U.K. that is widely read and we had a joint pick so we were there to interview her," Bush Hager told host Hoda Kotb.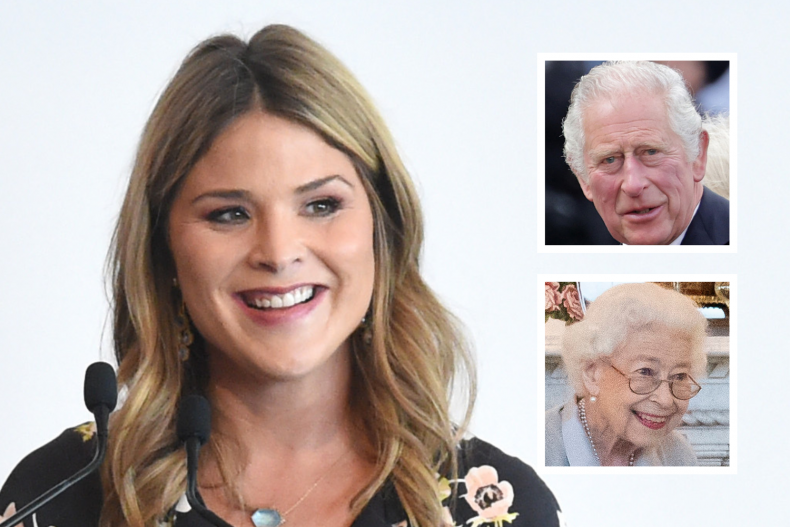 "It was going to be her only interview with American press and her flight the night before, she was flying with British Airways, was delayed, so even queens get delayed, so we weren't able [to meet that evening]."
Of having dinner with Charles on his last night before becoming king, Bush Hager recounted that: "He said: 'My darling wife is so sad…she can't wait to sit down with you tomorrow."
"And so, you know, I think it was a surprise. I mean, we had a wonderful evening filled with conversation that felt joyful…and so I think this was sort of a surprise" she said.
The next morning, Bush Hager and her team from NBC set up to interview Camilla in the Dumfries House library ahead of their early afternoon call time.
At 12:30 p.m. she recalled how the mood in the house changed with a phone call announcing the queen's ill-health.
"The next morning we were setting up the interview, we were at their house,"Bush Hager explained.
"We were there at 8:30 a.m., the interview was supposed to start around 2 p.m. or 2:30 p.m., I was supposed to meet with the now queen consort around 1:30 p.m.
"At 12.30 p.m. we heard sort of running up and down the halls and it was her team and his team who we had gotten to spend a year of conversations with…they came in and said can you please be quiet there's a call, we were right by then Prince Charles,' now King Charles III's, office…And then all of a sudden we heard a helicopter…
"They said the Queen is ill and they have gone and rushed off to be with her."
Around the time that Bush Hager describes the phone call arriving at Dumfries House an official statement was released from Buckingham Palace which highlighted the gravity of the situation.
"Following further evaluation this morning, The Queen's doctors are concerned for Her Majesty's health and have recommended she remain under medical supervision," it read.
"The Queen remains comfortable and at Balmoral."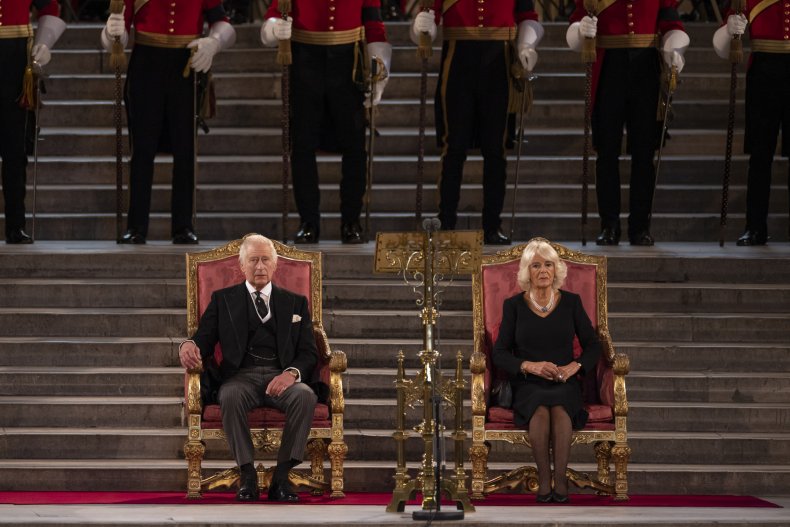 Royal author Phil Dampier told Newsweek shortly after the announcement that:
"The fact that they put out this statement is deeply concerning. They don't normally do this. Up until now, I thought she had mobility issues, problems with her hips and her knees.
"For them to say they are concerned for her health it's obviously more than that. At the end of the day, she's 96, so it is a worry."
Members of the royal family began their journeys to be with the queen, who was staying at her Balmoral estate, and at 6:30 p.m. on Thursday evening U.K. time, the announcement was made that: "The Queen died peacefully at Balmoral this afternoon. The King and The Queen Consort will remain at Balmoral this evening and will return to London tomorrow."
With Elizabeth's death, after reigning for over 70 years as the U.K.'s longest-serving monarch, her son Charles instantly became king, ruling under the name of King Charles III.
Camilla became the queen consort and will be known as Queen Camilla, after Elizabeth said that it was her wish for her daughter-in-law to take the title in recognition for her years of service.
A state funeral will be held for the Elizabeth on Monday September 19, a day that has been proclaimed a national holiday in the U.K. to allow people around the country to pay their respects.
The king and his consort are currently undertaking visits around the U.K. to attend memorial services and meet members of the public before the state funeral in London.
Do you have a question about Queen Elizabeth II, King Charles III or their family that you would like our experienced royal correspondents to answer? Email royals@newsweek.com. We'd love to hear from you.
Correction 09/14/22, 01:36 a.m. ET: This article was updated to correct the Today show's network from CBS to NBC.