'Jeopardy!' Champ Matt Amodio 'Very Excited' for Mayim Bialik's Arrival As Host
Jeopardy! champ Matt Amodio has revealed he's "very excited" for Mayim Bialik to begin her stint as the show's host as she takes over from Mike Richards.
Scandal-plagued Richards was seen hosting the opening week of Season 38 of Jeopardy! after taping the episodes for a day before he stepped down.
And with the announcement that Bialik will step in to host the primetime syndicated quiz shows for the next several weeks, Amodio took to Twitter on Sunday to express his excitement at seeing her take the helm.
Ahead of The Big Bang Theory star Bialik's episodes airing from Monday, Amodio wrote: "I'm very excited to get to meet @missmayim tomorrow on #Jeopardy, let's start off the week with a bang!"
Also on Sunday, singer Michelle Branch tweeted Amodio to tell him she had been rooting for him, as she noted a clue he'd correctly answered about her husband Patrick Carney's band, The Black Keys.
Addressing Amodio directly, Brand wrote: "So cool!!! @patrickcarney @nicbranch and I have been rooting for @AmodioMatt nightly on @Jeopardy. Was awesome to see him answer this correctly #theblackkeys #ohio."
Ph.D. Yale computer science student Amodio responded: "I'm a huge fan, I was so happy when I saw that one!!"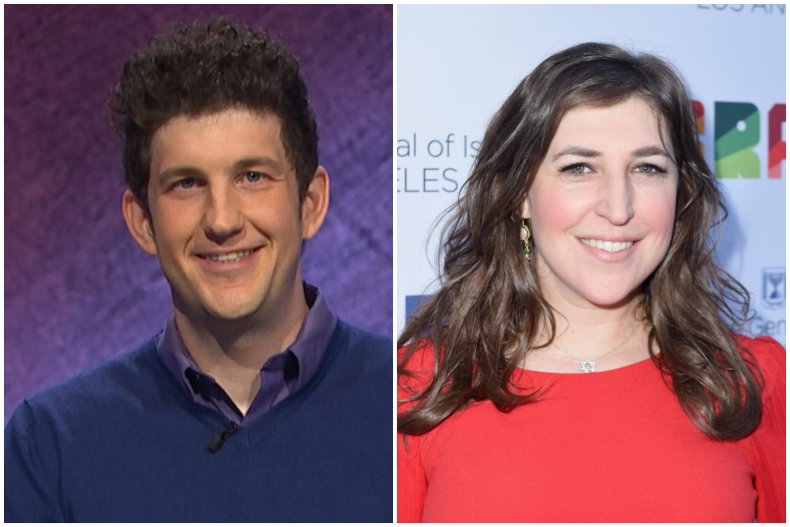 In a new essay for Newsweek, Bialik told of how impressed she was with Amodio, whose win streak currently stands at 23 with earnings of $825,801—making him the third most successful contestant on both counts in Jeopardy! history.
She wrote: "I got to take over hosting duties in the middle of Matt Amodio's run. He's so on the ball and so well-rounded and easy-going, and I just marvel at that."
The actress will serve as host on Jeopardy! episodes airing from Monday until November 5, after which she will split presenting duties with all-time Jeopardy! champ Ken Jennings.
Bialik and Jennings are hosting the long-running show after Richards stepped down in August amid backlash over The Ringer's article, which detailed a series of offensive comments he had made while hosting a podcast in 2013-2014.
Richards had previously faced scrutiny as reports resurfaced of models accusing him of discriminatory behavior during his time as a producer on The Price Is Right.
Days after Richards announced that he was stepping down as host, it was also revealed that he was out as executive producer of Jeopardy! and Wheel of Fortune.
Since the start of the year, a number of stars were seen trying out to replace the late Alex Trebek as permanent host of the show, with Richards last month being named his successor. Bialik, it was revealed at the time, would host Jeopardy! specials and tournaments.
In a recent new interview with The Washington Post, Amodio, 30, revealed that he had largely ignored the drama and upheaval as he remained focused on winning.
"Frankly, the last thing I'm thinking about when I'm in the middle of a game is who's hosting," he said. "I've had people say, 'Oh man, you've moved on to your fourth host, that has to be difficult.'
"And I would say, 'Well, you're right, but I didn't even realize that, necessarily.' Because I'm trying to pull these really obscure facts out of my brain, and that takes all the mental energy I can afford at the moment."