'Jeopardy!' Fans Question Why Mayim Bialik, Ken Jennings Have Different Intros
With Mayim Bialik and Ken Jennings sharing Jeopardy! hosting duties for Season 38, fans have noticed a difference in the way each star is introduced.
Following a search during much of Season 37 for a replacement for late beloved host Alex Trebek—and Mike Richards' remarkably brief tenure in the role—Bialik and Jennings were drafted for the remainder of the current season.
And as the wait continues for a permanent host to be announced, fans have been speculating on social media whether that decision has already been made, due to the way in which announcer Johnny Gilbert refers to the interim presenters.
Whenever Call Me Kat star Bialik is at the helm of the syndicated quiz show, Gilbert announces: "And now, here is the host of Jeopardy!, Mayim Bialik.
Yet when Jennings takes to the lectern, the wording is notably altered to: "And now, hosting Jeopardy!, Ken Jennings."
The differences have prompted viewers to ask questions, with one tweeting: "So why is Ken Jennings 'hosting' Jeopardy, and Mayim is announced as 'the host' of Jeopardy? Asking for a friend. Something you've already decided?"
"@Jeopardy why, when Ken Jennings is hosting, is the introduction 'hosting jeopardy,'" enquired another. "But when Mayim hosts the intro is 'the host of jeopardy'. Just curious. Both are doing a good job."
Noticing the difference as far back as November, another fan of the show wrote on Twitter: "@Jeopardy: Johnny Gilbert's intro last week: 'Here is the HOST....Mayim Bialik!' This week: 'HOSTING...Ken Jennings!' Hmmm...."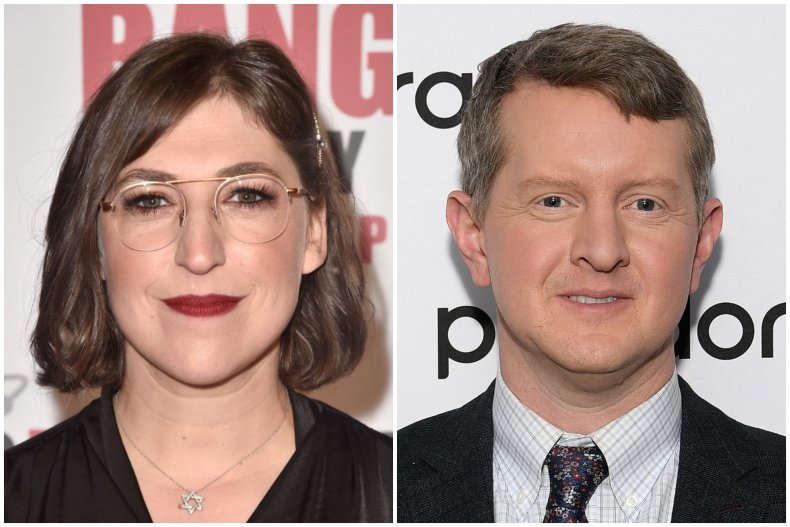 TV Insider's Matt Roush addressed the question in one of his bi-weekly Q&As, writing: "I've had several viewers ask me about this, and when I reached out to the show, I received no response—and if the hosts have commented on this, I've missed it.
"The way I look at it is that the hosts have surely signed off on these introductions, and for Mayim Bialik, it reflects that her role is defined. She's the host of tournaments and prime-time specials like the upcoming College Championship on ABC, and she fills in during the regular show when Ken Jennings isn't available.
"Whereas with Ken, he's serving as the daily host 'for now,' and until or unless Jeopardy! names him the permanent host going forward beyond this season, that's how it will stand."
Back in August, when then-executive producer Richards was announced as the new permanent host of the primetime show, it was also revealed that Bialik would present the Jeopardy! tournaments and specials.
Just nine days later, Richards would step down from his coveted role amid backlash over offensive comments he had made while presenting a now-defunct podcast several years ago. He also lost his position as executive producer.
During the time he was in the role of permanent Jeopardy! host, Richards shot just one week's worth of episodes for Season 38. He was immediately replaced by Bialik, before it was announced that she and Jennings would host for the season.
A number of TV personalities stepped in to guest-host Jeopardy! during Season 37, including LeVar Burton, Robin Roberts, Aaron Rodgers, Anderson Cooper, George Stephanopoulos, Katie Couric, David Faber, and Buzzy Cohen.