Aaron Rodgers' Start Date As 'Jeopardy!' Host Revealed After Final Ken Jennings Show
Aaron Rodgers has already had a busy week. Not only has his engagement to Big Little Lies actor Shailene Woodley been announced, but the quarterback has also announced when his stint as the guest host of Jeopardy! will begin.
The Green Bay Packers star will take to the podium left vacant by the late Alex Trebek on Monday, April 5. This will make him the fifth guest host of the show since its former host died of pancreatic cancer in November 2020.
So far, Jeopardy! The Greatest of All Time champion Ken Jennings has hosted. The show's executive producer (and Pyramid host) Mike Richards will take over from February 22 until March 5). Rodgers' stint as a guest host will come after two other hosts have had a go—Katie Couric, who will host between March 8 and March 19, and Dr. Mehmet Oz, expected to host from March 22 to April 2.
Dr. Oz was recently announced alongside an ever-expanding list of Jeopardy! guest hosts which include Today co-anchor Savannah Guthrie, Anderson Cooper, The Big Bang Theory's Mayim Bialik, 60 Minutes' Bill Whitaker and CNN chief medical correspondent Dr. Sanjay Gupta.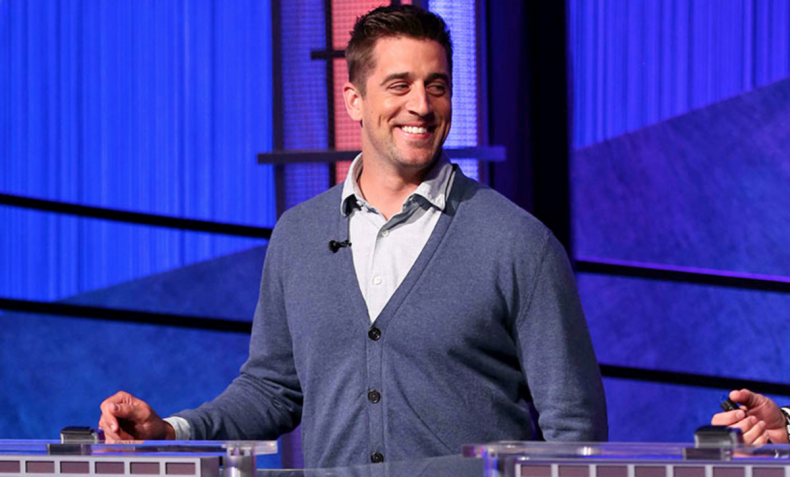 Aaron Rodgers first announced himself as a guest host in November 2020 in an interview with The Pat McAfee Show, in which the athlete said, "one of my idols growing up was Alex Trebek...they're doing some guest hosting spots, and it's going to be released here pretty soon, but I have the opportunity to do one of those."
Rodgers had previously been a champion on Celebrity Jeopardy!, winning $50,000 for his chosen charity.
The announcement of when Rodgers' stint would start came after Jennings recorded the final episode of his first six-week stint as a guest host. On February 20, he tweeted: "That's a wrap on my six weeks of @Jeopardy guest hosting. Thanks for watching, thanks for your patience with a tough learning curve...and, as always, thank you Alex."
Though Jennings' stint as a host is over, he could be returning later in the year. TVLine reports that it is still to be decided whether the host will have a second stint. This came after the website conducted a poll that revealed three out of four fans wanted Jennings to get the permanent post.
In the lead-up to his first episode airing on February 22, Richards told Jeopardy.com: "I was very fortunate to have a front-row seat to watch and study Alex. Stepping in as a guest host was incredibly humbling, emotional and a lot of fun. It will forever be the honor of my life."
Alongside Jeopardy! hosting duties, Rodgers has a wedding to plan. His fiancée Shailene Woodley confirmed the news of their engagement during a Tonight Show Starring Jimmy Fallon appearance. This came after Rodgers thanking his fiancée (though not by name) after accepting his third career MVP award earlier in February.
Speaking to Fallon, Woodley said of her football-playing fiancé, "I don't get it. He's good. He's great. But, like, I don't understand. Because I don't know him as a football guy. I know him as the nerd who wants to host Jeopardy! That's the dude I know."