Jim Jordan for House Speaker? Trump Allies Rip McCarthy, Tout Ohio Lawmaker
Some staunch supporters of former President Donald Trump have resurfaced the idea of Representative Jim Jordan, an Ohio Republican, replacing House Minority Leader Kevin McCarthy as GOP leader and potentially becoming Speaker of the House if Republicans take back control of the legislative chamber.
The calls and speculation about Jordan possibly becoming speaker came as audio of a call between McCarthy and other GOP lawmakers on January 10, 2021 showed that the House minority leader had said he believed Trump should resign in the wake of the attack targeting the U.S. Capitol days earlier on January 6. McCarthy, who represents California's 22nd district, said in the audio reported by The New York Times that he would tell Trump "it would be my recommendation you should resign."
The Washington Post and Fox News reported Friday that McCarthy and Trump spoke after the audio leaked and remain on good terms. McCarthy downplayed the recording in comments to reporters on Friday, saying that he never actually told the former president that he should resign, despite what he said on the call.
A number of staunch Trump supporters—some of whom were already less than impressed with McCarthy's leadership—quickly began suggesting Jordan as an alternative. The Ohio Republican was a founding member of the conservative House Freedom Caucus and has long been viewed as a key Trump ally in Congress.
"Jim Jordan would make a fantastic Speaker of the House!" Nick Adams, a conservative commentator and author, tweeted. Trump previously made favorable tweets and comments about Adams' books.
"If elected, I can guarantee I won't be voting for @GOPLeader [McCarthy]. Unlike others, I won't backslide on that position. My vote would be for @Jim_Jordan as speaker if he ran," GOP congressional candidate Julian Acciard wrote in a Twitter post.
"Attention @Jim_Jordan and @mattgaetz. Please takeover leadership from RINO Kevin McCarthy!" Fox News contributor and podcast host Leo Terrell wrote in a tweet. RINO is an acronym signifying "Republican in name only."
Representative Matt Gaetz, a Florida Republican and key Trump ally in Congress, retweeted Terrell's post and spoke favorably of his colleague, Jordan.
".@jim_Jordan is the hardest working and most talented member of the Republican House Conference. And every member knows it," he wrote.
Gaetz also appeared on Newsmax Friday, voicing criticism of McCarthy's leadership.
"You have a circumstance where you either have to believe Kevin's statements or your own lying ears," the GOP congressman said. "There are a few problems."
"The conference never believed that Donald Trump should resign, so to have a leader so far outside of the conference is itself a problem," Gaetz added.
In February, a spokesperson for Gaetz told Newsweek that the congressman did not plan to back McCarthy to become House speaker.
"Congressman Gaetz plans to nominate President Trump to be Speaker and has no personal ambition for the position. Congressman Gaetz has never run for Speaker, unlike his friend and mentor Jim Jordan. It is unlikely that the desire to be Speaker is an itch that goes away with one scratch," the spokesperson said at the time.
Jordan announced a bid to be House speaker prior to the 2018 midterms, but Democrats ultimately took back control of the legislative chamber propelling House Speaker Nancy Pelosi's return to power. While House speakers are generally chosen from among the elected representatives to the legislative chamber, the Constitution technically allows for the members to vote in anyone they choose. Gaetz, right-wing strategist Steve Bannon and other Trump allies have promoted the idea of electing Trump to the role if the GOP takes back the majority.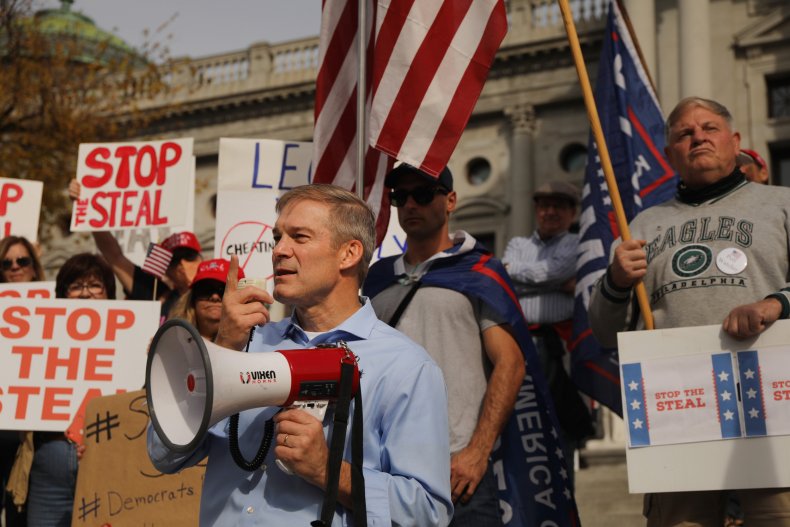 Other Trump allies, such as right-wing strategist Roger Stone, have blasted McCarthy after the audio leaked, without mentioning a potential replacement. "California RINO Kevin McCarthy is a disgrace to the republican party and he needs to resign," he wrote in a Saturday morning Telegram post. He also included a link to the audio of McCarthy's January 10, 2021 remarks.
Some Republicans have also insisted that McCarthy's position leading the House GOP remains secure.
"Twenty-nine weeks from now Republicans will have the majority and Kevin McCarthy will be Speaker of the House," Representative Tony Gonzales, a Texas Republican, told Punchbowl News after the recording was reported.
Newsweek reached out to spokespeople for Jordan, McCarthy and Trump for comment.