Jimmy Kimmel Says Borat's Daughter Should Have Served Rudy Giuliani Dominion Lawsuit
Former New York City mayor Rudy Giuliani was target by Jimmy Kimmel this week who mocked Donald Trump's ex-attorney over the billion-dollar lawsuit he has now been hit with—saying Borat's daughter should have served the papers.
Giuliani is in hot water with Dominion Voting Systems who have targeted the lawyer with a $1.3 billion lawsuit over his baseless claims that the company's voting machines helped "steal" the 2020 presidential election from Trump.
"Rudy Giuliani isn't on the list at CPAC. He is no longer representing Donald Trump, and his next client could be himself," Kimmel mocked during his Tuesday night monologue. "Last month, Rudy got hit with a $1.3 billion lawsuit from Dominion Voting Systems. They're suing him for spreading misinformation about their machines, and apparently, they had a heck of a time serving him with papers."
As the public face of the Trump administration's campaign to overthrow the 2020 election, Giuliani claimed that Dominion voting machines had been tampered with to switch votes from Trump to president Joe Biden.
Dominion CEO John Paulos said in a statement that Giuliani's continued allegations of Dominion's participation in voter fraud had "undermined trust in American democratic institutions," adding "[Giuliani] continues to make demonstrable false claims, and we intend to hold him, and others who spread disinformation, to account."
In response, Giuliani said that the lawsuit was "intended to frighten people of faint heart."
He also called it "another act of intimidation by the hate-filled left-wing to wipe out and censor the exercise of free speech, as well as the ability of lawyers to defend their clients vigorously."
Kimmel referenced an article published in the Daily News that claims Dominion has difficulty serving the lawsuit to Giuliani.
"In order to sue someone you have to touch them with the document to get the lawsuit going, but every time the process server got close, Rudy would transform into a bat and fly away," Kimmel joked. "At one point, the server jammed the lawsuit into the door of an SUV Giuliani got into, but Rudy's doorman grabbed an umbrella and pried it out on to the ground.
"If they really wanted to get those papers to Rudy they should have just asked Borat's daughter to stuff them in his pants."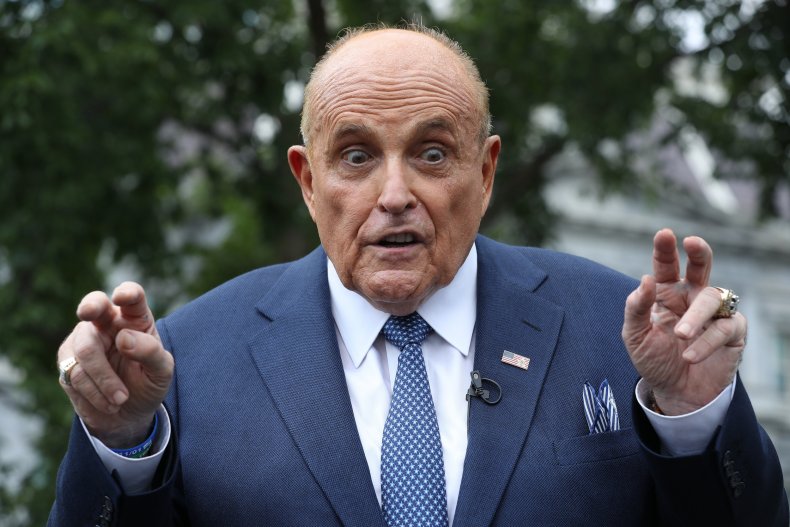 The second Borat movie was released in October and famously features a disturbing scene that shows Giuliani appearing to attempt to seduce an actress playing a young female reporter.
The 76-year-old was caught in a compromising position on camera—his hand in his pants while lying on a bed in a hotel room with Borat's fictional daughter, Tutar (Maria Bakalova), who was dressed up as a conservative journalist.
Giuliani has consistently maintained he was tucking in his shirt and denies any wrongdoing.