Jimmy Kimmel Rips Sarah Palin's Voice, Changes It to Morgan Freeman's
Jimmy Kimmel has taken another swipe at Sarah Palin's bid for a congressional seat in Alaska, questioning whether he can tolerate her "horrible" voice.
Palin, who unsuccessfully ran for vice president on the late Senator John McCain's ticket in 2008, announced on April 1 that she will be vying to succeed Republican Representative Don Young, who held the seat for 49 years before he died in March.
Speaking of the news on his show Jimmy Kimmel Live! on Tuesday night, the titular host said that he would prefer if the former governor of Alaska's statements were dubbed over by the voice of veteran actor Morgan Freeman.
Referencing Palin's oft-mocked statement that Russia can be seen from Alaska, Kimmel said: "Russia's neighbor Sarah Palin is running for Congress. The former governor of Alaska is running for Congress, where she's the new frontrunner, thanks to an endorsement from Donald Trump.
"I don't know about you, but I don't think I can handle having Sarah Palin back in the mix every day. The voice alone goes right through the center of my brain."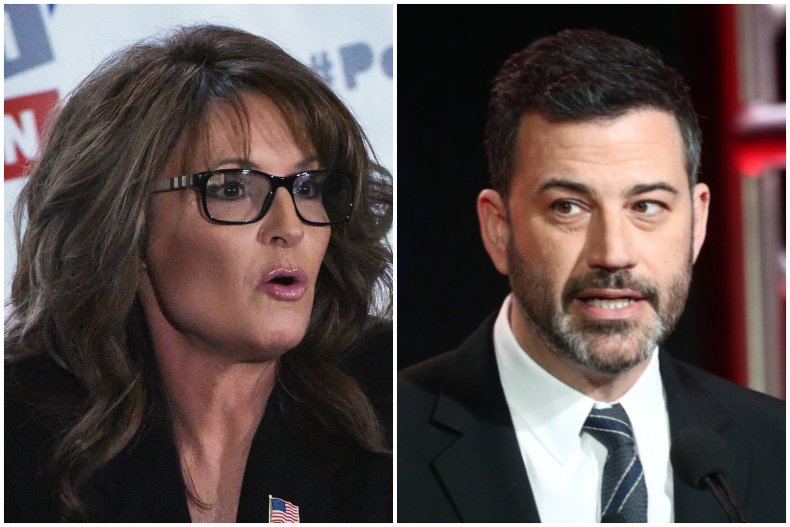 Kimmel then suggested: "If Sarah Palin is going to run for Congress, and maybe even be elected to Congress, we need to—and this will be good for both of us, for her and us—replace that horrible voice with Morgan Freeman's."
The camera then cut to Fox News host Jesse Watters speaking with Palin during her appearance on his show, Jesse Watters Primetime, earlier this month.
"Are you prepared for that onslaught?" Watters asks Palin in the clip. "Because it's going to be pretty vicious."
Palin responds, with her voice dubbed by an actor sounding like Freeman: "I would never be so cocky as to say, 'Bring it on,' but yes, I anticipate that when I walk down that hall to get my diet Dr Pepper, sure the jackals are going to be there doing that jackaling. And I just think I've got nothing to lose."
"Much, much better, I think," Kimmel said as the camera cut back to the studio, where the audience was heard raucously laughing and applauding.
Following the announcement that Palin would be running for Congress, former President Donald Trump released a statement in which he publicly endorsed her, describing the politician as a "wonderful patriot" and a "true America First fighter."
"Sarah shocked many when she endorsed me very early in 2016, and we won big. Now, it's my turn," Trump said in his statement, which was released on April 3.
"Sarah Palin is tough and smart and will never back down, and I am proud to give her my Complete and Total Endorsement, and encourage all Republicans to unite behind this wonderful person and her campaign to put America First!"
Last week, Kimmel read out the statement on his ABC show, before sharing a few choice words for some of descriptions Trump used.
"Even for Trump, it's impressive to fit three lies into an 11-word sentence," Kimmel quipped, highlighting his description of Palin as "tough and smart" and not being one not to "back down."
"But I guess the Masked Singer money dried up and Sarah's running for office," Kimmel went on, in reference to her appearance on the singing competition.
"Trump endorsing Sarah Palin is like paste-eating endorsing glue-sniffing," Kimmel added, drawing laughs from the studio audience. "It's ridiculous."