Cops Appear to Shove Jodie Sweetin in Viral Roe v. Wade Protest Clip
Viral video footage circulating social media appears to show the actress Jodie Sweetin being shoved to the ground by Los Angeles Police Department officers during a protest over the overturning of Roe v. Wade.
The Supreme Court used its ruling in Dobbs v. Jackson Women's Health Organization on Friday to overturn the 1973 landmark decision that had guaranteed abortion rights nationwide, sparking widespread criticism and protests.
The decision could see abortion bans in roughly half of the states in the U.S. Thirteen states, mainly in the South and Midwest, already have laws on the books that ban abortion in the case of Roe being overturned.
Full House and Fuller House star Sweetin, 40, was among the crowds of protestors who took to the streets of Los Angeles on Saturday to voice their opposition to the reversal of the long-standing ruling.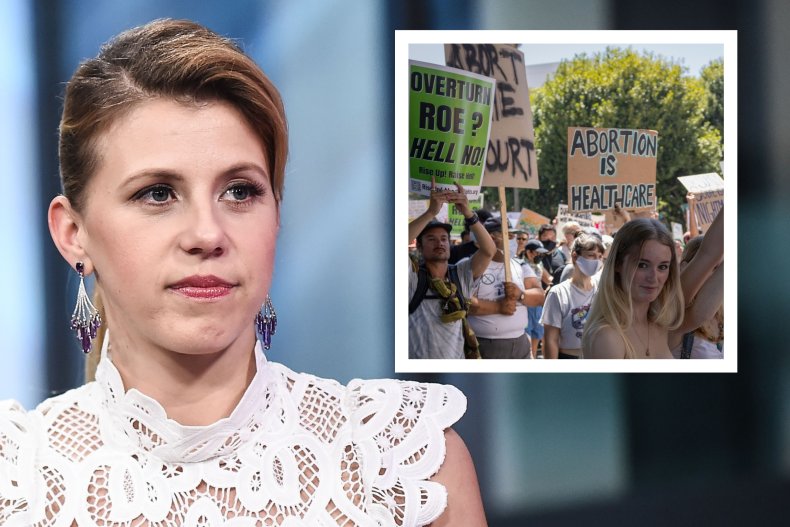 In footage shared on Instagram and Twitter by photographer Michael Ade on Sunday, the actor appeared to be pushed by one of a wall of law enforcement officers lining a local freeway, before another apparently shoved her.
Following the confrontation, Sweetin, who was dressed in black and carried a backpack and bullhorn, appeared to trip over the curb, before falling to the ground.
Sweetin was helped back onto her feet by a fellow abortion rights protestor, before joining the crowd in repeatedly chanting: "No justice, no peace."
A spokesperson for the LAPD has now told Newsweek that the incident will be probed to ensure officers adhered to the correct policy and procedure at the time.
"The LAPD is aware of a video clip of a woman being pushed to the ground by officers not allowing the group to enter on foot and overtake the 101 freeway," the representative said. "The force used will be evaluated against the LAPD's policy and procedure.
"As the nation continues to wrestle with the latest Supreme Court decision, the Los Angeles Police Department will continue to facilitate 1st Amendment rights, while protecting life and property."
Newsweek has contacted a representative of Sweetin for comment.
According to Ade, Sweetin was "trying to lead a group of peaceful protestors away from the freeway" when the incident occurred.
"Jodi is the definition of a real one and fortunately she's okay!" Ade added in a caption. "But for others who choose to protest today move with caution and keep your head on swivel. It's going to be a very long summer."
Per Entertainment Weekly, a spokesperson for Sweetin confirmed that the incident had taken place, while the screen star herself later released a statement.
"I'm extremely proud of the hundreds of people who showed up yesterday to exercise their First Amendment rights and take immediate action to peacefully protest the giant injustices that have been delivered from our Supreme Court," Sweetin said.
"Our activism will continue until our voices are heard and action is taken. This will not deter us, we will continue fighting for our rights," she continued. "We are not free until ALL of us are free."
Justice Samuel Alito wrote the majority opinion in the Dobbs decision, which involved a dispute over a Mississippi law that would ban most abortions after the 15th week of pregnancy.
Abortion rights activists had been bracing for Roe's fall after a leaked draft opinion published by Politico in May showed a conservative majority of justices appeared ready to use the case to undo almost five decades of precedent.
Another half-dozen states have near-total bans or prohibition after six weeks of pregnancy.
In other states, there will be battles over dormant abortion bans that were enacted before Roe was decided in 1973 or new laws that strictly limit when abortions can be performed.
Update 06/27/22, 11:50 a.m. ET: This article was updated to include a statement from the LAPD.