Biden Has Twice Clinton's Lead Two Months Out—But That Doesn't Guarantee a Win
Democratic presidential candidate Joe Biden's national polling lead more than doubles his predecessor Hillary Clinton's at the same point, but this advantage does not guarantee victory—much as it did not for her.
Clinton held a lead in polling throughout the 2016 race, before suffering defeat to President Donald Trump as he secured an electoral college victory despite losing the popular vote.
Real Clear Politics' tracker put Clinton at 2.8 points ahead on September 8, 2016, two months before that year's election.
Its tracker looking at Biden and Trump puts the Democrat at 7.2 points ahead of Trump, with a similar amount of time to go to election day.
Biden's lead has only narrowly dipped in the past month, despite Trump having claimed it is plunging. He has previously shown stronger polling numbers than Clinton at comparative points, with him having also out-fundraised her at points throughout his run too.
Though his position appears stronger, it does not necessarily guarantee victory, much as Clinton's lead did not last time out.
"A Democratic lead in the national polls is a necessary but not sufficient condition for winning the election. If Biden's national lead is driven by increased support in California, Illinois, or New York, it doesn't really matter," Richard Johnson, lecturer in U.S. politics and policy at Queen Mary University of London, told Newsweek.
"California, in particular, is so big that it can hugely distort the national vote. This is largely why Democrats at the moment are much more likely to win the national popular vote and lose the electoral college than Republicans would be to win the national popular vote but lose the electoral college."
This time out Trump's vote could potentially be "even more 'efficiently' distributed," if he were to win certain states he secured last time with a narrower margin, Johnson suggested.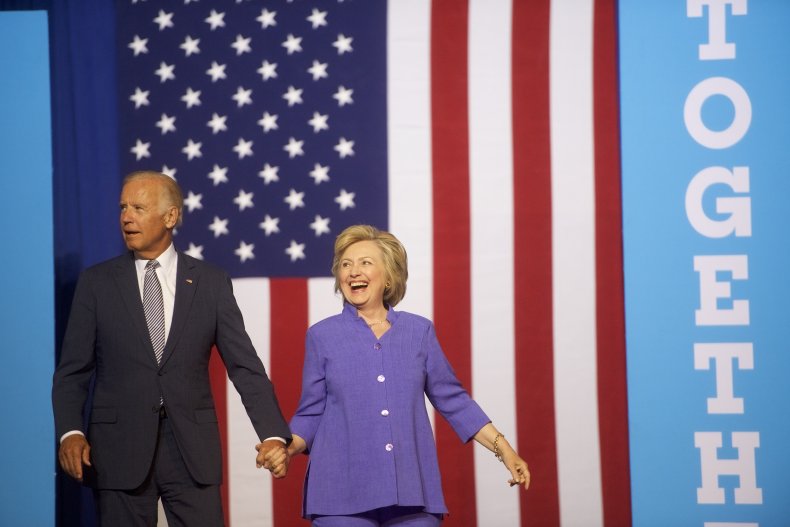 Thomas Gift, a professor in political science and founding director of the Center on U.S. Politics at University College London, told Newsweek that Biden will not likely fall into believing a national lead will guarantee a win, suggesting he would appear to be focusing more on the electoral college.
"Perhaps the biggest difference between 2016 and 2020 is that Biden has the benefit of hindsight. Although Clinton would never acknowledge she took a victory for granted, the notion that Trump shouldn't be counted out is doubly clear now given what unfolded four years ago. At every step, experts discounted Trump's chances in 2016. Biden won't succumb to that temptation in 2020," he said.
"Whereas many experts accused Clinton of taking more of a national campaign strategy in 2016, there's more evidence that Biden is taking a state-by-state approach with the Electoral College math at the top of mind.
"Any autopsy of Clinton's 2016 campaign, for example, would point to the fact that she never once visited the key battleground state of Wisconsin—a decision that may have cost her there in the election. Biden won't repeat that mistake."
Biden has resumed his in-person campaigning in a bid to maintain leads over Trump, with a visit to Kenosha, Wisconsin, scheduled for Thursday, during which he will meet the family of Jacob Blake, who was shot by police multiple times late last month.
While key swing states could prove the decider, and cause upsets to national polling, Biden is ahead in several of those also as November 3 approaches.
Though Trump still lags in polling, he has gained in approval ratings in recent weeks, recovering from a spike in negative ratings in late June.
Both Trump and Biden have upped their public campaign activities of late, laying out their pitches for the future of the nation at their respective party conferences in recent weeks.
Trump is targeting law and order heavily, touting himself as the candidate best suited to address issues linked to this.
However, polling has suggested Biden could handle public safety better than Trump.
Newsweek has contacted the Biden and Trump campaigns for comment.
Update 09/04/2020: This story was updated to clarify a quote from Thomas Gift.