President Joe Biden has emphasized his vow to tackle inflation this week, as Americans prepare to sit down for a Thanksgiving meal that is substantially more expensive to prepare than it was last year.
Biden's official Twitter account addressed inflation on Wednesday ahead of the Thanksgiving holiday, while several Republican lawmakers took aim at the president because of rising costs.
"This holiday season, we're seeing initial signs inflation is moderating. Folks are vaccinated. And our unemployment rate is near a 50-year low," Biden tweeted.
"America's best days are ahead," he added.
The annualized rate of inflation was 7.7 percent in October, down from 8.2 percent in September in what may be a sign that inflation has peaked after months of near 40-year highs.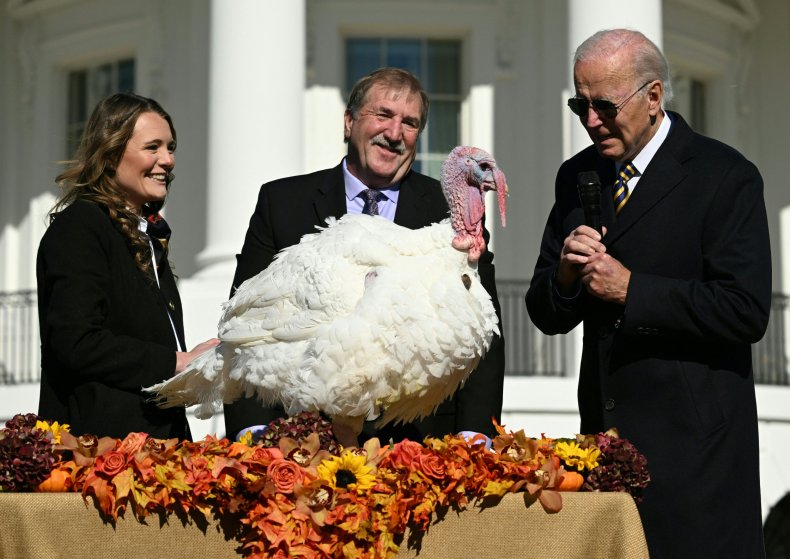 Biden has highlighted his administration's efforts to fight inflation several times this week heading into the Thanksgiving holiday.
"In six short weeks Americans will start to feel the effects of the Inflation Reduction Act, such as capping insulin at $35 a month and getting folks on Medicare Part D recommended vaccines for free," Biden tweeted on Sunday.
The president also vowed to fight inflation in June, saying: "My administration is going to continue to do everything we can to lower the prices for the American people."
The annualized rate of inflation in May, before Biden made those remarks, was 8.6 percent.
The Inflation Reduction Act aims to tackle inflation through reducing the deficit as well lowering prescription drug costs and investing in energy security and climate change programs, among other measures.
It's considered a major achievement for Biden as it revived much of the Build Back Better Act, which failed to pass the Senate in 2021 when Democratic Senator Joe Manchin voted against it.
While the Inflation Reduction Act is now law, the effects of inflation are still being felt.
Americans' Thanksgiving dinner is more expensive than it was in 2021, with the price of a turkey up 24.4 percent year-on-year, based on analysis from market research firm IRI.
IRI found that the ingredients for the Thanksgiving meal would cost 13.5 percent more this year. Those figures were released earlier this month and based upon date from October.
A Farm Bureau survey published on November 16 found the cost of a Thanksgiving meal for 10 people would cost 20 percent more this year at $64.05, up from just $53.31 in 2021 and $46.90 in 2020.
The survey also found the average price of a turkey had increased by 21 percent to $1.81 per pound.
Republicans placed the blame for rising Thanksgiving costs on Biden, with several lawmakers tweeting criticisms of him on Wednesday.
"This Thanksgiving will cost American families more than EVER," Republican Senator Rick Scott wrote. "It's a stark reminder of the consequences of the Democrats' tax and spend spree that I'm fighting every day to stop."
Scott also cited the Farm Bureau survey, saying: "Turkey costs are gobbling up Florida families' budgets, and unlike D.C. Democrats, they can't afford to spend money they don't have. It's past time we stop the spending spree and force the federal government to spend within its means."
Senator Joni Ernst shared a video of her speaking on the Senate floor about Thanksgiving costs and wrote: "Let's bring down costs by sticking a fork in these inflation-causing laws and burdensome regulations that the Democrats keep dishing out."
"Thanksgiving should not have to be a time for worry. But the Biden Administration's reckless inflation is driving prices sky high," tweeted Senator Roger Wicker.
Newsweek has asked the White House for comment.