Joe Rogan Defends 'Nicest Guy' Chris Pratt
Joe Rogan has defended Chris Pratt from the amount of online criticism he receives.
The podcasting giant discussed the hatred for The Guardians of the Galaxy star online and suggested that he gets so much flack because of his religious views.
"Even Chris Pratt gets in trouble because he's Christian," Rogan said on Tuesday on his podcast, The Joe Rogan Experience.
"He's kind of outside the lines in terms of his ideology, he's a Christian, and pretty open about it," Rogan added. "Because of that they attack him. Bro, he is the nicest f****** guy I've ever met in my life."
Rogan said that the people who criticize Pratt online are "all insane people that hate their jobs or sitting in front of the cubicle. When their boss isn't looking, they're tweeting bad things about Chris Pratt."
Pratt came under fire in November when he posted a birthday Instagram tribute to his wife Katherine Schwarzenegger which was interpreted by many as a slight against his ex-wife, Anna Faris, and their son.
Pratt said Schwarzenegger has given him "an amazing life" and "a gorgeous healthy daughter."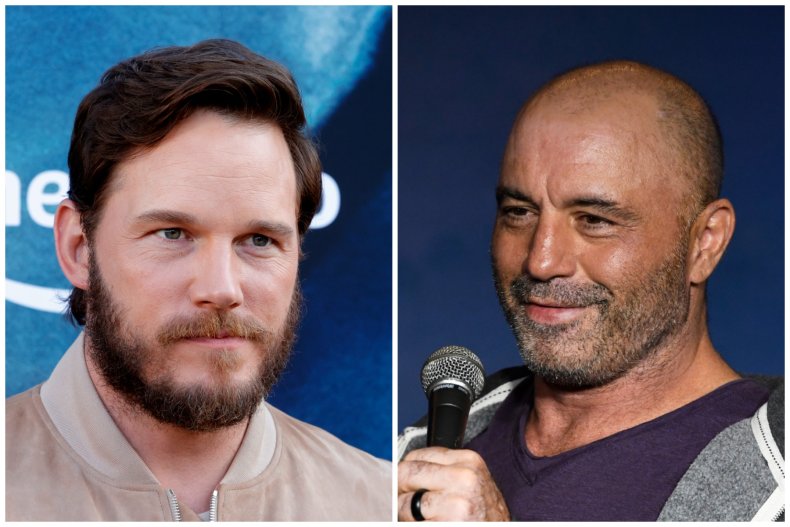 Many social media users found this insensitive to his other child, Jack, who he shares with ex-wife Faris, who suffered severe health issues when he was born.
But the hatred against Pratt blew up in October 2020 when a Twitter poll asking who the worst Chris in Hollywood is, went viral.
Speculation that he is a Donald Trump supporter also ran wild in 2020, yet the actor has never confirmed or denied his political allegiances publicly.
Pratt is also a member of the controversial Hillsong Church in Los Angeles, which has been described as being anti-LGBTQ.
"It's a bully pile-on, that's what it is," Rogan said. "You see someone being vulnerable, and then you can snipe at them, and you don't have any repercussions and they're not in front of you, so you attack the guy. He's done nothing... He's the nicest f****** guy I've ever met in my life."
Rogan went on to say that he is friends with Pratt and has spent time with him on a number of occasions.
"I've been in hunting camp with him. He's nice to everybody... My point is, I've seen him interact with people, he sits at these cafeteria-style tables with everybody, from all walks of life, he's super normal," Rogan said.
Pratt has also recently received backlash for being cast as the voice of Super Mario in an upcoming animated movie.