Joe Rogan's Heated Exchange With CNN Reporter Over Ivermectin Coverage Viewed 800k Times
A video has gone viral of Joe Rogan confronting CNN's chief medical correspondent Dr. Sanjay Gupta over the network's coverage of the podcast host's COVID treatment.
In a clip shared on social media, which had been viewed more than 800,000 times as of Thursday morning, The Joe Rogan Experience host grilled Gupta over CNN reports that criticized his taking the drug ivermectin after being diagnosed with the disease.
Rogan announced in September he had contracted the virus on Instagram and told his followers he "threw the kitchen sink" at it the disease, with the drug among treatments he used.
Ivermectin has approved uses in humans and animals for treating parasites, but the Food and Drug Administration (FDA) and the Centers for Disease Control and Prevention (CDC) warn people not to take the medicine to treat COVID.
Rogan was criticized by many, including on CNN, for taking the drug, particularly as he has publicly opposed vaccination.
During the discussion, Rogan doubled down on his refusal to get the jab, arguing that having had COVID, he had the required antibodies. He then challenged Gupta over the phrase "horse dewormer" that he said CNN had used in disparaging his ivermectin treatment.
The word "dewormer" was not used in the clip Rogan played of CNN anchor Erin Burnett referring to ivermectin as a "livestock drug."
However, a segment on the network soon after Rogan's COVID diagnosis described the drug in a caption as a "horse dewormer" and showed CNN host Anderson Cooper calling the drug as "something more often used to deworm horses."
"By the way, I'm glad you're better," Gupta said of the quick recovery of Rogan, who added he had tested negative five days after infection and could exercise a day after that.
"Thank you. You're probably the only one at CNN who's glad," Rogan said. "The rest of them are all lying about me taking horse medication."
"They're lying at your network about people taking human drugs versus drugs for veterinary," Rogan said, before Gupta interrupted to say: "Calling it a 'horse dewormer' is not the most flattering thing, I get that."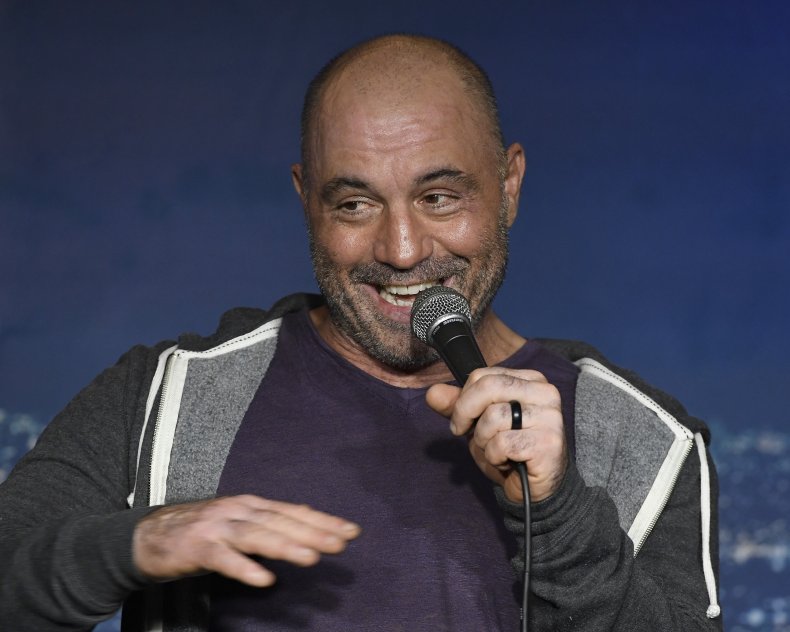 Rogan continued: "It's a lie on a news network...and it's a lie that they're conscious of. It's not a mistake. They're unfavorably framing it as veterinary medicine."
"Why would they lie and say that's horse dewormer? I can afford people medicine," he said. "This is ridiculous. It's just a lie."
As Rogan explained that he had been prescribed the drug by a doctor, Gupta said: "It shouldn't be called that. Ivermectin can be a very effective medication—for parasitic disease."
When challenged by Rogan again, Gupta responded "they shouldn't have said that," rejecting the podcast host's claim that the network reported on his illness "with such glee."
However, Gupta still said that ivermectin posed risks for COVID patients because during some of the trials of the drug, "to get the plasma, the blood concentrations high enough, you had to take very high doses."
In a blog post on CNN's website afterwards Gupta said "if I was serious about trying to communicate public health," he had "to go into the lion's den" and appear on Rogan's show.
Gupta wrote that he had clarified his differences with Rogan on ivermectin, masks and vaccination early on in the three-hour interview and described Rogan as "the one guy in the country I wanted to exchange views with in a real dialogue—one that could potentially be among the most important conversations of this entire pandemic. "
Newsweek has contacted CNN for comment.