'It's Not a Coincidence': MSNBC Host Joe Scarborough, Target of Terrorist Plot, Puts Blame on Donald Trump
Joe Scarborough, co-host of MSNBC's Morning Joe, acknowledged on Thursday that he was a potential target of a thwarted domestic terrorist attack plotted by a Coast Guard lieutenant against prominent members of the media and Democratic lawmakers. Scarborough pinned the blame on President Donald Trump, arguing that his incendiary rhetoric on the campaign trial and throughout his time in office "fans the flames of hatred."
"It's no coincidence—Donald Trump fans the flames of hatred and many that are out there that support him are responding to it," Scarborough said. "I think it's not even remarkable—it should be remarkable—but it's predictable what's happened."
Federal investigators said Christopher Hasson, the 49-year-old Coast Guard lieutenant of Silver Spring, Maryland, was a white supremacist, allegedly inspired by Norwegian mass murderer Anders Breivik, who was convicted in 2011 of killing 77 people in two terror attacks. Court documents said 15 guns and more than 1,000 rounds of ammunition were found at his home, a stockpile he'd been acquiring since 2017.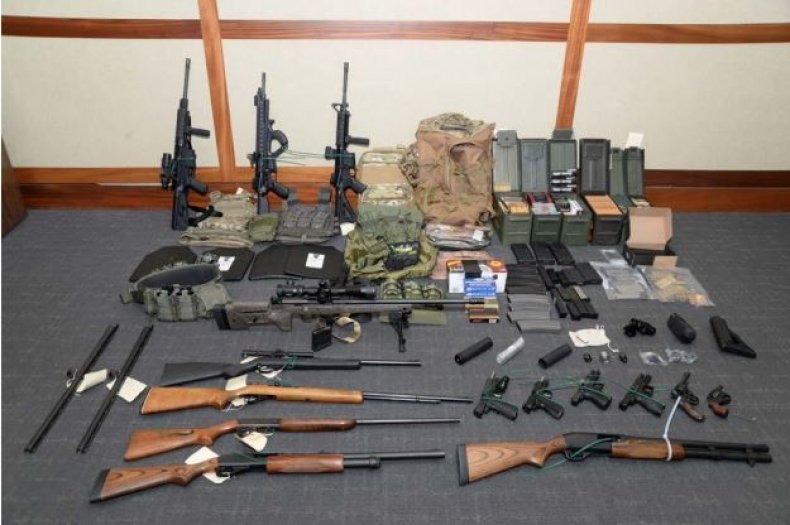 Hasson's intended targets included prominent Democrats, including Congresswoman Alexandria Ocasio-Cortez and former Congressman Beto O'Rourke, Senators Chuck Schumer, Cory Booker, Richard Blumenthal and Kamala Harris. MSNBC hosts Chris Hayes, Ari Melber and Joe Scarborough, as well as CNN hosts Don Lemon, Chris Cuomo and Van Jones were also targeted. All 12 had criticized the president, who often singled them out at rallies or on Twitter.
"It's not a coincidence that in all of these cases, you have political opponents of Donald Trump, and journalists who report on Donald Trump, who Donald Trump has attacked, who is on this list that this man wanted to go out, gun down and kill," Scarborough said.
He pointed to the series of pipe bombs mailed by a far-right Trump supporter, Cesar Sayoc, who also targeted critics of the president, including prominent Democrats and CNN. A cameraman was physically attacked last week by an angry Trump supporter at a rally in El Paso, Texas, who could be heard saying, "f*** the media, f*** the media" as he was dragged away.
Others have not been so forthright in pinning blame on the president. In a statement provided to Newsweek, a spokesperson for Blumenthal said the senator was simply "grateful to the FBI and federal prosecutors for their work on this case and their ongoing efforts to combat violent and hateful extremism."
Prosecutors said in court documents that, in addition to planning a domestic terror attack, Hasson imagined using biological weapons to kill as many people as possible. "The defendant is a domestic terrorist, bent on committing acts dangerous to human life that are intended to affect governmental conduct," prosecutors said. A draft email by Hasson said he was "dreaming of a way to kill almost every last person on earth. I think a plague would be the most successful but how do I acquire the needed/Spanish [sic] flu, botulism, anthrax; [sic] not sure yet but will find something."
As of Thursday morning, the president had yet to condemn the alleged domestic terrorist plot that had targeted members of Congress and the media. The once friendly relationship between Trump and Morning Joe hosts Scarborough and Mika Brzezinski has long since soured, resulting in personal attacks and name-calling in recent years.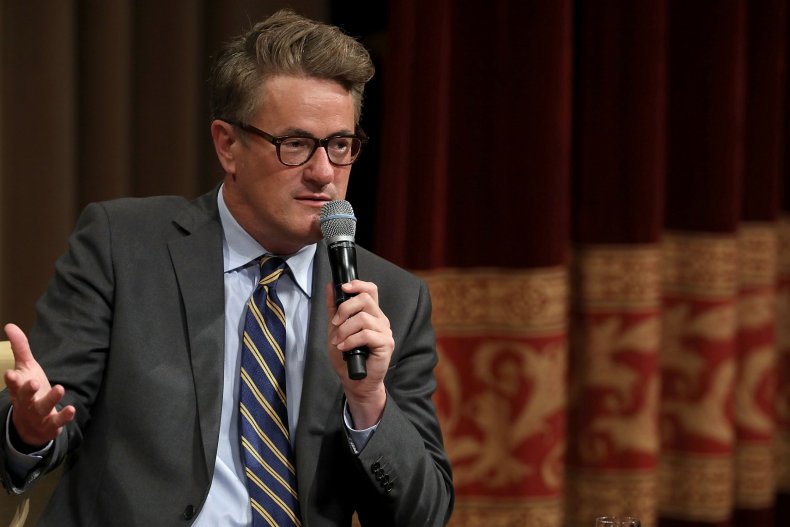 "Apparently, his silence shows this is exactly what he wants," Scarborough said of Trump. "Why would he condemn something that he supports? Why would he condemn something that he has encouraged throughout his entire campaign?"
On the campaign trail, whether stumping for himself or fellow Republicans, the president has cheered on the physical assault of protesters and championed a member of Congress for body-slamming a reporter.
Those instances include a rally in Cedar Rapids, Iowa, in February 2016, where Trump told supporters to "knock the crap out of" protesters. "Seriously, OK. Just knock the hell—I promise you I will pay for the legal fees, I promise," he added. In October 2018 at a Montana rally for GOP Congressman Greg Gianforte, who pleaded guilty to assaulting Guardian reporter Ben Jacobs for body slamming him to the ground in 2017, Trump said that "any guy that can do a body slam, he's my kind of guy." He proceeded to mimic body slamming someone to the ground, earning cheers and laughter from supporters.
The president has been repeatedly warned by lawmakers and media figures that his comments endanger the lives of journalists and others. Responding to Trump again labeling The New York Times as the "true ENEMY OF THE PEOPLE!" on Wednesday, the paper's publisher, A.G. Sulzberger, told Trump that kind of language isn't "just false, it's dangerous."
"It has an ugly history of being wielded by dictators and tyrants who sought to control public information," Sulzberger said in an op-ed. "And it is particularly reckless coming from someone whose office gives him broad powers to fight or imprison the nation's enemies. As I have repeatedly told President Trump face to face, there are mounting signs that this incendiary rhetoric is encouraging threats and violence against journalists at home and abroad."
This story has been updated to include comment from Senator Richard Blumenthal's office.