John Kerry Slams 'Pathetic' Donald Trump for Comments About Anti-ISIS Envoy: 'Not a Fraction of the Patriot' Brett McGurk Is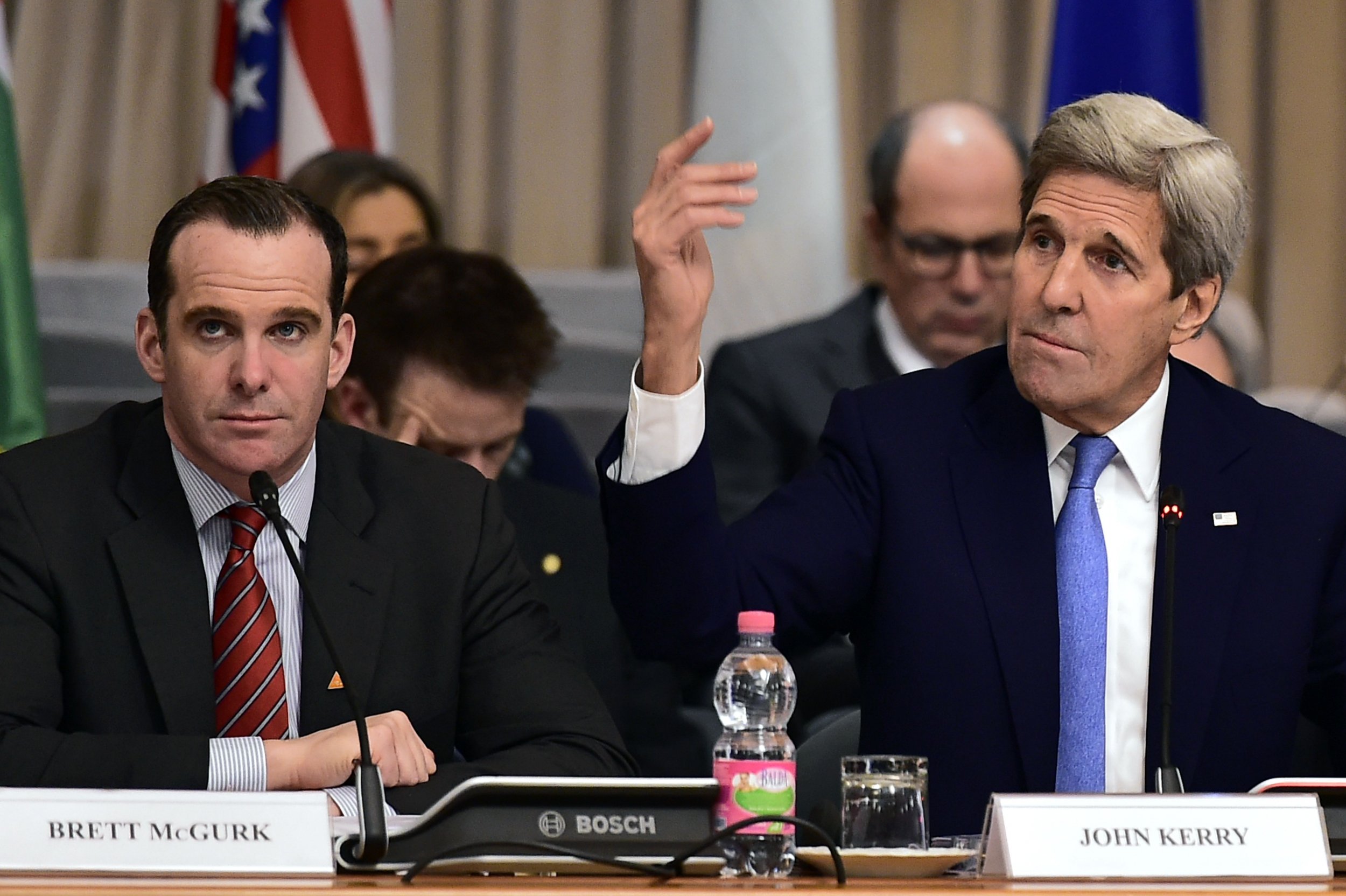 Former Secretary of State John Kerry hit back Monday at President Donald Trump's recent criticism of Brett McGurk, the former U.S. special envoy to the coalition fighting the Islamic State group (ISIS), and accused the president of being, "not a fraction of the person or patriot that [Brett McGurk] is."
Kerry, in a tweet, also said it was "pathetic" and "demoralizing to public servants everywhere," that Trump would, "defame a public servant who joined the Bush Administration and stayed on the last two years to help Iraq & defeat ISIL."
Kerry worked with McGurk during his time as secretary of state for the Obama administration. As mentioned by Kerry, McGurk served in the George W. Bush White House and was appointed to his most recent anti-ISIS role in 2015 under Obama.
McGurk resigned amid the fallout in Washington from Trump's recent, abrupt decision to withdraw U.S. troops from Syria and declaration on Twitter that, "we have defeated ISIS." The resignation of the country's top official battling the terrorist organization was just one of several events that came from the president's announcement he was withdrawing roughly 2,000 troops from the Middle Eastern country where the U.S. has been helping allies drive out ISIS.
Newsweek learned the troop withdrawal was made a week prior to Trump's Twitter announcement, in which the president informed military officials of his decision after a phone call with Turkish President Recep Tayyip Erdogan. Russian President Vladimir Putin praised the move, saying he had "done the right thing."
Over the weekend, the president accused McGurk in a tweet of being a "grandstander" who, "I do not know." Earlier on Monday, amid a storm of tweets from a Trump who is, "all alone (poor me) in the White House," the president continued to rail against the former American diplomat.
"For all of the sympathizers out there of Brett McGurk remember, he was the Obama appointee who was responsible for loading up airplanes with 1.8 Billion Dollars in CASH & sending it to Iran as part of the horrific Iran Nuclear Deal (now terminated) approved by Little Bob Corker."
The Iran Nuclear Deal was an agreement the Obama administration and multiple other countries—China, France, Germany, Russia, the United Kingdom and the European Union—struck with Iran in 2015 that allowed some Iranian assets to be unfrozen, in exchange for Iran curbing its nuclear development and allowing international inspectors to keep tabs on the country. Much to the displeasure of international allies, Trump ditched the deal in May, fulfilling a long-time campaign promise.
Trump received harsh bipartisan backlash for his decision to withdraw from Syria. GOP Senator and Trump-ally Lindsey Graham claimed Secretary of State Mike Pompeo and Secretary of Defense James Mattis told him they did not support the decision to withdraw troops from the region.
Adding to the backlash, Mattis resigned in apparent disapproval, writing in his resignation letter that, "Because you have the right to a Secretary of Defense whose views are better aligned with yours on these and other subjects, I believe it is right for me to step down from this position."