Former reality TV personality Josh Duggar is set to face trial on child pornography charges as his wife continues to stand by her scandal-plagued husband's side.
Duggar, 33, a family values crusader and conservative Christian, is facing up to 40 years in prison if convicted on charges of receiving and possessing material depicting the sexual abuse of children.
Duggar was arrested by U.S. Marshals on Thursday, April 29, according to the Western District of Arkansas United States Attorney's Office. On Friday, April 30, appearing before a judge at the Western District of Arkansas Federal Court via Zoom, the father-of-six pleaded not guilty to both charges. He has since been released and confined to the home of family friends while awaiting trial.
Little information has been made publicly available about the case, but during Friday's four-hour hearing, a federal Homeland Security agent said pornographic images depicting the sexual abuse of children, including toddlers, had been downloaded in 2019 by a computer at a car dealership Duggar owned.
The court heard Anna Duggar received regular reports about her husband's activity via a monitoring program that had been installed on the computer, according to the Associated Press. The allegedly pornographic images and videos were reportedly downloaded after software had been installed that would have allowed Josh Duggar to download them without being monitored.
Concerns have also been raised about Josh Duggar's capacity to be around children following his release, including the six he shares with his wife in their Springdale, Arkansas, family home.
Josh Duggar is currently prohibited from any Internet-accessible devices pending his July 6 trial and is only able to have contact with his children with his wife present, according to orders made by U.S. District Judge Christy Comstock on Friday. He is also not able to be around any other minors, including other family members.
Josh Duggar's arrest came just days after his wife announced the couple were expecting their seventh child and follows a slew of controversies surrounding the 19 Kids and Counting star, including a 33-page police report detailing years of allegations of sexual misconduct.
Josh Duggar reportedly met his wife-to-be Anna at a Christian homeschooling convention back in 2006 when she was a teenager. The pair wed two years later in September 2008. At the time, Anna said she was aware of the allegations against her soon-to-be husband but believed he had "humbled himself before God."
They share six children, including three boys and three girls named Mackenzie, Michael, Marcus, Meredith, Mason and Maryella. The couple are expecting to welcome a seventh child, a baby girl, this fall. Anna Duggar took to Instagram to announce the news on April 24.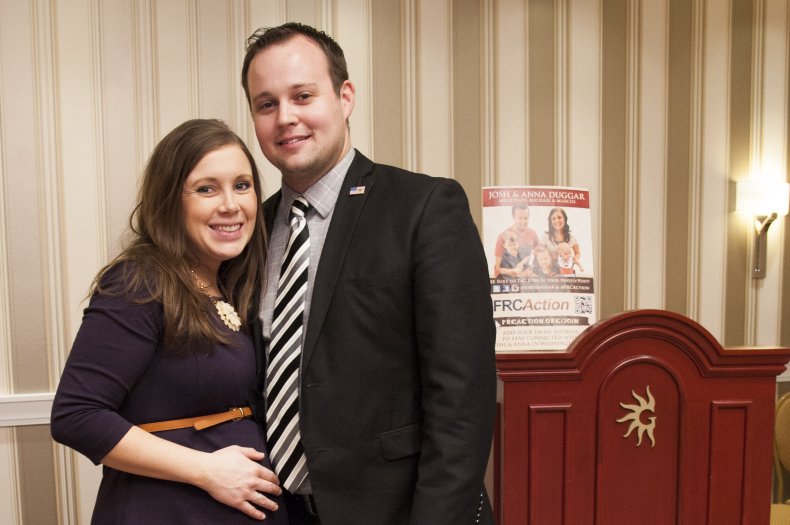 Pornography Admission
Josh Duggar openly admitted to watching pornography after he was exposed to have been a member of the adulterous dating website Ashley Madison in August of 2015 by the now-defunct website Gawker.
"I have been the biggest hypocrite ever. While espousing faith and family values, I have secretly over the last several years been viewing pornography on the Internet and this has become a secret addiction and I became unfaithful to my wife," Josh Duggar said in a statement on the Duggar family website in response to Gawker's report.
The news reportedly "shocked" wife Anna, who admitted her husband "had gone down a wrong path" but "had humbled himself before God" in a statement she shared to the family website
"I have secretly over the last several years been viewing pornography on the Internet and this has become a secret addiction and I became unfaithful to my wife," Josh Duggar, 2015.
The sexual assault allegations against Josh Duggar were first published by In Touch Weekly in May of 2015, citing police reports detailing Josh Duggar had molested underage girls as a teenager. Some of the allegedly molested girls included his own sisters. Josh Duggar later publicly confirmed the allegations were true and apologized for his behavior, saying he had "acted inexcusably."
In June that year, Josh Duggar's parents, Jim Bob and Michelle Duggar, told Fox News that Josh Duggar had confessed to the molestation in 2002 when he was 14 years old. Josh Duggar had allegedly fondled the breasts and genitals of several victims while they slept in the family's home. Josh Duggar said similar incidents occurred four to five times.
Josh Duggar also allegedly molested one girl who sat on his lap, and another whom he allegedly touched by placing his hand under her dress in the family's laundry room.
"[Josh] said he was just curious about girls, and he had gone in and basically touched them over their clothes while they were sleeping. They didn't even know he had done it," father Jim Bob Duggar told Fox News. "To them, they probably didn't even understand that it was improper touch," the mother added.
Josh Duggar never faced legal charges for the alleged molestations, partly because police said the statute of limitations for prosecuting the crimes had expired. His father told police that Josh Duggar went through a Christian counseling program from March 17 to July 17. There he "did manual labor and had counseling," Jim Bob Duggar told police.
Shortly after the allegations surfaced, TLC pulled all episodes of 19 Kids and Counting from the air.
"Twelve years ago, as a young teenager, I acted inexcusably for which I am extremely sorry and deeply regret," Duggar said about the allegations in a public statement issued on the Duggar family website in May 2015. "I hurt others, including my family and close friends."
Newsweek has contacted Gregory Payne, Josh Duggar's attorney, for comment.