Christian Group Urges Stores to Avoid Josh Hawley Book, Petition Garners 15,000 Signatures
A Christian group is urging stores not to stock an upcoming book from Senator Josh Hawley (R-MO), setting up a petition that already has more than 15,000 signatures.
Hawley saw a publishing deal for The Tyranny of Big Tech fall through following the violence of January 6, amid a backlash over his objections to Electoral College results on that day.
He has since secured a new publisher, though the backlash has continued with calls for him to be censured and adversaries urging him to resign.
Faithful America has launched two petitions targeting Hawley. One urges his new publisher, Regnery Publishing, to drop the release. This has more than 17,000 signatures at the time of writing.
A separate petition calling on book stores not to stock the title has more than 15,000 signatures. The two campaigns also target radio host Eric Metaxas, who is published by Regnery.
The petition states that the stores have "a civic responsibility to deny their private platforms and profits" from Hawley. The chains directly mentioned are Barnes & Noble, Books-A-Million and Hudson.
Rev. Nathan Empsall, Faithful America's campaigns director, told Newsweek that signatures from the petitions had been emailed to executives at those chains.
"Faithful America's members are using their constitutional freedom of speech to counter deadly white nationalism and election lies from powerful public officials like Hawley," Empsall said.
"We are asking private, market-based companies like Barnes & Noble to make similar decisions as part of their own free enterprise. Surely Hawley understands that this is how true freedom works, and his cries of 'cancel culture' are merely an attempt to distract Americans from remembering the deadly results of his actions. Actions have consequences, especially for those in power."
Regnery previously said it was "proud to stand in the breach" with Hawley after his original publishing deal fell through. The book is due out in spring 2021.
Hawley has bemoaned his treatment in the wake of January 6 and blamed "cancel culture"—a line used by several Republicans who have faced criticism since the riots.
Hawley has rejected the suggestion that he incited the violence, branding this a lie. He has said he was voicing the views of constituents by questioning election integrity.
Former President Donald Trump and several of his allies questioned the outcome of the November election, suggesting that irregularities and fraud tainted Joe Biden's victory. There is no evidence for this.
Trump supporters stormed the Capitol on January 6 after a Stop the Steal rally that was addressed by the president. Five people died in the violence that followed.
Hawley was photographed raising his fist to Trump supporters ahead of their assault on the Capitol. He has since denounced the violence, as has Trump, and called for those involved to face legal consequences.
The senator claims to still have "tremendous support" in his home state of Missouri despite the backlash.
Newsweek has contacted Hawley's office, Regnery, Metaxas and the book stores mentioned for comment.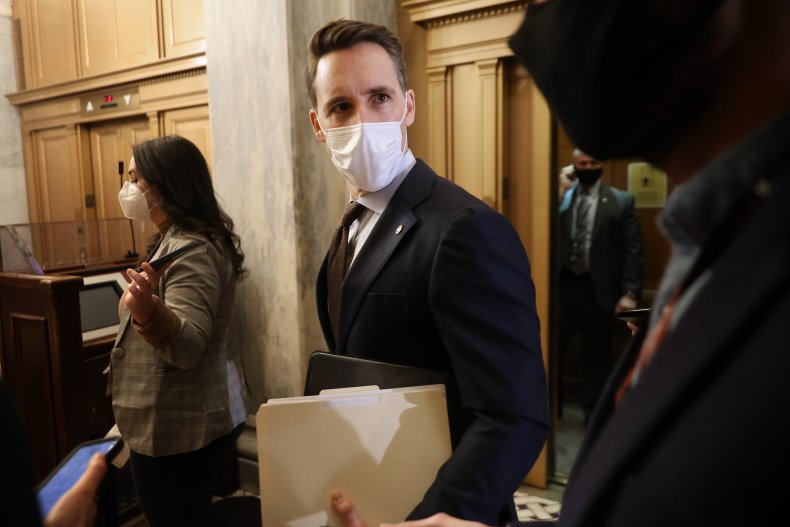 Updated 02/10/2021: This article has been updated with comments from Faithful America's campaigns director, Rev. Nathan Empsall.