Josh Hawley Is Endangering U.S. Democracy, Warns Missouri's Biggest Newspaper
Senator Josh Hawley has "twisted truth and logic" in his support for Donald Trump to the point that it endangers the future of American democracy, according to an editorial in Missouri's biggest newspaper.
The impassioned piece criticizes "Trump and his army of mythmakers, including Missouri Sen. Josh Hawley," for stifling people who "still allow themselves to be guided by facts" and threatening to wage war "to defend a lie."
The editorial appears in today's St. Louis Post Dispatch, which has the largest circulation in the city's metropolitan area and is the most widely read local paper in the state.
The Republican senator has been accused of inciting the riots that took place in Washington, D.C. on January 6.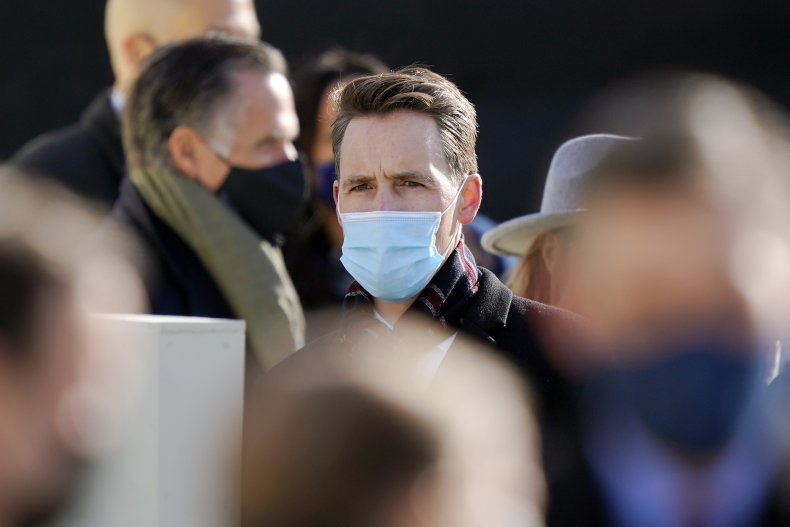 Hawley was the first senator to object to the certification of Joe Biden's victory and raised a fist in solidarity with Trump supporters outside the Capitol, before some stormed the building in violent scenes that led to the deaths of five people.
A number of political figures, including Missouri Rep. Cori Bush, have since called for Hawley to resign or be expelled from the Senate, accusing him of being morally responsible for the violence. His approval ratings among Missouri voters have fallen.
The St. Louis Post-Dispatch editorial argues that while President Trump may have left the White House, his legacy on American politics and the public's relationship with truth will take longer to rectify.
"He leaves a following of millions who reject verifiable facts and logic in order to keep Trump's lies alive," the newspaper writes. "Because so many of his followers also own guns and have demonstrated a willingness to attack disbelievers and derail democracy, a dark future awaits America unless something miraculous happens to make them come to their senses."
The editorial, which accuses Trump of "embracing the philosophy that there's a sucker born every minute," exploiting his followers' naivety and capitalizing on the QAnon conspiracy theory, takes aim at Hawley as part of a coalition of supporters that Trump successfully forged around the "myth" that he won the election.
Valerie Gilbert is also mentioned by name, "described by The New York Times as a Harvard-educated writer and actress who is convinced that the world is run by a satanic group of pedophiles", alongside "neo-Nazis and white supremacists who come equipped with their own twisted version of reality."
The editorial continues: "The traditional method in politics to move the nation forward is to engage in dialogue and a give-and-take compromise," but states that this can no longer be upheld because of the corruption of truth and logic necessary "to meet the other side halfway."
Sen. Hawley has not responded to Newsweek's request for comment.