Journalist Shares Alleged Experience Of Sexual Harassment With Kuala Lumpur-Based Dermatologist
A journalist took to Twitter on Friday to share an alleged encounter of sexual harassment, using #MeToo.
Tashny Sukumaran, a Malaysia correspondent for South China Morning Post, detailed in a series of tweets that she went to a clinic called Nathan Skin in Bangsar, a suburb of Kuala Lumpur in Malaysia, and was touched inappropriately during an examination.
"The dermatologist, Ruban, touched my legs inappropriately. I am sharing this as a warning to others," she explained.
Sukumaran said she visited the doctor, Ruban Nathan, because she had already been diagnosed with a genetic condition called ichthyosis but wanted a second opinion. On the business's website, it says that Nathan offers treatment for skin conditions, such as eczema and psoriasis, as well as a panoply of cosmetic services, like Botox injections, acne treatments and laser hair removal.
"Without asking or informing me, he grabbed my leg and pulled it onto his lap," said Sukumaran. "I was taken aback but before I could react he started STROKING MY LEG."
She continued: "4/ This total creep STARTED MOVING HIS HAND UP MY LEG towards my knee and thigh. I moved my leg away (couldn't 'escape' because of the angle) and told him that the dry skin was limited to just my shins. He stopped for a moment and then DID IT AGAIN - tried to fondle my knee.
"5/ I raised my voice slightly and repeated myself, and managed to sort of forcefully pull my leg away and sit properly. He gave me some generic advice on dry skin and the price of a steroid cream. Whatever la. I said OK and made to leave."
Users encouraged Sukumaran to report the incident to the police, though she said that she doesn't believe her experience meets the requirements in the Penal Code. Sukumaran noted that there is no specific law that homes in on sexual harassment, though lawmakers are looking to change that.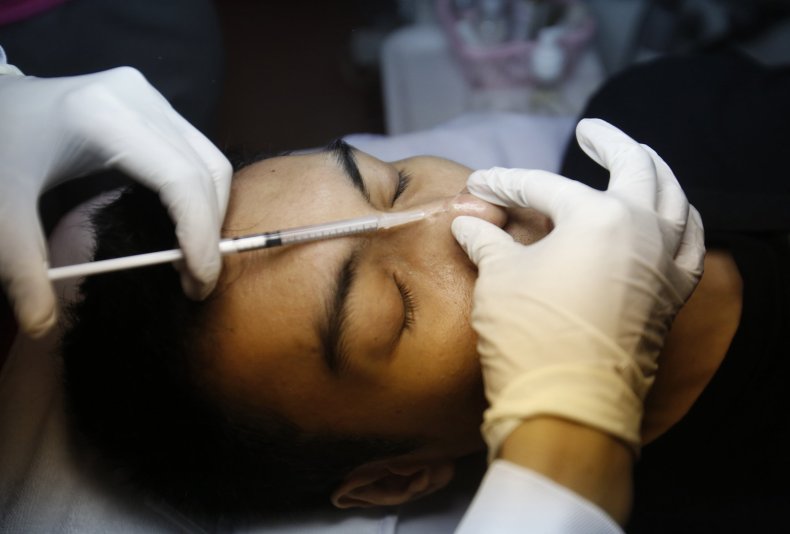 Sukumaran's story also prompted users to share their own stories of harassment, specifically with Nathan.
"I had a bad experience there when I went for a checkup for a rash. The guy grabbed my crotch inappropriately," tweeted one user. "Also got asked really weird questions about my sexuality and told I should get circumcised there. All in the one consult."
Sukumaran also posted screenshots of a private messages she received, where people alleged that Nathan mistreated them as well.
"He did once grabbed my belt so suddenly and pulled up the back of my shirt to check my eczema. I was so very shocked at that time bcs I'm a muslim, i wear hijab, and i thought he would have asked for my permission before doing that [sic]," one of the unnamed people alleged.
Sukumaran and at least one other user suggested that a nurse should have supervised the examination, ostensibly referencing a guideline produced by Ministry of Health Malaysia.
Dr. Ruban Nathan could not be reached by Newsweek for immediate comment.