Juan Rojas Tovar Identified as Trooper Shot in Bryan, Texas Kent Moore Cabinets Shooting
Juan Rojas Tovar has been identified as the Texas Department of Public Safety (DPS) trooper who was shot while pursuing the man suspected of committing a mass shooting that left one person dead and four others in critical condition in Bryan, Texas, on Thursday.
Tovar was shot in Iola, a small city located in Grimes County, a little over 30 miles from the cabinet manufacturing facility where the shooting took place. He was injured while attempting to apprehend the fleeing suspect, who was eventually detained about two hours after police said he used a handgun to carry out the attack.
The trooper was transported to St. Joseph Hospital in Bryan by helicopter, with DPS Lieutenant Craig Cummings saying that surgery had been performed at the hospital due to his injuries.
"Our prayers go out to all of those who are affected by the shooting here in Bryan and certainly to our trooper who was wounded this afternoon," Cummings told reporters at a news briefing outside the hospital. "We want to thank the hospital and the doctors and the nurses that have just given phenomenal care to [the trooper] and all of those... that have been injured today."
DPS confirmed in a tweet that Tovar remained in "stable condition" as of Friday morning.
Texas Governor Greg Abbott said that he was "working closely" with DPS and the Texas Rangers, who were working with local authorities to investigate the shooting.
"Their efforts led to the arrest of the shooting suspect," Abbott said in a statement shortly after the suspect was apprehended. "The state will assist in any way needed to help prosecute the suspect. Cecilia and I are praying for the victims and their families and for the law enforcement officer injured while apprehending the suspect."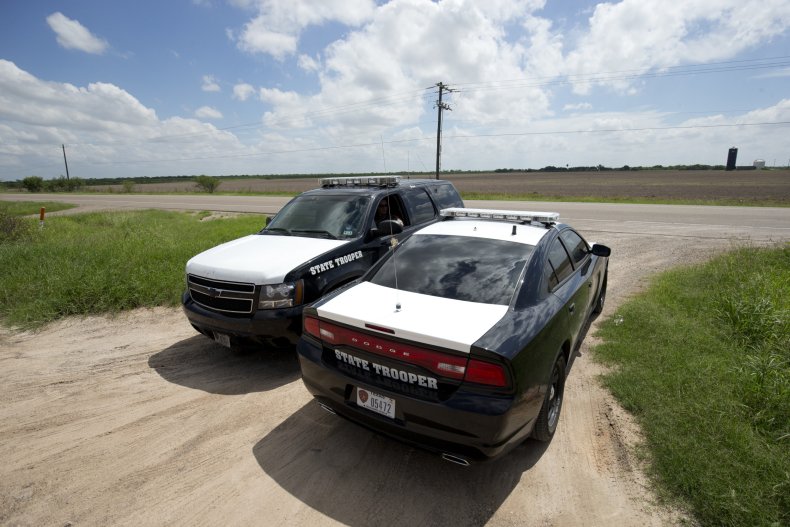 Newsweek reached out to DPS for additional information and comment.
Thursday's shooting took place at a Kent Moore Cabinets plant. The suspect, identified as 27-year-old Larry Bollin, is reportedly an employee of the company. Police responded to the scene around 2:30 in the afternoon and found one person—identified as Timothy Smith, 40—had been shot and killed. Four more people were taken to the hospital in critical condition with gunshot wounds, while another person joined then after suffering an apparent asthma attack but no injuries.
"We are devastated by the events today at our Bryan manufacturing facility located on Stone City Drive," Kent Moore Cabinets said in a statement. "Our hearts go out to the families and the loved ones of those affected. We want to thank the many members of our law enforcement teams and other emergency personnel who responded so quickly. We are fully cooperating with law enforcement during the investigation of this horrible crime."
The incident was the latest of several high-profile mass shootings that have happened recently, as gun control debates rage on the national political stage. It took place on the same day that President Joe Biden issued a series of executive orders intended to curb gun violence.
On Wednesday, former NFL player Phillip Adams was suspected of shooting six people in South Carolina, killing five before taking his own life. On March 22, a mass shooting at a Colorado supermarket left 10 people dead, while a shooting spree in Georgia killed eight less than a week earlier.