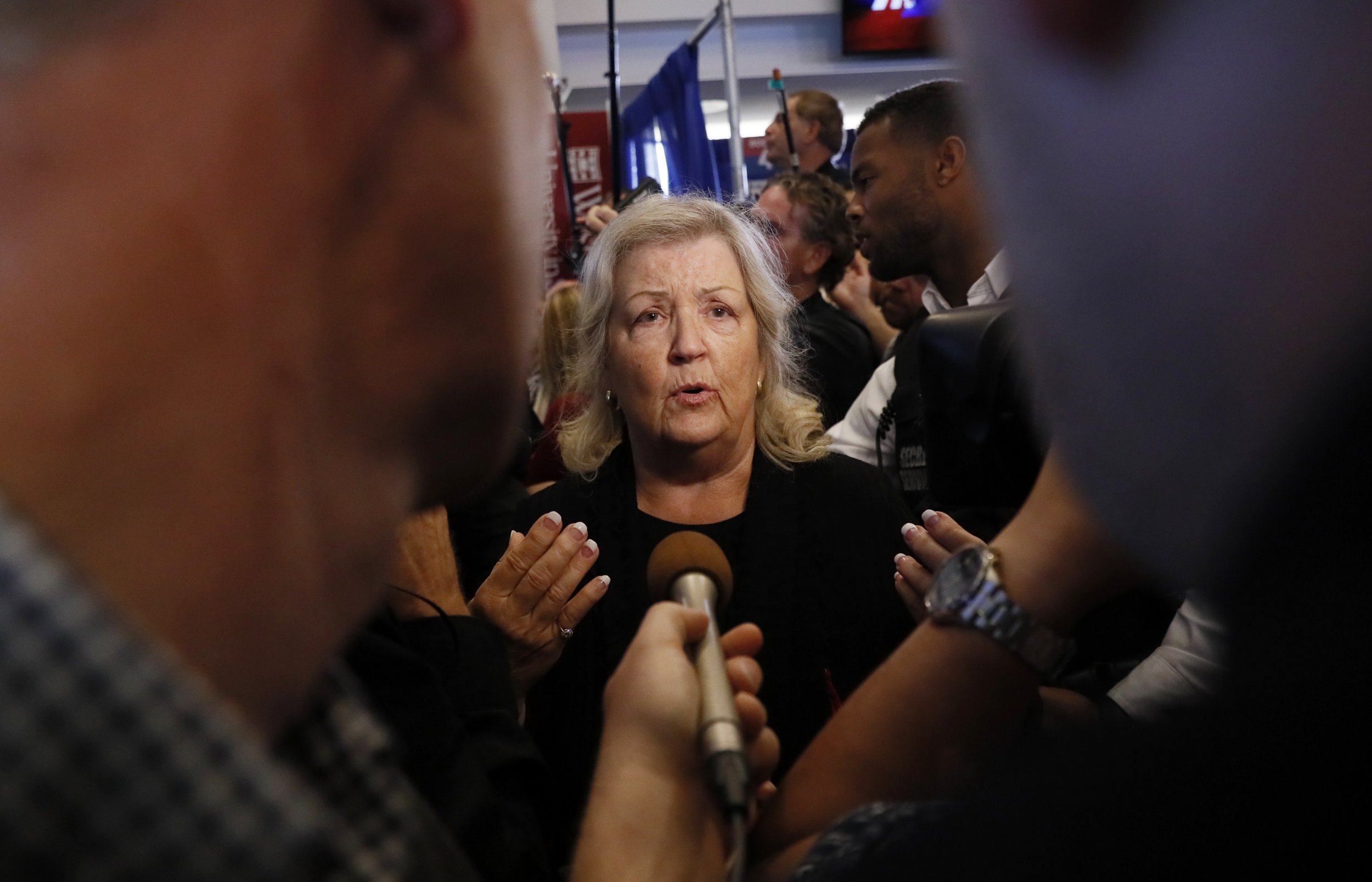 When Juanita Broaddrick thinks about all of the men who have been accused of committing sexual harassment or assault over the last several weeks, she knows exactly who to blame for their alleged misdeeds: Hillary Clinton.
Broaddrick, who first came forward with allegations against Bill Clinton in 1999, has said many times that Hillary Clinton intimidated her into silence for years, cornering Broaddrick at a political rally to thank her for keeping quiet about the alleged rape. The result? Hundreds of women who have been too scared to talk publicly about their own experiences with sexual assault until now, Broaddrick said.
"I think if she had been more responsible with her response to his behavior years ago, we would not be faced today with these accusations, which are a result of this permissive society we have experienced for the last two decades," Broaddrick told Newsweek. "Hillary Clinton is ultimately responsible for what we're going through now."
The national conversation about sexual misconduct has brought Broaddrick into the spotlight again, as new accusations against Republican Alabama Senate candidate Roy Moore as well as Senator Al Franken (D-MN) and Representative John Conyers (D-MI) inevitably lead to questions about Bill Clinton's own alleged sexual misconduct.
This time, the court of public opinion seems to be ruling in Broaddrick's favor. Last week, the New York Times published an op-ed simply titled "I Believe Juanita." The next day, Vox cofounder and executive editor Matthew Yglesias penned a similar column, stating, "Bill Clinton Should Have Resigned," though he focuses more acutely on Clinton's relationship with Monica Lewinsky. And even Senator Kirsten Gillibrand (D-NY), who holds Hillary Clinton's former Senate seat, said she thinks Bill Clinton's resignation would have been an "appropriate response" to his sexual misconduct.
But Broaddrick said she's not sure if she can trust those who are just now coming around to scrutinizing Bill Clinton. "I don't think it's ever too late to say you believe me," Broaddrick said. "But the coming days and months will tell us if they're sincere."
Broaddrick says Bill Clinton sexually assaulted her in a Little Rock, Arkansas, hotel in 1978, when he was state attorney general. Broaddrick, who was a volunteer for Bill Clinton's gubernatorial campaign, said she had intended to meet Bill Clinton at his campaign quarters until offered to meet her in a coffee shop in the hotel lobby instead. When Clinton arrived, he called Broaddrick to tell her that the lobby was too crowded with reporters and suggested he come up to her room to have the meeting. According to Broaddrick, when he got to her room, he pushed her onto the bed and raped her, leaving her with a swollen lip from forcible kissing.
Afterward, Broaddrick says Bill Clinton told her: "You'd better put some ice on that." Broaddrick includes the alleged quote in the title of her upcoming memoir, due January, You'd Better Put Some Ice on That: How I Survived Being Raped by Bill Clinton.
Those who want to believe Broaddrick's account might have a hard time wrapping their mind around how Broaddrick could have appeared at a press conference alongside President Donald Trump during the 2016 election, and why she continues to support him.
Broaddrick said she'd gotten a call from Trump's campaign asking her to speak at the press conference just after the Washington Post published a leaked Access Hollywood tape that caught the then-Republican nominee bragging about grabbing women by the genitals. The Trump camp scheduled the news conference, during which time Broaddrick and three other Bill Clinton accusers shared their stories, just hours before Trump's second debate against Hillary Clinton. The timing had a clear political calculus behind it: To divert attention from Trump and to hurt his opponent's presidential campaign.
Broaddrick said the idea that anyone would use sexual assault allegations to score political points "hurts her to the bones." But when asked whether she thinks Trump used her for his own political gains, Broaddrick said: "I didn't care."
"We had this opportunity in a very public forum to come out again and tell what happened to us to people who had no idea we existed," she continued. "That's why I did it."
Broaddrick demures when asked if she believes Trump's more than a dozen accusers, stating repeatedly that she has "no idea" if the allegations of sexual harassment and assault against him are true.
In October 2016, Jessica Leeds and Rachel Crooks were the first to come out with accusations against Trump in a New York Times story, recounting traumatizing incidents of Trump assaulting them.
"I felt sorry for them," Broaddrick said of the women who spoke out against Trump. "I felt like they had a right to be heard. But I also felt at the same time that they should bear investigation, scrutiny and vetting. I think it's only fair for all parties involved."
This stance seems somewhat at odds with how Broaddrick spends the majority of her days. On Wednesday, she said she had to push back her interview with Newsweek and cancel a weekly tennis date with her friends to make time to answer the hundreds of emails, Twitter DMs and Facebook messages she receives every day from men and women who come to her with their own accounts of sexual assault. Broaddrick said she answers every single one, spending as many as three hours every day penning individualized responses. She even takes time to answer hate mail, usually from people who call her a hypocrite for aligning herself with Trump.
Broaddrick voted for Trump in 2016, and she said she'll vote for him again in 2020, unless the allegations against him are investigated and determined to be true by authorities.
But really, Broaddrick said she'd rather not talk about politics at all, since she thinks they don't have a place in conversations about sexual assault. Plus, she said, "I'm not real smart with political things."
"I think it's horrible what's going on right now across party lines," Broaddrick continued. "I'm a victim first."