Judge Cuts Off Richard Spencer's Opening Statement in 'Unite the Right' Trial
A judge cut off white nationalist Richard Spencer's opening statement during a trial about the deadly 2017 "Unite the Right" in Charlottesville, Virginia. Spencer and 14 other defendants face civil charges for allegedly conspiring to commit violence at the rally.
Judge Norman K. Moon interjected three times during the opening statement because Spencer wouldn't "stick to the facts," Insider reported.
Moon first cut off Spencer when he said he had never been arrested due to violence at the rally. Moon said such arrests were irrelevant because the case was a civil lawsuit, not a criminal one.
Moon cut off Spencer a second time when Spencer complained that the rally deserved the same free-speech protections as the national Black Lives Matter (BLM) protests that occurred during summer 2020. Spencer said the BLM protests resulted "in vandalism, looting, violence," but Moon interrupted Spencer, telling him to "stick to the facts of this case."
Moon interrupted Spencer a third and final time when Spencer began musing on the effects the trial might have on the concept of "justice." Moon told Spencer, "We're not sending a message here. The question is, do the claimants prove what they must prove to hold the defendants liable?"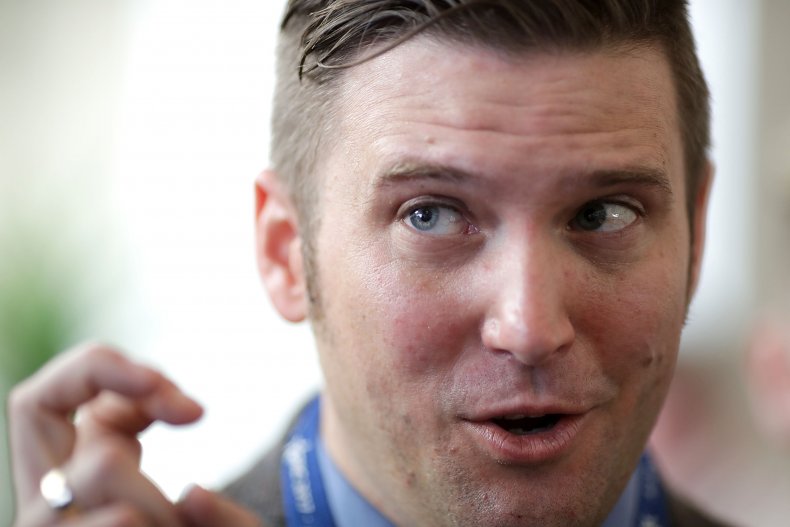 Spencer and his co-defendants are being sued by nine plaintiffs—Charlottesville residents and counter-protesters who were injured during the two-day rally.
The plaintiff's lawyers have pointed to pre-rally text messages between Spencer and other attendees and organizers which seemed to condone premeditated violence. In one such exchange, Cristopher Cantwell, a white nationalist convicted on rally-related assault charges, asked Spencer if committing violence would be "worth it."
"It is, at least for me," Spencer allegedly told Cantwell, according to plaintiff attorney Karen Dunn.
Spencer has argued that he shouldn't be a defendant in the case because he wasn't a rally organizer. Spencer said was only invited to speak by rally organizer Jason Kessler. Spencer also said he considered Cantwell to only be an "acquaintance."
However, planning documents for the rally were created by the National Policy Institute, a think-tank led by Spencer. The group's documents revealed that that various alt-right groups associated with violence were invited to the event.
The event's speakers included anti-Semites and members of the Proud Boys, a male chauvinist group with ties to white supremacists and January 6 insurrectionists.
During the August 11, 2017 rally, Spencer led a torchlit procession of at least 150 white supremacists in chanting "Jews will not replace us." On the rally's second day, white supremacist James Alex Fields Jr. injured dozens of people and killed counter-protester Heather Heyer after hitting them with his car.
Spencer became infamous after shouting "Hail Trump!" at an alt-right event in Washington in 2016 shortly after Trump's election. At the event, Spencer was greeted with Nazi salutes and described the mainstream media as the "Lügenpresse," a German term meaning "lying press." Nazis used the term to dismiss unfavorable coverage.
Spencer is credited with popularizing the term "alternative right." He subsequently became a prominent spokesperson for the far-right movement. The Southern Poverty Law Center has referred to Spencer as "a suit-and-tie version of the white supremacists of old."
Spencer has advocated for "peaceful ethnic cleansing" and called for a "white ethnostate" while stating the country should be only for white people.
"America was, until this last generation, a white country designed for ourselves and our posterity," Spencer said at a November 2016 event. "It is our creation, it is our inheritance, and it belongs to us."
Spencer has been banned for five years from entering 26 European countries for his white supremacist views.
Spencer has also said that he opposes women having the right to vote or holding government offices that allow them to make foreign policy. In 2018, Spencer's wife accused him of being physically and emotionally abusive throughout their marriage, including when she was pregnant. Spencer denied the allegations.
During the 2020 presidential campaign, Spencer endorsed then-Democratic Presidential nominee Joe Biden. Spencer also pledged that the alt-right would "recover and return in a new form." Biden disavowed Spencer's endorsement.
Biden's campaign manager, Andrew Bates, rejected Spencer's endorsement on Twitter.
"When Joe Biden says we are in a battle for the soul of our nation against vile forces of hate who have come crawling out from under rocks, you are the epitome of what he means," Bates wrote. "What you stand for is absolutely repugnant. Your support is 10,000% unwelcome here."