White Nationalist Richard Spencer Accused of Physical Abuse by Wife, Attacking Her While Pregnant
The wife of white nationalist Richard Spencer has accused him of being physically and emotionally abusive throughout their marriage, describing incidents in which he attacked her while she was pregnant.
Nina Koupriianova, who has been married to the "alt-right" figurehead since 2010, has made a string of allegations against Spencer, including claims that he dragged her down a flight of stairs, pulled her by her hair into a car and pinned her down and "held me by my neck and lower jaw" while she was four-months pregnant, according to divorce filings obtained by Buzzfeed News.
In 2017, when she was nine-months pregnant with their second child, Koupriianova alleged Spencer "tried to punch me in the face" during an unexpected visit.
Koupriianova also claimed Spencer was verbally abusive toward her, including calling her "genetically defective." She said one of his favorite phrases, repeated often to her, was: "The only language women understand is violence," reported The Guardian.
Spencer denied the allegations in a statement to The Associated Press, saying he was "not an abusive person" and his wife was "never in a dangerous situation." In court filings from August, Spencer said he denied "many of her assertions."
Elsewhere in the filings, Koupriianova claimed that Spencer's political views and activities had made their whole family "potential targets." She said ever since Spencer was assaulted on the street on the day of President Donald Trump's inauguration—with a clip of the incident going viral across the world—Spencer has kept a loaded weapon in his bedroom that was "accessible by children."
"Due to the fact that [Spencer] still engages in extremely polarizing public speech, I am extremely concerned that he may continue leaving loaded weapons at his place of residence or at his parents' house, where he stays when he visits Whitefish, Montana," Koupriianova told the court.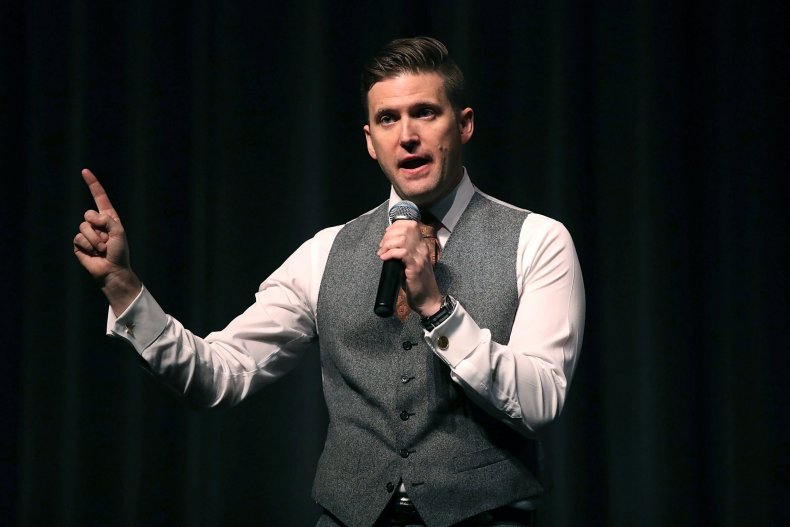 Spencer became infamous after shouting "Hail Trump!" and being greeted with Nazi salutes at an alt-right event in Washington in 2016 shortly after Trump was elected. He later rose to become a prominent spokesperson for the far-right movement, and claimed to have popularized the term "alternative right."
He was also one of the key organizers for the white supremist rally in Charlottesville, Virginia, last year at which 32-year-old Heather Heyer was killed when a car driven by a white supremacist plowed through a crowd of counterprotesters.
Other public appearances or organized events attended by Spencer have resulted in violence as attendees and counterprotesters clash.
"Despite the risk to his family [Spencer] continues to engage in extremely polarizing public speech advocating 'peaceful ethnic cleansing' and a white-only 'ethno-state,' which tends to invite passions and violence," Koupriianova argued in court.
According to the court documents, Koupriianova had been reluctant to call the police or seek an order of protection for "fear of further reprisal."
"Much of the abuse has occurred in the presence of the parties' children," the documents stated.
The pair have lived separately since July 2017. Spencer has made repeated attempts to keep the divorce proceedings from going public.