Justice John Roberts' Meeting With 'Christian Nationalist' Raises Questions
U.S. Supreme Court Chief Justice John Roberts reportedly met a former Arkansas lawmaker who has been accused of being a Christian nationalist, and was once sued for blocking atheist constituents on social media accounts, in his role as an elected official and an individual.
Right Wing Watch, a project that "monitors and exposes the activities of Radical Right political organizations," tweeted on Friday highlighting a Facebook post from former state Senator Jason Rapert, who is now president of the National Association of Christian Lawmakers (NACL).
"Christian nationalist Jason Rapert is bragging about meeting Supreme Court Chief Justice John Roberts last night," Right Wing Watch posted and also shared a video of Rapert saying that the problems facing the U.S. were because Christians had failed to take authority in the country.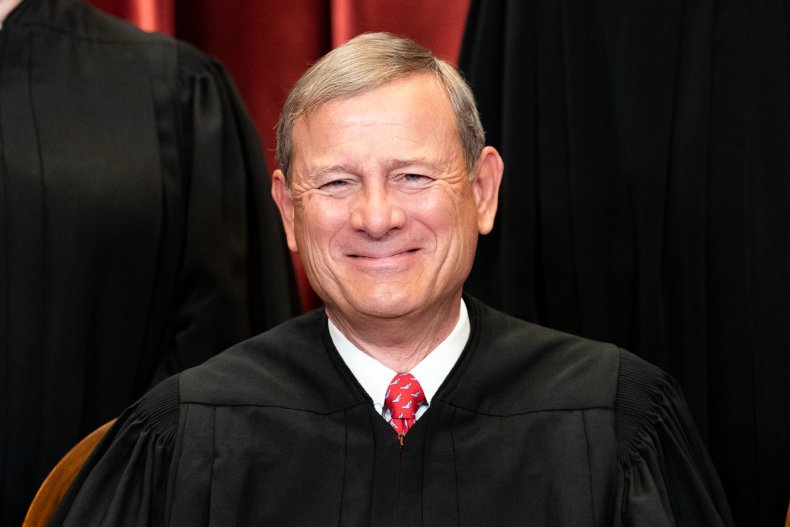 On Facebook on Thursday, Rapert shared a photo of Roberts in his judicial robes, which appeared to be from an official portrait, and wrote: "I just met Chief Justice John Roberts of the US Supreme Court after a dinner meeting this evening. I shook his hand and briefly discussed the National Association of Christian Lawmakers."
"Told him we have been praying for them and we will continue to do so. I chose not to ask for a picture, but I left him with our NACL card which is more important," Rapert said.
"The U.S. Supreme Court has not always made decisions I agree with, but in the last year they overturned Roe V. Wade and threw out the horrible Lemon Law that was misused to stifle religious speech and religious freedom in our nation. Justice Roberts was first appointed as Chief Justice in 2005 and it is likely he will continue for many years to come. I sincerely pray God will speak into his life and through his decisions every day that he serves," he added.
It was not clear from Rapert's post where he met Roberts or under what circumstances but the claim is likely to raise further questions for the chief justice, whose wife has also recently been the focus of scrutiny.
A spokesperson for the Supreme Court told Newsweek in a statement: "The Chief Justice did not have a meeting with this individual. At the end of a purely social dinner with friends, the Chief Justice (in the presence of his security detail) was approached outside the restaurant by the individual.
"The individual stated that he and his organization, which the Chief Justice did not recognize, were praying for him. The Chief Justice thanked the individual, who went on his way," they added.
According to The New York Times, a former colleague of Roberts' wife, Jane Sullivan Roberts, has sent records to Congress and the Department of Justice (DOJ) indicating that her work as a legal recruiter poses ethics concerns for the chief justice.
Those records reportedly indicate that the chief justice's wife has been paid millions of dollars in commissions for placing lawyers at firms, including at some that have business before the Court.
In reply to a comment on his Facebook status that criticized Rapert meeting Roberts, Rapert wrote: "I met the man and told him we were praying for him—that's not buddying up. Jesus met people and encouraged us to do the same—to be salt and light in the world. Start living by the Book rather than misquoting it to reinforce a flawed statement."
Rapert served as a state senator in Arkansas from 2011 to 2022 and is founder and president of NACL. On its website, NACL says that its mission is "to bring federal, state and local lawmakers together in support of clear biblical principles."
The group "is committed to abolishing abortion in our nation, restoring marriage between one man and one woman," among other concerns, and say they are "doing everything we can to restore the Judeo-Christian foundation of our nation."
In July last year, NACL was cited in an article from The New York Times about Christian nationalism, while in August Rapert settled a lawsuit brought by American Atheists after he blocked atheist constituents from his official social media accounts.
As part of the settlement, Rapert unblocked those constituents and agreed to pay $16,000 to American Atheists for costs related to the lawsuit.
"By barring Arkansas critics from his official social media accounts, Senator Rapert created an echo chamber of self-agreeing citizens. This is not the American way," said Karen Dempsey, one of the named Arkansas plaintiffs, according to a local media report. Rapert, a six-term senator, was sued as an individual and in his official capacity.
American Atheists announced at the time that they had reached a "successful settlement against Christian nationalist Jason Rapert," whom they also described as "founder of the Christian nationalist organization, National Association of Christian Lawmakers."
The Supreme Court's conservative justices have already been subject to scrutiny and criticism in recent months over a series of decisions, including the overturning of the landmark abortion rights case Roe v. Wade, and the inconclusive investigation into the leak of a draft opinion on that case.
Update 02/07/23 03.01a.m. E.T.: This article was updated to include a statement from the U.S. Supreme Court.