Music Festival Crowd Chants Hailey Bieber Diss Amid Selena Gomez Drama
Justin Bieber did not respond on stage when a music festival crowd started chanting a diss at his wife, Hailey Bieber.
Bieber, 29, appeared for a surprise performance with Don Toliver at the Rolling Loud festival in California on Saturday.
As they wrapped up their song, the crowd cheered before they started chanting "f*** Hailey."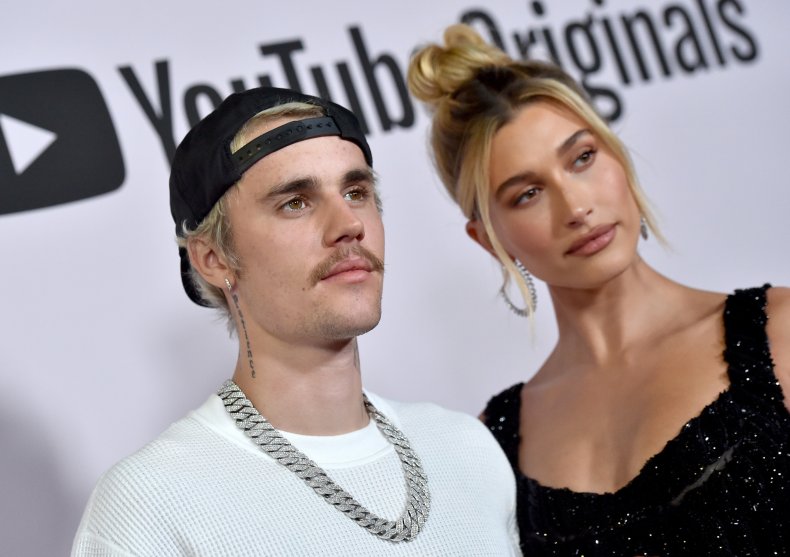 The singer ignored the chants, which presumably started amid the alleged feud between his wife and ex-girlfriend, Selena Gomez.
A video of the incident was posted to TikTok and showed Bieber walking off stage, chatting to Toliver as the crowd continued its chant.
TikTok users were divided in the comments about the chant, with some saying it was not appropriate, but others seeing a funny side.
"Nah I feel like that's too much tho let him enjoy his night :/ it's not his fault," commented one fan.
Another added: "I know his stomach dropped when they started chanting."
And a third wrote: "I wish they said TEAM SELENA."
Fans have been taking sides over what is believed to be a feud between Gomez and Bieber after they believed the latter threw shade on the former Disney star.
The supposed Bieber and Gomez drama started when Bieber posted her with friends, Kylie Jenner and Justine Skye, lip-syncing to an audio saying, "I'm not saying she deserves it, but I'm saying God's timing is always right." The video dropped at a time when Gomez was facing body shaming for having gained some weight and fans accused Bieber of being a "mean girl."
Then in late February, Gomez posted to TikTok saying she'd "accidentally laminated [her] brows too much."
Jenner then posted a photo of herself on her Instagram stories with the caption, "this was an accident???" written over her eyebrows and then another story showing a screenshot of her FaceTiming Bieber with their cameras held close to their eyebrows.
Gomez fans thought the friends were making fun of her but Jenner was having none of it.
"This is reaching," Jenner commented on a TikTok about the incident. "No shade towards Selena ever and I didn't see her eyebrow posts! u guys are making something out of nothing. this is silly."
Gomez added: "Agreed @kyliejenner It's all unnecessary. I'm a fan of Kylie!"
Then a few days later, fans speculated Bieber was at it again but this time on her own Instagram stories.
She reposted an Instagram Story by lifestyle account, Style and the Beach, which featured a skincare kit by Bieber's brand, Rhode. The song "Calm Down" by Rema played over the video.
But the version of the song was the original by Rema and not the top 20 remix featuring Gomez.
Some fans accused Bieber of re-sharing the story just to throw shade at Gomez, while others said those conspiracy theories were "reaching."
Fans believed a feud has been brewing between the women because Bieber married Justin Bieber just months after his and Gomez's eight-year relationship had ended.