Who Does Justin Timberlake Play in Wife Jessica Biel's Show 'Candy'?
Candy features a surprise cameo from lead star Jessica Biel's real-life husband Justin Timberlake in its fourth episode.
The true-crime series has been airing as a five-part event on Hulu from May 9 to May 13, and the most recent episode introduces Timberlake's character to the story.
Here is everything you need to know about who he plays and what Biel, who is also an executive producer on the show, thinks of his appearance.
Who Does Justin Timberlake Play in 'Candy'?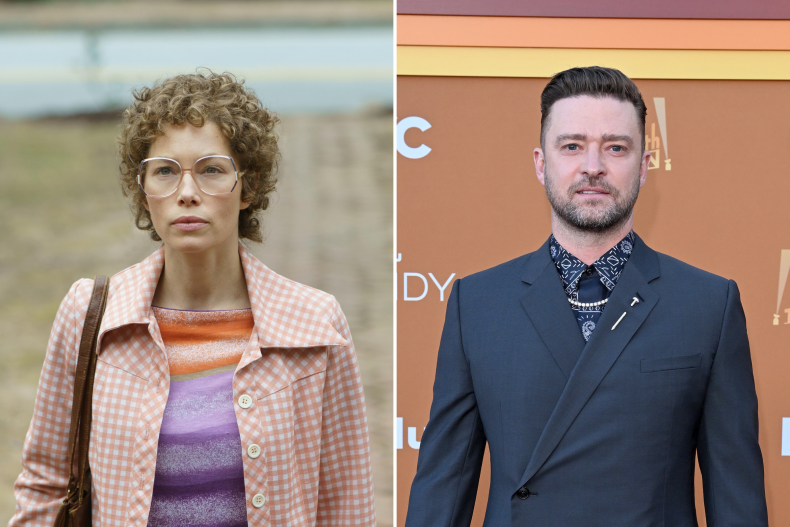 Justin Timberlake portrays Steve Deffibaugh, one of the Sheriff's deputies in Wylie, Texas, who is investigating Betty Gore's death on Friday, June 13 1980 and Candy Montgomery's connection to it.
Montgomery was accused of killing Gore by hitting her 41 times with an ax, an attack she later said in court was in self-defense because Gore confronted her about an affair she had with her husband Allan.
As Deffibaugh Timberlake is able to ask the question everyone wants an answer to when he asks Montgomery "did you kill Betty Gore?"
Candy marks the first time Biel and Timberlake have had the chance to act opposite each other, and Biel said in an interview with The Los Angeles Times that it was "easier" than she thought to share a scene with her husband
The singer's appearance in the drama was kept a secret up until his reveal, and at the time of writing he still isn't credited as being part of the cast on IMDb.
Biel shared that originally she wasn't planning on casting her husband in the role of Deffibaugh because she felt it was too small a part for him to play.
She explained to the publication: "I never would have approached him for the part, simply because I didn't think it was big enough for him.
"I told him, 'I cannot pay you much of anything. Are you sure?' He's like, 'I don't care. All I want is a prosthetic belly, a wig and a mustache.' And I was like, 'That we can do.'"
Timberlake met with his real-life counterpart in preparation for the role and Biel added that he "just fell in love with" Deffibaugh.
Robin Veith, who is the series' co-creator, explained that Deffibaugh was an integral part of the show and they interviewed him multiple times to gain insight on the real case, learning that he still "pretty much figured that [Montgomery] did it."
Veith added: "He had a compelling story to tell and was basically arguing for Betty because she never got a chance to speak for herself. It became a very important way for us to give Betty's side as much weight as Candy's."
Despite Deffibaugh's beliefs, Montgomery was found not guilty by a jury after she gave testimony about how Gore attacked her first with an ax, prompting her to act in self-defense.
Biel and Timberlake have been married since 2012 and they share two sons together: 7-year-old Silas and Phineas, who is nearly 2 years old.
The finale of Candy premieres on Hulu on Friday, May 13.
Update 05/12/22 5:32 a.m. ET: This article was updated to include a video of Jessica Biel talking about Justin Timberlake's appearance in Candy.