Justin Timberlake's 'Man of the Woods': A Track-by-Track Review of the Star's Nature-Obsessed New Album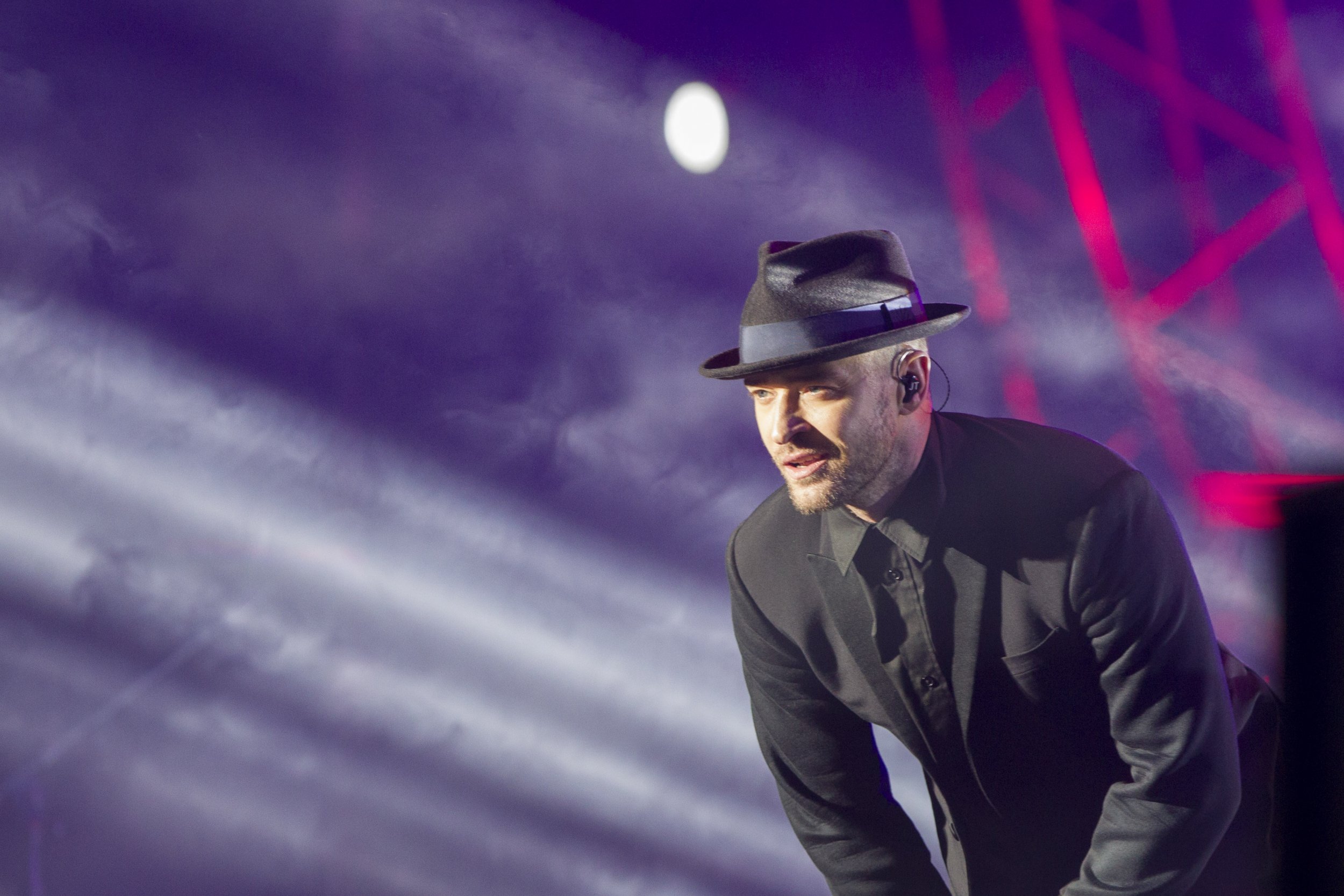 The album marketing suggested woodsy vibes and a country cadence. The early singles delivered dancefloor grooves and robotics synths.
On Justin Timberlake's fifth album, Man of the Woods, the pop star tries to have it both ways, outfitting his acoustic licks and backwoodsy Americana flourishes with slick, radio-friendly beats delivered by producers like Timbaland and The Neptunes. The album is not so much fixated on wilderness survival as it is centered around visions of wholesome domestic bliss, with adoring tributes to Timberlake's wife, Jessica Biel, and their toddler son cropping up all over the place. It feels a long way from the seductive funk delights of 2006's FutureSex/LoveSounds.
The result is an eclectic but frustrating listen: Man of the Woods is a pastiche of rustic stylistic whims that too often stretch the limits of Timberlake's considerable talent. A family man eager to sing praise of wilderness self-discovery myths, he is not so much playing to his strengths as trying new ones on for size.
As the pop star performs at the 52nd Super Bowl halftime show, here's our track-by-track review of Man of the Woods.
1. "FILTHY"
"No, this ain't the cleeean version," Timberlake drawls near the start of a song called "Filthy," which is a strange boast to indulge at the beginning of an album largely preoccupied with familial bliss and pastoral fantasy. But there's a lot about first single "Filthy" that is utterly unrepresentative of Man of the Woods. The song hinges on a slippery robo-funk synth groove and flirty come-ons like "What you gonna do with all that beast / When I leave the cage open?" Silly, sure. But it's danceable and ably executed, which is more than can be said for many of the stylistic diversions on this album.
2. "MIDNIGHT SUMMER JAM"
Timberlake has spoken extensively about how Man of the Woods was inspired by his Southern upbringing, a point he underscores by using the word "y'all" four times in the first 15 seconds of "Midnight Summer Jam." "It's Southern American music," Timberlake said of the album in 2017. "But I want to make it sound modern." This song is a pretty good introduction to that dual aesthetic. The strummed guitars and howling harmonica seem fit for a campfire, but it's anchored by thumping, Neptunes-approved beats. The goal seems to be to capture the feel of a backyard party in Timberlake's native Tennessee, and who's to say it doesn't succeed?
3. "SAUCE"
Toby Keith gets a co-writing credit on "Sauce," though you wouldn't know it from hearing the track—if anything, it's one of the least countrified offerings on Man of the Woods. The track is a nimble slice of neo-funk, with bluesy guitar growls reportedly inspired by Alabama Shakes. It's good! The closest antecedent in the Timberlake catalog is probably 2006's soul pastiche "Damn Girl," but the song stands on its own.
4. "MAN OF THE WOODS"
Breezy doo-wop harmonies, a chirpy guitar cadence that recalls the backing vocals from "Walk on the Wild Side," an adorable music video that finds JT ambling through a forest and prancing through a log cabin—"Man of the Woods" is everything you feared this album would be. And yet it's strangely irresistible. (We are all powerless to resist the pull of that damn doo-wop progression.) Though Timberlake repeatedly sings "I'm a man of the woods / That's my pride," the Shyamalan-esque twist here is that the song (and album) was actually named after the star's young son, whose name Silas means "of the forest."
5. "HIGHER HIGHER"
One of the few Woods tracks that sounds like it could be a throwaway cut from the 20/20 Experience sessions, "Higher Higher" finds Timberlake thumbing his nose at money and fame while affirming his love for wife and their fairytale love story in a smooth falsetto. Incidentally, this is one of two songs on here that mentions a far better pop song by name: "Higher Higher" name-checks Madonna's "Lucky Star," while "Breeze Off the Pond" mentions Elton John's "Tiny Dancer."
6. "WAVE"
Oh no. Timberlake's half-assed reggae misfire is nearly as insipid as Arcade Fire's half-assed reggae misfire from six month's prior. "Wave" tries to simulate the experience of a sexy beachside rendez-vous, but it mostly just feels like a resort infomercial: "I'll catch a couple fish / Then we can dine." Don't forget the sunblock!
7. "SUPPLIES"
"Supplies" seems to be angling for both "apocalyptic" and "horny" but faceplants somewhere in the middle. This doomsday come-on ("I'll be the generator / Turn me on when you need electricity") is centered around an irredeemably irritating delivery that stretches out the word "Supplies" to three lengthy syllables. The song is bad. But it doesn't even have the courtesy to be bad in a way that's representative of the album, making Timberlake's decision to release it as an early single particularly bewildering.
8. "MORNING LIGHT"
Arguably the best thing on here, "Morning Light" finds Timberlake dueting with Alicia Keys on a sleepy-soulful ode to romantic contentment. The vintage soul samples and thumping 808 accompaniment feel like a throwback to early Kanye West, and the song's generous, syrupy hook is an absolute treat after "Supplies." This excellent song solidifies the album's overarching sense of domestic bliss—"in the whole wide world of guys, I must be the luckiest alive," Timberlake sings—while retaining its dignity.
Related: When did the media turn against Justin Timberlake?
9. "SAY SOMETHING"
"Say Something" is the Chris Stapleton-featuring third single, which evidently prompted listeners to think Timberlake had made a country album and subsequently prompted Timberlake to tell fans to "stop telling me I'm making a country album." Unfortunately, the track's bluesy pastoral stomp is undermined by its super-slick production.
10. "HERS (INTERLUDE)"
Jessica Biel, the singer's wife, takes the lead on this spoken interlude, a sensual paean to the virtues of wearing her husband's flannel shirts: "It feels like his skin over mine," she sighs. It's all just a warm-up for...
11. "FLANNEL"
Recently, Timberlake was photographed with Zane Lowe wearing two different shades of flannel at once. Perhaps this was meant to get us in the mood for "Flannel," a folksy campfire singalong that sounds like Fleet Foxes decided to record a Levi's jingle. The song pairs more crisp acoustic guitar with minimalist drum programming as Timberlake vows to keep a loved one warm through the long winter—"with my flannel on." Not very grunge, despite the Vedder-friendly title.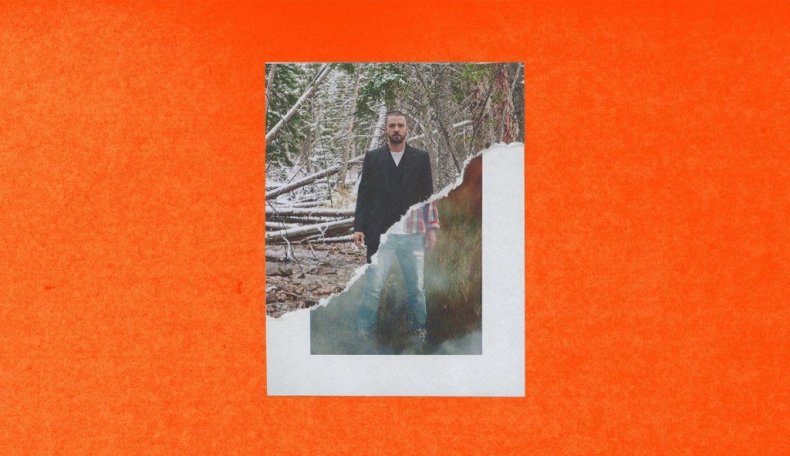 12. "MONTANA"
Not a cover of the 1973 Frank Zappa song, unfortunately. Timberlake's "Montana" is a dull, bloodless stab at '70s soft-pop with a disco groove—a bit like Daft Punk's Random Access Memories (which also involved Pharrell Williams on its monster hit "Get Lucky"), but strangely drab. Lyrically, "Montana" features a rare F-bomb from Timberlake, as the singer expresses his commitment to a love interest ("Look, I'm only fuckin' with you for real / And baby, you can have it all"). Now this ain't the clean version.
13. "BREEZE OFF THE POND"
Set to more antiseptic disco-pop noodling, "Breeze Off the Pond" visualizes a fantasy nature outing with Timberlake's lover (presumably Biel): "Now the sun dances across the sparkly waves / While we're canoeing / Stoned as 'Tiny Dancer' plays." The groove is so similar to "Montana" that it's easy not to realize the song has changed.
14. "LIVIN' OFF THE LAND"
JT goes full Amish in this rollicking, pastoral ode to the country life. The song opens with a spoken extollation of communing with wilderness ("as I'm alone in the forest, I'm one with my surroundings") and delivers plenty more faux-Thoreauan clichés from there. The acoustic groove is reminiscent of Outkast's "Rosa Parks," but good luck swallowing lines like "I break my back / And I work all night / At times I do all their work too / It don't break my stride" coming from a guy who's been rich and famous since before he was old enough to vote.
15. "THE HARD STUFF"
Here is where the album begins to feel endless (though at 66 minutes, it's actually shorter than Timberlake's last few). "The Hard Stuff" is yet another vow to double down on familial love when times get tough, sprinkled with yet more acoustic chords and noncommittal glimmers of twang. It's the kind of well-meaning bundle of clichés your corniest friend will use on their wedding playlist.
16. "YOUNG MAN"
Man of the Woods is Timberlake's first album since he became a parent (his son, Silas, arrived in 2015), and "Young Man" is the obligatory "I'm a dad now!" song. Not only is it more mawkish and lame than John Lennon's "Beautiful Boy," it genuinely contains the words "beautiful boy" in the lyrics. Over lite-funk guitar licks, Timberlake rehearses various father-to-son pep talks he'll eventually give his kid until the song is just a rote jumble of Hallmark clichés ("you know your daddy's so proud of you / My little young man / Mama just can't get enough of you"). This paean to new-dad domesticity is particularly strange on an album that began with boasts about how filthy it is. The song ends with a sample of Timberlake's toddler saying "daddy!" Good news: One day the toddler will be old enough to listen to FutureSex/LoveSounds instead of this schlocky mess.