Kamala Harris Says Abortion Bans Fit History of U.S. Owning Human Bodies
Vice President Kamala Harris stressed the implications of the recent rollback on abortion rights in the U.S. on Monday by noting that the country has claimed "ownership" over human bodies before.
Harris was speaking at the 113th NAACP National Convention when she called for steps to be taken in order to protect "fundamental freedoms," which she said included women being able to make decisions about their own bodies.
"On this subject, it's important to note that to support a woman's ability—not her government, but her—to make that decision does not require anyone to abandon their faith or their beliefs," Harris said. "It just requires us to agree the government shouldn't be making that decision for her."
"Think about it, for the first time in generations, the United States Supreme Court, the highest court of our land, the former court of Thurgood Marshall took a constitutional right that had been recognized from the people of America, from the women of America," she continued, referencing the first Black U.S. Supreme Court justice. "We know, NAACP, that our country has a history of claiming ownership over human bodies."
After a leaked draft opinion in May indicated that the U.S. Supreme Court was poised to overturn the constitutional right to abortion, the court announced its official ruling last month that reversed Roe v. Wade nearly 50 years after the landmark decision. The decision was sharply condemned by abortions rights advocates and groups, including Planned Parenthood Action Fund President Alexis McGill Johnson, who said in a statement to Newsweek at the time that the court "has now officially given politicians permission to control what we do with our bodies, deciding that we can no longer be trusted to determine the course for our own lives."
"Due to centuries of racism and systemic discrimination, we already know who will feel the consequences of this horrific decision most acutely: Black, Latino, and Indigenous communities, people with disabilities, those living in rural areas, young people, immigrants, and those having difficulties making ends meet," Johnson said.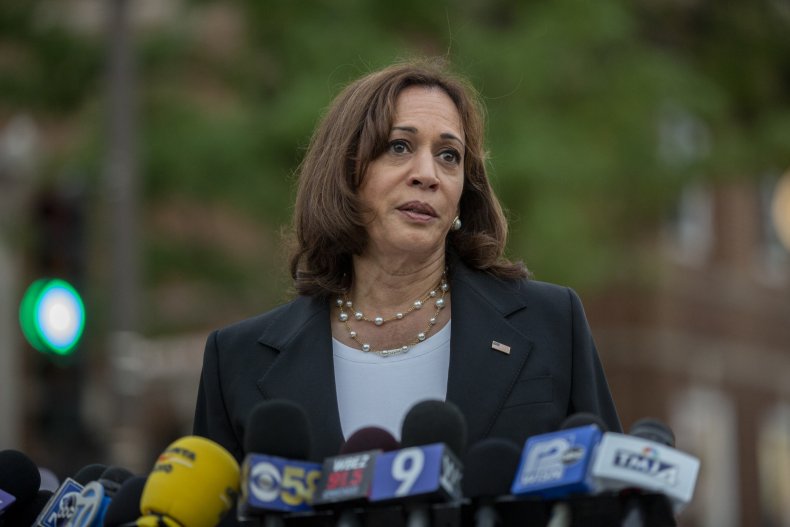 An opinion from Justice Clarence Thomas, which argued that the conservative-leaning court should consider "substantive due process precedents" in future cases, has led to fears that additional SCOTUS-upheld rights like contraception and same-sex marriage could also be in jeopardy.
During her speech, Harris took aim at who she described as "extremist, so-called leaders" who are "criminalizing doctors and punishing women from making health care decisions for themselves." She did not mention any leaders by name, but almost immediately after Roe was overturned, states began invoking trigger laws to restrict or outlaw abortion procedures.
Harris stressed that choices on abortions are "personal decisions" that should remain a patient and "her doctor, her pastor, her priest, her rabbi, her loved ones, not her government telling her what to do."
The vice president also noted that those "so-called leaders" have said that they think the decision on abortion access should be left to each state, and that people in each state have the ability to vote.
"But at this moment, many of those same so-called leaders are the same ones who are passing laws to restrict the ability of people to vote," she said.
Harris, again, did not specify which leaders or laws she was referring to. The Brennan Center for Justice, a nonprofit law and public policy institute, said in a report last year that at least 19 states passed a combined 34 laws restricting voting access in 2021.
Newsweek reached out to the White House for further comment.