Kate Middleton Adds New Diamond Brooch to Extensive Royal Jewelry Box
Kate Middleton debuted a new diamond brooch on Wednesday, accessorizing her scarlet red coat ensemble for the St. David's Day parade of the Welsh Guards.
Kate, who became the Princess of Wales in September when Prince William was made the Prince of Wales by King Charles, has worn a number of new brooches since then with Wednesday's bauble taking the form of a diamond-incrusted leek.
The vegetable is the national emblem of Wales and therefore features prominently on heraldic imagery and regalia associated with the country. In 1953, Queen Elizabeth II had leeks embroidered on her coronation dress along with the floral emblems representing England, Northern Ireland and Scotland, together with those of the Commonwealth realms.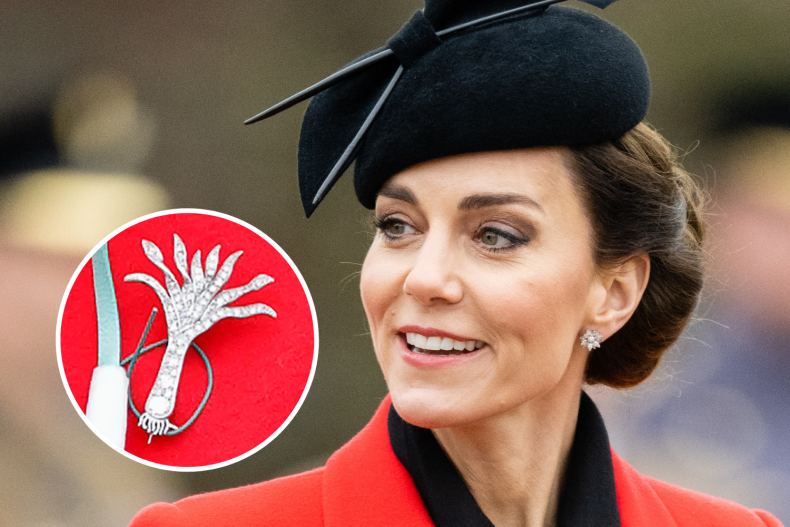 Kate wearing the new brooch came as she faced controversy for debuting an equally glittering example last November.
At the time, the art deco diamond set jewel was revealed to have been listed for sale at London jewelers in January 2022 for £14,500 ($17,229). The princess was criticized for wearing the piece to the Remembrance Sunday cenotaph service and then again during the state banquet for the president of South Africa, given the struggling economic climate in Britain.
Kate is not the first royal to wear a diamond leek brooch. Queen Alexandra, who was Princess of Wales from 1863 to 1901 had a number of brooches featuring the vegetable. Queen Elizabeth II and Queen Camilla also own used different versions of the brooch, with another example formerly belonging to Princess Diana.
Though this has not been confirmed by the palace, many commentators have stated that Kate's brooch was in fact the one owned by Diana, making the jewel another heirloom now utilized by the late princess' daughter-in-law.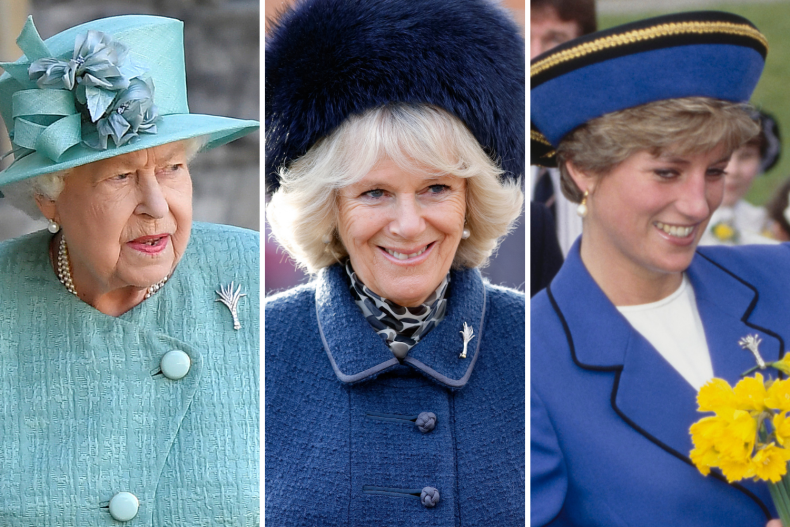 "There's a huge amount of sentimentality in that choice, as Diana is synonymous with the Princess of Wales title and Catherine has very big shoes to fill as she steps in to her new role," royal expert Christine Ross told Newsweek of Kate's decision to wear the brooch.
"For her first big events in Wales as the Princess of Wales, it's very clever and thoughtful to wear something so symbolic that once belonged to Diana, Princess of Wales.
"The fact that Catherine could choose between the late queen's brooch and the current queen consort's brooch, but chose her late mother-in-law's, shows a thoughtfulness for her new role and the unique and special relationship that Diana had with the Welsh people."
Kate attended the St David's Day parade in her capacity as Princess of Wales, but also as the wife of the Welsh Guards' new colonel, William.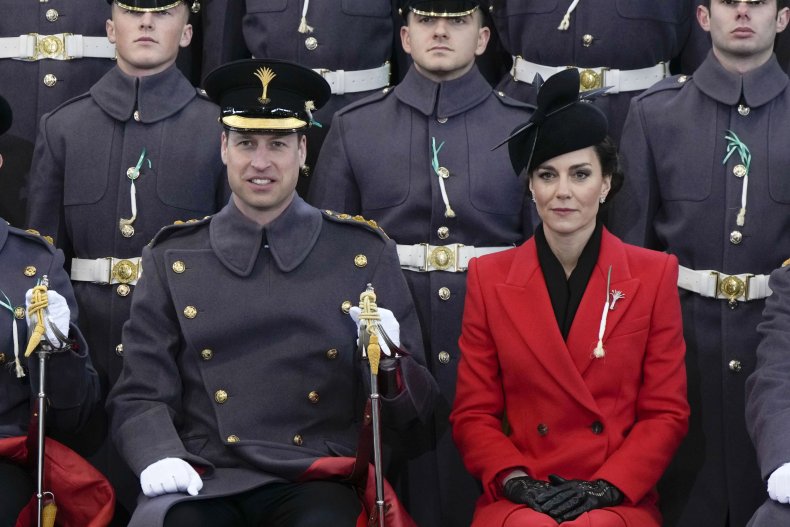 If the leek brooch was indeed Diana's, then it would be the third high-profile jewel formerly belonging to the princess that Kate as debuted since taking on the Wales title.
In November, to welcome South African President Cyril Ramaphosa to Britain at the start of his state visit, Kate wore a diamond Prince of Wales-feathers brooch with an emerald drop suspended from an oval of diamonds. The brooch was first owned by Queen Alexandra, then passed down to successive Princesses of Wales and was worn frequently by Diana.
After the princess' death in 1997, the brooch was controversially worn by Queen Camilla who, though she never used the title out of respect for Diana, was legally the Princess of Wales in her own right after her marriage to Charles in 2005.
Kate delved into the royal jewelry vaults once again in December for a statement piece to wear for the Earthshot Prize awards ceremony in Boston. The princess accessorized her rented green Solace London evening gown with an heirloom diamond and emerald choker necklace which hadn't been worn in public since the death of Diana.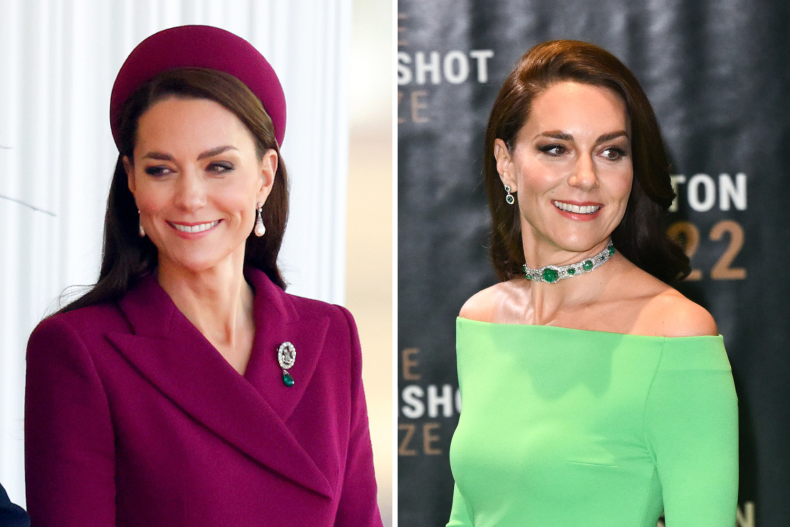 Though these pieces have created impact when dressing for public engagements, perhaps Kate's most important piece of jewelry which was formerly Diana's, is her famous sapphire and diamond engagement ring, which the princess rarely removes.
Newsweek approached Kensington Palace for comment.
James Crawford-Smith is Newsweek's royal reporter based in London. You can find him on Twitter at @jrcrawfordsmith and read his stories on Newsweek's The Royals Facebook page.
Do you have a question about King Charles III, William and Kate, Meghan and Harry, or their family that you would like our experienced royal correspondents to answer? Email royals@newsweek.com. We'd love to hear from you.