Kate's Affordable Fashion 'Premeditated' Amid Princess of Wales Promotion
The Princess of Wales made her first solo public appearance since the death of Queen Elizabeth II on Wednesday as she visited the Royal Surrey County Hospital's maternity unit in England wearing a yellow dress from an affordable British fashion label which has been described as a form of "diplomatic dressing" by a leading fashion expert.
For the engagement Kate, well known for her high fashion looks, particularly during the mourning period for Queen Elizabeth II, wore a mustard yellow pleated midi dress from designer Karen Millen.
The dress was made of structured crepe with bust darting and a standing collar and neckline. A covered belt in a matching textile separated the pleated skirt from the structured bodice and created the fit and flare shape that Kate often wears.
The dress also appealed to Kate's eco-credentials. The design is part of Karen Millen's "Ready For the Future" range which creates timeless styles made to be worn for a number of years from "responsibly sourced fabrics."
The dress retails for £219 ($247) and is available in six colors, something that likely also appealed to Kate as she has been known to purchase classic styles in multiple colors to wear throughout the year.
While the princess wore affordable fashion labels, commonly known as "High Street" labels in Britain, throughout the early years of her marriage, she has in recent years worn and re-worn designer labels such as Catherine Walker & Co. and Emilia Wickstead.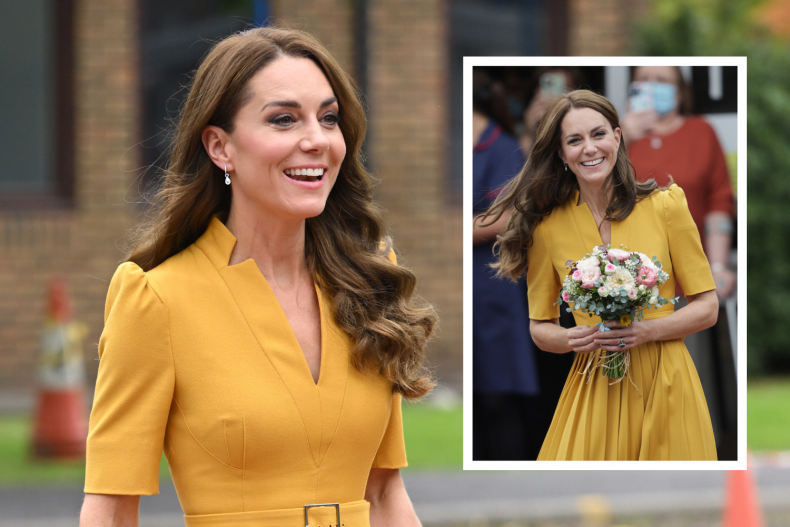 Alongside these pieces, Kate has been known to wear brands such as Zara and LK Bennett, in styles which are quick to sell out after being seen on the princess in a process known as the "Kate effect."
"Princess Kate's wardrobe is probably the most important royal wardrobe of the moment—her every outfit being scrutinised around the world the moment she steps out into the public eye," celebrity stylist and royal fashion expert Miranda Holder told Newsweek.
"The High Street element of her wardrobe, like every other, will have been planned and premeditated as the impact of every tiny style statement is understood by the palace to communicate to the world an important message."
"This 'diplomatic dressing' was originally mastered by the late Queen Elizabeth ll and Princess Kate is now carrying this fashion legacy forward," Holder continued.
"We have recently seen Kate rewear and rework some old favourite designer pieces which also helps to keep the princess relevant and accessible, and wearing High Street is another way of doing this.
"This is a thoroughly modern monarchy and the princess and Prince William have expressed in many ways, with clothing being just one of them, that they are of the people and close to the people."
On September 9, just one day into his reign, King Charles III announced that he had been pleased to create his eldest son Prince William the new Prince of Wales, the title traditionally held by the heir to the British throne. By extent this made Kate the new Princess of Wales and the first person to use the title since the death of Princess Diana in 1997.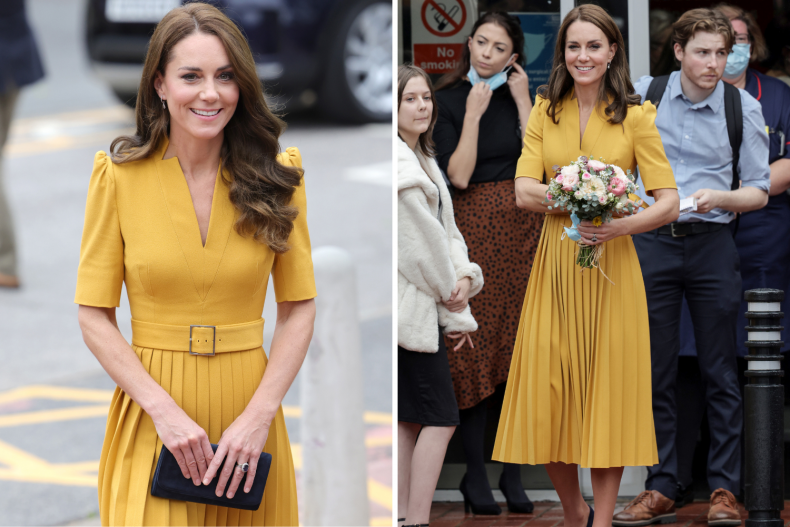 "Today I am proud to create [William] Prince of Wales. The country whose title I've been so greatly privileged to bear during so much of my life and duty," Charles said from Buckingham Palace in his first address as king.
"With Catherine beside him, our new Prince and Princess of Wales will, I know, continue to inspire and lead our national conversations, helping to bring the marginal to the center ground where vital help can be given."
Kate's most celebrated recent "High Street" fashion moment occurred in February when she wore a red tweed Zara blazer during her solo visit to Copenhagen.
The princess' reputation for wearing both high and low end fashions on the price spectrum was recently pulled into focus when a prominent biographer suggested that sister-in-law Meghan Markle was told to "take a leaf out of Kate's book" and avoid dressing so extravagantly.
During her time as a working royal, Meghan frequented many of the same labels as Kate including Emilia Wickstead, Erdem and Self-Portrait, however, she was seen less frequently in more affordable labels.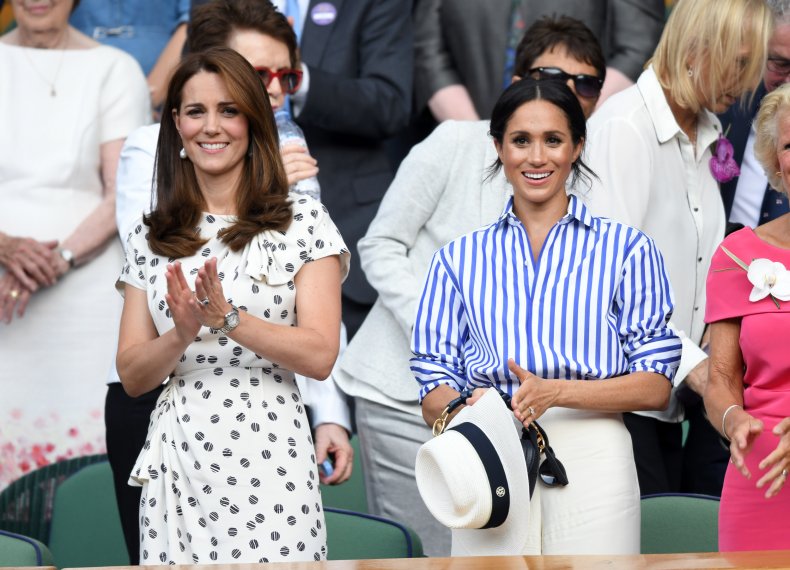 "The attention on Meghan's designer wardrobe was a distraction," Katie Nicholl wrote in her latest book The New Royals about the Duchess of Sussex's clothing following a royal tour of Ireland in 2018.
This, she writes, brought about unfavorable comparisons with Kate.
"Back at the palace, she has been advised to take a lead out of Kate's book and mix High Street with designer labels and recycle her wardrobe like the queen."
"It's no coincidence that Meghan hasn't chosen quite as wisely when it comes to her wardrobe and has recently come under criticism for wearing international flashy high-end designers," Holder told Newsweek agreeing with Nicholl's point.
"She may wish to take a leaf out of Princess Kate's book, should she wish to win back some favour with the great British public going forward and all eyes will be firmly on her fashion choices as we move into Autumn/Winter and the reign of King Charles."
Do you have a question about King Charles III, William and Kate, Meghan and Harry or their family that you would like our experienced royal correspondents to answer? Email royals@newsweek.com. We'd love to hear from you.