Kate Wears Red Coat With Subtle Nod to Princess Diana's Blood Family
Kate Middleton, now the Princess of Wales, wore a bold red coat on Tuesday which formed a subtle nod to the last member of the royal family to use that title, Princess Diana.
For the special visit, alongside Prince William, to Anglesey and Swansea in Wales, the royal couple met with local community members and connected with charities across the day-long visit.
The trip marked William and Kate's first to the country since King Charles III bestowed on them their new titles in one of his first moves as monarch following the death of Queen Elizabeth II on September 8.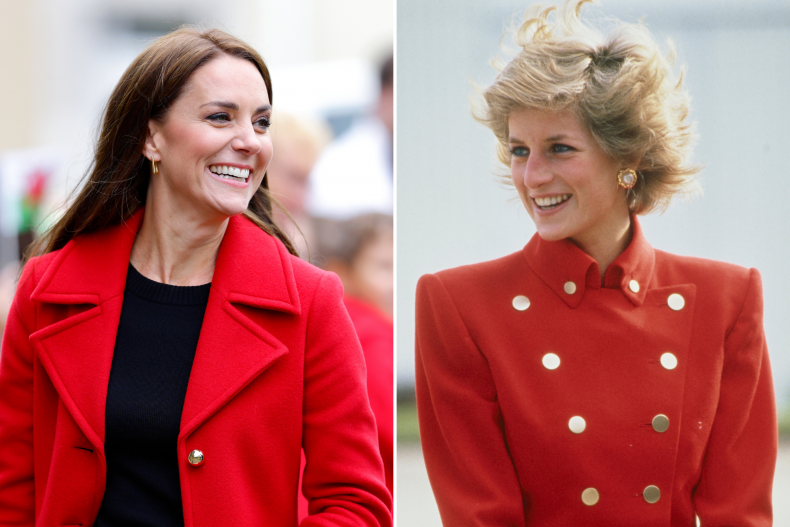 "I am proud to create [William] Prince of Wales, the country whose title I've been so greatly privileged to bear during so much of my life and duty," the king said in his first address from Buckingham Palace on September 9.
"With Catherine beside him, our new Prince and Princess of Wales will, I know, continue to inspire and lead our national conversations, helping to bring the marginal to the center ground, where vital help can be given."
In the following days William had a phone conversation with Mark Drakeford, Wales' first minister, to discuss his and Kate's future relationship with the country.
"The prince and princess will spend the months and years ahead deepening their relationship with communities across Wales," a statement from Kensington Palace said about the conversation.
"The prince and princess look forward to celebrating Wales' proud history and
traditions as well as a future that is full of promise. They will seek to live up to
the proud contribution that members of the royal family have made in years
past.
"[They] look forward to traveling to Wales very soon, and to meeting the first
minister and other leaders at the earliest opportunity."
For this visit, which took place on Tuesday, Kate opted to wear a bright red wool-blend coat with gold hardware.
The coat was notable for two reasons. The first being that the red color is strongly linked to the Welsh flag which prominently features a red dragon.
The second notable reason is that the style of the coat bares Princess Diana's maiden name of "Spencer."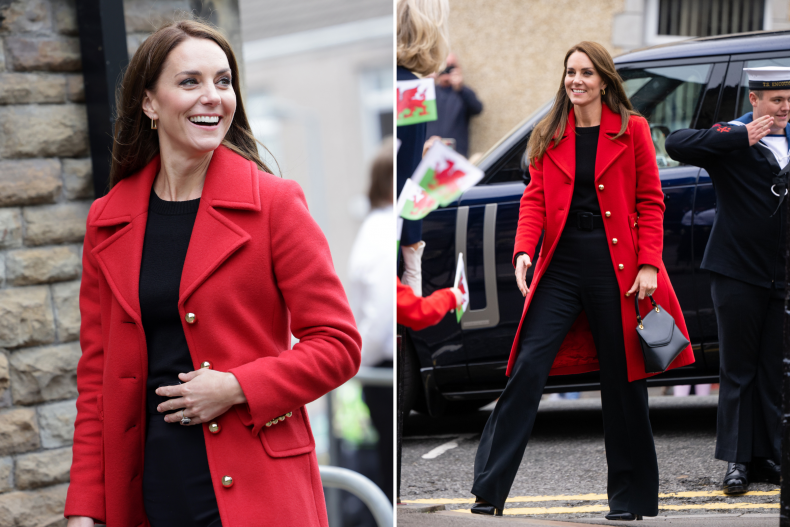 The "Spencer red recycled wool blend snaffle-detail coat" is from an established favorite brand of Kates, which she wore regularly throughout the early years of her marriage, LK Bennett.
The coat appeals to both Kate and William's eco-concerns, being part of the brand's "conscious collection," which works to make high street fashion more sustainable.
Before she married Charles in 1981, Princess Diana was known as Lady Diana Spencer.
A member of the aristocratic Spencer family, Diana's father was an earl, which in the hierarchy of the British nobility sits above a viscount and below a duke. This meant his daughters (he had three) were each styled as a lady in their own right.
Even after her marriage, the princess was often referred to by members of the public as "Lady Di," something she is said to have been proud of.
In 2021 a biopic of Diana was released simply titled Spencer featuring Kristen Stewart in the lead role for which she was nominated for an Academy Award.
Following the death of Diana, the Spencer family remained close to princes William and Harry. These included their uncle the current Earl Spencer and aunts; Lady Jane Fellowes and Lady Sarah McCorquodale.
These relations were all present at the unveiling of the statue of Diana at Kensington Palace in 2021 on what would have been the royal's 60th birthday.
This year marks the 25th anniversary of Diana's death, and though the day was not marked in any official way, both William and Harry paid tributes to their mother throughout the year.
Most explicitly, Harry said shortly before the August 31 anniversary that he wanted the day to be filled with "memories" of his mother.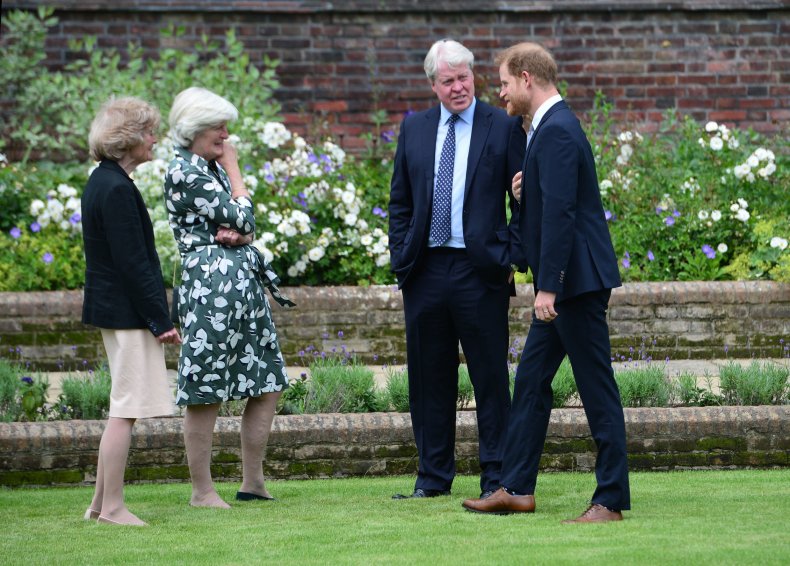 Both William and Kate already have established links with Wales as it was the country where they made their first marital home in Anglesey when William worked as a rescue helicopter pilot. During this time they welcomed Prince George who spent some of his earliest months in the country.
William received a boost in confidence from the Welsh people ahead of Tuesday's visit, as despite anti-monarchy protestors turning out during Charles' recent visit to Cardiff, a recent poll showed that 66 percent of Welsh people supported William taking on the title of Prince of Wales.
Seventy-four percent of respondents to the YouGov poll, undertaken from September 20 to 22, also said that they believe that William will do a "good job" in his new role.
Do you have a question about Queen Elizabeth II, King Charles III or their family that you would like our experienced royal correspondents to answer? Email royals@newsweek.com. We'd love to hear from you.