Kate Middleton Wows at Royal Banquet: 'Every Inch the Future Queen'
Kate Middleton delighted royal fans on Tuesday during the state visit of President Cyril Ramaphosa of South Africa to Britain, appearing at a Buckingham Palace banquet wearing a show-stopping white evening gown with jewelry once belonging to Princess Diana.
The royal, who was made Princess of Wales by her father-in-law King Charles III upon his accession to the throne in September, attended the state banquet in honor of the president held in the expansive ballroom of Buckingham Palace, alongside other royals such as the king, Queen Camilla and Prince William.
The banquet is the first of the new reign, following the death of Queen Elizabeth II earlier this year, and the first to be held in London since 2019 owing to the COVID pandemic.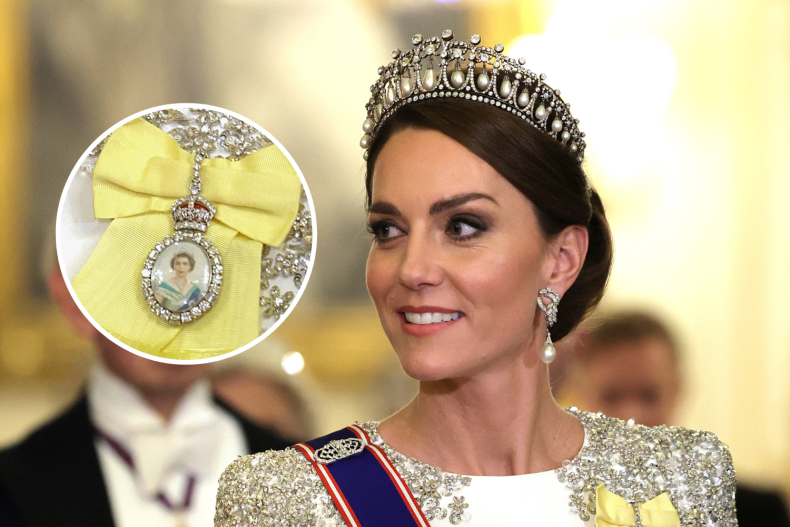 William and Kate took on key roles during the president's visit, officially greeting him at his hotel on Tuesday morning before joining him at Buckingham Palace later in the day.
For the banquet, Kate wore a dramatic white evening gown by Jenny Packham, a long-term favorite of the royal's who was also responsible for creating the shimmering gold evening dress she wore in 2021 for a James Bond movie premiere.
The custom dress featured crystal star embellishments and floor-length split sleeves. With this, the royal wore Queen Mary's Lover's Knot tiara which had been loaned to her by the late queen and which was also regularly worn by Princess Diana during her marriage.
In addition to the tiara, Kate wore diamond and pearl earrings, which were also part of Diana's collection, and Queen Elizabeth's diamond and pearl bracelet. Pinned to the dress was the princess' Royal Victorian Order sash held in place with a new brooch, which has caused controversy in Britain over its listed price of around $17,000 at a time when the country is going through economic hardship.
Kate's appearance was widely praised on social media, which quickly identified the individual elements of her outfit.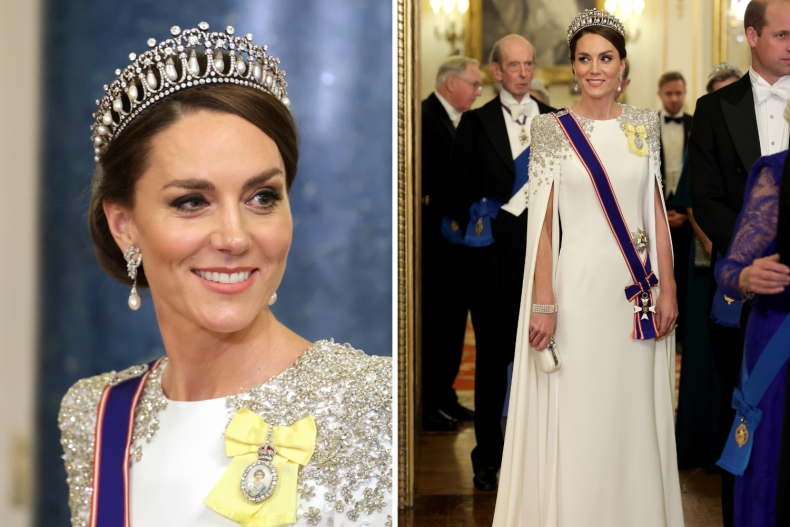 Royal fashion expert and celebrity stylist Miranda Holder told Newsweek:
"At the much anticipated state banquet last night, Kate looked every inch the future queen as she dazzled in a striking caped gown resplendent with shimmering, embellished shoulders by one of her favourite designers Jenny Packham, in traditional white, which provided the perfect foil for her sparkling jewels and customary royal accoutrements."
The choice of style from Packham contained within it a subtle tribute to the late queen which, according to Holder, will not have occurred by chance.
"The dress itself was the Jenny Packham 'Elsbeth'," she said. "The subtle reference to her late Majesty the Queen did not go unnoticed—and whilst being plain enough to provide a canvas upon which the other features of Kate's outfit could shine, had enough inherent drama of its own with its strong shoulders, butterfly sleeves and caped back to be an instant showstopper."
"An Alexander McQueen clutch bag and embellished Gianvito Rossi heels completed the accessories and Kate also wore the regal blue sash bestowed to Kate by the Queen in 2019, denoting the Princess as a Dame Grand Cross of the Royal Victorian order, with the Maltese Cross, a symbol of protection, at the bottom."
Present from the senior generation of the royal family were Queen Camilla and Sophie, the Countess of Wessex (wife of Queen Elizabeth's youngest son, Prince Edward).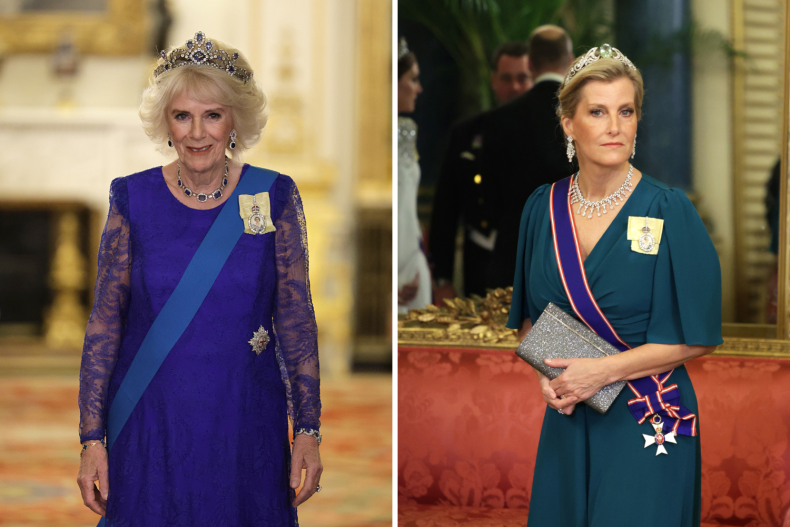 Camilla wore a sapphire blue silk evening gown with lace overlay made by her favorite designer, Bruce Oldfield, who also dressed Princess Diana for royal events.
With this, the new queen wore the sapphire and diamond tiara, necklace and bracelet from the jewel vault of her late mother-in-law.
The countess wore a teal gown by Suzannah London with a diamond and aquamarine tiara and substantial diamond necklace and earrings.
Do you have a question about King Charles III, William and Kate, Meghan and Harry or their family that you would like our experienced royal correspondents to answer? Email royals@newsweek.com. We'd love to hear from you.