Kathy Barnette's Chances of Beating Dr. Oz in Pennsylvania Primary
Kathy Barnette, a Donald Trump-esque Pennsylvania Senate hopeful, has seen a surge in the polls ahead of Tuesday's GOP primary as the former president's actual pick in the race, Dr. Mehmet Oz, has failed to match the endorsement with significant support from voters.
For several weeks, Pennsylvania's Republican Senate primary was thought to be a two-horse race between the Trump-backed Oz and former hedge fund CEO David McCormick.
However, Barnette has managed to gain significant ground in recent polls, with bookmakers also suggesting she is now the second-placed candidate behind Oz.
According to Betfair, Barnette's chances of winning the May 17 primary have drastically improved in a relatively short amount of time.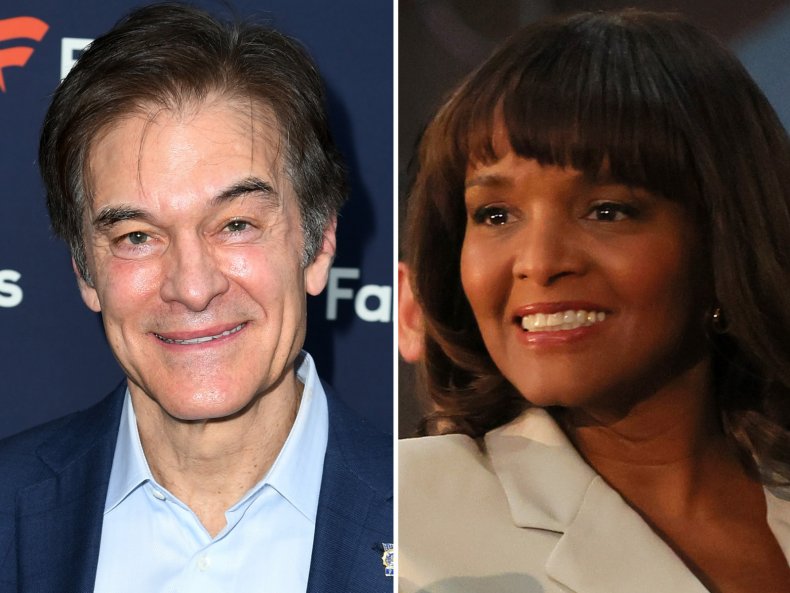 "Kathy Barnette has been backed in to 7/4 from 5/1 in the space of two weeks to be the Republican nominee to run for Pennsylvania Senate, but Mehmet Oz is odds-on at 8/11 to beat her in the race," Betfair spokesperson Sam Rosbottom told Newsweek, adding that McCormick is currently 4/1.
In other previous primary elections, an endorsement from Trump was seen as a major boost to a candidate's campaign, as seen with J.D. Vance's win in Ohio.
However, Trump's endorsement did not help Charles Herbster in the GOP gubernatorial race in Nebraska, who lost his race on Tuesday night to Jim Pillen.
The same can also not be said for Oz, who has been unable to make any significant headway in the polls since he was named by Trump as the former president's preferred choice.
Trump was criticized by members of his own party for endorsing Oz in Pennsylvania over concerns the celebrity heart surgeon and political novice is not conservative enough.
Instead, the endorsement seems to have gone in Barnette's favor, a much more firebrand candidate who was found to have tweeted a number of extremist and anti-Muslim views and supports the false claim the 2020 Election was stolen.
According to a Fox News poll published Tuesday, Oz is in the lead at 22 percent, followed by McCormick on 20 percent and Barnette on third with 19 percent.
What is significant in the Fox News poll was just how much ground Barnette recovered compared to March's survey, where she was only polling on 9 percent—15 percent behind the then-leader McCormick.
"Even though Oz got Trump's endorsement, Barnette has more momentum," said Republican pollster Daron Shaw, who conducts the Fox News Poll. "Her support doubled in two months, her supporters are the most interested, and her negatives are much lower than Oz or McCormick."
Elsewhere, a Trafalgar Group survey conducted between May 6-8 showed that Barnette was just behind the leader Oz in the polls (24.5 percent to 23.2 percent).
A Franklin & Marshall College poll conducted between April 20 and May 1 placed Oz in the lead at 18 percent, with McCormick second on 16 percent, with Barnette third on 12 percent.
The survey found that Oz only gained an additional two percentage points compared to the previous survey, which was conducted before Trump endorsed him.
In comparison, Barnette's 5 percent increase from the previous Franklin & Marshall College survey was the biggest jump out of all the candidates.
One of the reasons for the surge in support for Barnette is believed to be an anti-abortion video she released in which she revealed her mother was raped at aged 11 and that the candidate was a "byproduct" of the attack.
An unnamed source close to one of Barnette's rivals told Axios that the emotional video has struck a nerve with voters in the state, and has been further amplified following the debate over the reported planned overturning of Roe v. Wade by the Supreme Court.
Patrick Murray, director of the independent Monmouth University Polling Institute, said that Barnette may ultimately end up benefiting from the too-close-to-call race.
"Oz has the highest name recognition but also the highest negatives. If McCormick and Oz beat each other up, though, Barnette could realistically end up on top," Murray said.