Kelly Ripa Says Regis Philbin Shaded Her on First Day They Worked Together
Kelly Ripa is speaking out about her alleged feud with former Live! co-host Regis Philbin.
The pair were on the air together for 10 years from 2001 to 2011. Prior to that, Philbin—who died in 2020 at the age of 88—shared the gig with Kathie Lee Gifford.
During an interview with People published on Monday ahead of her Live Wire: Long-Winded Short Stories book release, the 51-year-old admitted there were "good days and bad days" on set.
"I don't want to feel like I'm slamming anyone or that I'm being disrespectful. But I also want people to know it was not a cakewalk," she told the outlet of their relationship. "It took years to earn my place there and earn things that are routinely given to the men I worked with. Including an office and a place to put my computer."
Ripa added that the "biggest misconception" about her joining the ABC show was that "it all came easily."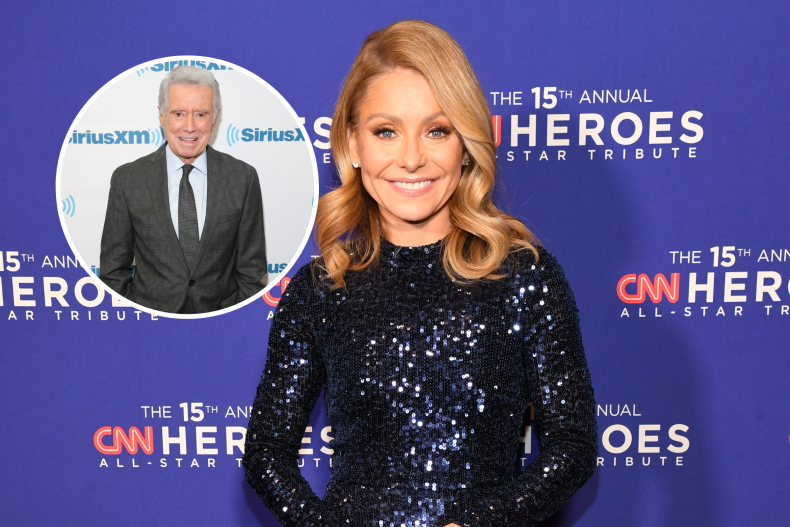 The mom of three—who shares kids Michael, 25, Lola, 21, and Joaquin, 19, with husband Mark Consuelos—recalled her first day on the job when Philbin reportedly took a jab at her.
Ripa remembered her agent calling her to tell her the network didn't want her "bringing an entourage," but she showed up with a makeup artist and hairstylist anyway.
"It was not an unusual thing for people on a television show to show up with," she defended.
Just before she walked on stage, however, Philbin gave her and executive producer Michael Gelman a not-so-welcoming greeting.
"Uh-oh, Gelman, it's got an entourage," he reportedly said.
"I felt horrible," Ripa told the magazine, admitting that "he was probably trying to be funny," but she didn't see it that way at the time. "It felt like a pile-on."
During an interview with Larry King in 2017, Philbin told the television host that Ripa was "offended" when he announced his departure.
"She thought I was leaving because of her," he said. "I was leaving because I was getting older and it was not right for me anymore."
The New York native added that he had "never" been asked to return to the show, which is something Ripa strongly denies.
"The show had reached out many times," she said. "It makes me sad but it's not something I will ever understand. I was steadfast in my attempt at communication. You can't make a person befriend you."
Despite tension over the years, Kelly said she and Philbin still enjoyed many moments together.
"Off camera and outside of that building, it was a different thing," she explained. "The handful of times we spent together, I so enjoyed. We went to the same resort once on vacation and he came to a dinner I hosted—one of the favorite nights of my life. I never laughed so hard."
"I loved him, and I still do," Ripa said.
Live Wire: Long-Winded Short Stories is out September 27.