Ken Jennings Honors Alex Trebek as 'Jeopardy!' Hosting Post Confirmed
Ken Jennings has paid tribute to Alex Trebek, after it was confirmed that he and Mayim Bialik will replace the beloved presenter as permanent Jeopardy! hosts.
Following several months of speculation, it was reported on Monday that Jennings and Bialik would be signing new Jeopardy! contracts after sharing the duties as interim hosts of the hugely popular syndicated quiz show for much of Season 38.
The news was confirmed on Wednesday, when Jeopardy! bosses announced the permanent hosts, bringing to an end a chapter that saw a veritable revolving door of celebrities try out for the coveted role following the November 2020 death of Trebek.
A message from the verified Jeopardy! Twitter account read that the team "couldn't be more thrilled" to welcome the pair as co-hosts, prompting Jennings to respond: "It's official! There is white smoke over Culver City. @missmayim and I are your Jeopardy! hosts next season."
"Jeopardy! has been a big part of my life since I was a kid, and I take the show and its legacy very seriously," added Jennings, who holds the record of having the show's longest win streak. "It's been a singular honor to be associated with the talented staff and crew there for the past 18 (!) years."
He then turned his attention to Trebek, who famously helmed the long-running show for 37 seasons from 1984 until he passed away.
"I'm not a professional broadcaster, obviously," Jennings wrote. "I still get nerves out there every single show. But I was lucky enough to watch Alex host Jeopardy! for decades—about as well as the job could possibly be done. I hope a drop of that Trebekian perfection slips through sometimes."
"I'm so excited about the Second Chance tournament and Tournament of Champions coming in the fall," he added of the upcoming spin-off shows. "An unprecedented lineup of super-champs...and a few surprises. If you're a Jeopardy! fan, even a casual one, you're not going to want to miss this."
Referencing a blue quip that Jennings made during an episode of the show that aired earlier in July, writer and journalist Jason Bellini tweeted to the TV personality: "More circumcision jokes, please."
"You've only seen the tip (of the iceberg)," Jennings responded.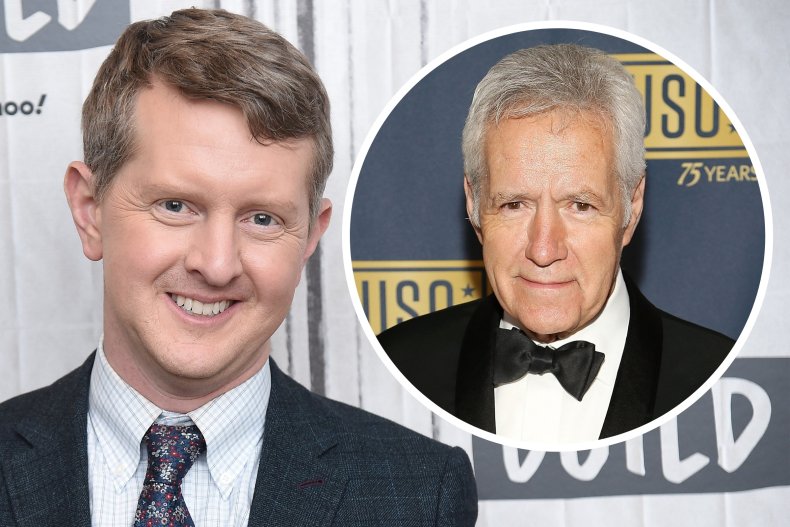 In announcing the presenting posts, the Jeopardy! executive producer wrote on the show's website that Jennings will host the upcoming Season 39 from its September debut—including Second Chance and Tournament of Champions—until December.
Bialik, who will take over from Jennings in January, will also host Celebrity Jeopardy! on ABC in primetime.
Davies explained that "the current plan is to have her host a couple of new tournaments as well as the Jeopardy! National College Championship and as many weeks as she can manage with her other primetime commitment to Call Me Kat.
"We know you value consistency, so we will not flip flop the hosts constantly and will keep you informed about the hosting schedule."
Davies also noted: "The show is considerably up in viewership year over year, with more than 27M viewers tuning in each week this season. When you consider that almost every other show in broadcast television and syndication is declining, this has been a quite remarkable season: we're the most-watched entertainment show on all of television. Yes, all of television."
The road to finding a permanent replacement for Trebek has been a decidedly bumpy one, with the bulk of the 37th season seeing guest hosts stand at the lectern.
In August 2021, then-executive producer Mike Richards was named as the new host of the nightly show, with Bialik being drafted in as the host of Jeopardy! specials and tournaments.
However, just nine days after the announcement, Richards stepped down from his role amid a backlash over comments he had made several years ago on a now-defunct podcast. By the end of August, he was also out of his producer role.
With Richards having taped just one week's worth of episodes for Season 38, Bialik was drafted in before she was joined by Jennings, with whom she has shared hosting duties ever since.