House Minority Leader Kevin McCarthy, a California Republican, attempted to rewrite history in an exchange with a reporter on Thursday, insisting that he had not wanted to overturn the election results leading to President Joe Biden's victory over former President Donald Trump.
McCarthy, along with more than 140 other Republican members of Congress, voted to overturn state election results that led to Biden's victory—even after the attack by Trump's supporters against the U.S. Capitol on January 6. The House Minority Leader voted against certifying the results from Arizona and Pennsylvania.
Prior to that, McCarthy signed onto a lawsuit filed to the Supreme Court by Texas' Attorney General Ken Paxton, which also attempted to prevent Biden from taking office.
"Well, now you're saying something that's not true," McCarthy insisted when CNN reporter Manu Raju pointed out that he had attempted to overturn Biden's election victory.
The Republican congressman went on to argue that overturning the results in Arizona and Pennsylvania would not have been enough to prevent Biden from becoming president. Biden won a total of 306 electoral votes, while Arizona and Pennsylvania have a combined total of 31 electoral votes. Removing those states' vote counts would still have kept Biden above the 270 electoral vote threshold to be president.
"It takes 270. If you remove Arizona and Pennsylvania, President Biden is still president. He's above 270," McCarthy argued.
At the same time, McCarthy said he did not regret supporting the Texas lawsuit.
"Should I have supported the Texas lawsuit? The answer is yes. Do you know why? Because that's where you go, the courts," the GOP representative said.
McCarthy and the many other Republican lawmakers who supported former President Donald Trump's bid to overturn the election claimed that they were concerned about widespread voter fraud. While some have since suggested, as McCarthy did, that they were not actually trying to prevent Biden from taking office—there is no evidence of widespread voter fraud. Fraud in U.S. elections is extraordinarily rare, but Trump and Republican allies repeatedly raised baseless concerns ahead of the 2020 election that it would be a problem.
After Biden's victory was projected by the media, Trump and his supporters ramped up their efforts to promote unfounded claims about significant voter fraud. This culminated in the events of January 6 and 7. The morning of January 6, Trump held a rally at the Ellipse in Washington, D.C. and urged his supporters to "fight like hell" and to march to the Capitol in a bid to keep him power.
Trump's followers then stormed the legislative building where the House and Senate had convened to certify Biden's victory. After the violence that ensued, which resulted in five deaths, more than 140 GOP lawmakers—including McCarthy—went on to object to the election results.
Prior to that, dozens of election lawsuits brought by Trump and his allies were filed in state and federal courts. These were nearly all rejected, including by judges appointed by Trump and other Republicans. Many of these judges pointed out that the attorneys representing the president and his supporters failed to provide evidence to back their often bizarre claims.
In early December, then-Attorney General William Barr, who was widely viewed as one of Trump's most loyal and effective Cabinet members, asserted that there was "no evidence" of widespread fraud that would change the election's outcome. Furthermore the Cybersecurity and Infrastructure Security Agency at the Department of Homeland Security, which was led by a Trump appointee, described the election as the "most secure in U.S. history" in mid-November.
McCarthy's attempt to explain away his support for overturning the election comes as he hopes to become Speaker of the House following the 2022 midterms. Republicans are currently optimistic that they will be able to retake control of the lower chamber of Congress, as Democrats now control the legislative body with a very narrow majority. But recent national polling shows that the GOP leader is highly unpopular.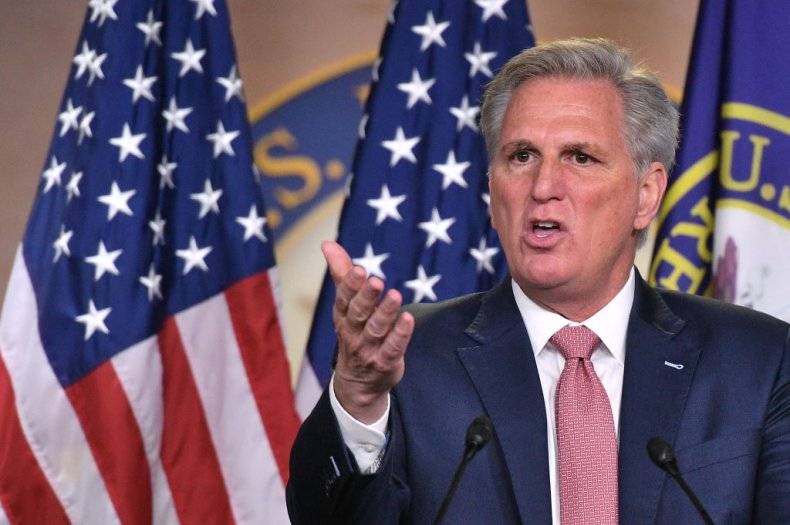 A February poll conducted by Morning Consult and Politico showed that just 20 percent of voters view McCarthy favorably, while 40 percent hold an unfavorable view of the top House Republican. An additional 15 percent said they have never heard of him, while 25 percent said they have no opinion.
Additionally, McCarthy needs to maintain favor with Trump, who is still widely seen as the kingmaker within the GOP. Recent polls suggest that a significant majority of Republican voters view Trump as the leader of their party, with a majority appearing to be more loyal to the former president than to the GOP.
Already McCarthy has faced some backlash in his home region, California's 23rd District, for what Republicans there view as insufficiently loyal support for Trump, according to a January report by The New York Times.
When Trump was impeached in a bipartisan vote by the House of Representatives on January 13 for inciting the Capitol riot, McCarthy admitted that the former president "bears responsibility" for the attack, although he voted against impeachment. A little more than a week later, he backed away from that criticism—saying the president's words at the rally before the attack did not incite the mob. He then traveled to Florida to meet directly with Trump and successfully secured his support for Republican candidates in the 2022 midterms.
Newsweek reached out to McCarthy's press secretary for comment, but did not immediately receive a response.