Kevin McCarthy Faces GOP Revolt Over House Speaker Role
House Minority leader Kevin McCarthy may have to fight to remain the GOP's top congressman after the party's poor performance in the midterms, according to reports.
Ahead of Tuesday's vote, the GOP were widely believed to ride a "red wave" and make significant gains in the House, as well as retake control of the Senate.
McCarthy still pushed the narrative that the GOP were on course for a resounding victory in the early hours of Wednesday.
"When you wake up tomorrow, we will be in the majority and Nancy Pelosi will be in the minority," McCarthy said.
However, two days after the polls closed, the GOP still haven't achieved the 218 congressional seats needed to retake the House, although still expected to do so eventually.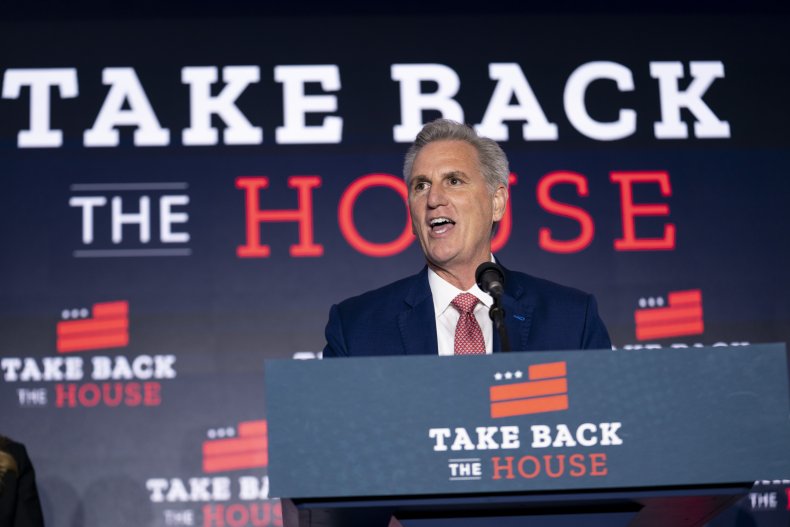 Once this happens, McCarthy will be promoted to House Speaker if he can secure the 218 votes needed in next week's leadership elections.
However, there are reports that the GOP are plotting to vote against McCarthy as payback for the party's midterm failures, with the highly influential House Freedom Caucus hoping to launch a challenge for the position.
"Look, we were told we were going to have an incredible, incredible wave," Arizona Rep. Andy Biggs, a leader of the conservative House Freedom Caucus, told online streaming show The Absolute Truth on Wednesday.
Biggs added if the GOP had a 30 or 40 seat margin in the House, as estimated prior to November 8, then "you would say, 'Well, OK, Kevin is the presumptive Republican nominee for speaker.' But I think we need to have a serious discussion."
Virginia congressman Bob Good, a House Freedom Caucus board member, has already come out and said he may not vote for McCarthy to become House Speaker in January, and he may not have secured enough support elsewhere either.
"Kevin McCarthy has not done anything to earn my vote for speaker," Good told Axios. "I believe there's a number of members who feel as I do and who will support a challenge to him as the speaker when we convene next week," Good added. "I don't think he has the votes."
Elsewhere, CNN reported, citing unnamed sources, that House Freedom Caucus' deliberations the morning after the midterm polls opened revealed that there are around two dozen current and incoming House members who are willing to vote against McCarthy unless he offers them a series of concessions on how a GOP-controlled government could run.
The caucus is also reportedly discussing putting up a nominal challenger to face McCarthy in a bid to ensure they have more influence in the House come January.
The Washington Post also reported on Wednesday, citing conversations with around 20 Republican lawmakers, strategists and aides, that McCarthy may be forced to make a series of policy concessions in order to achieve the votes needed to declare him speaker.
However, there are still no confirmed potential challengers for McCarthy despite the far-right members of the party apparent discussions.
Following the midterm results, Rep. Matt Gaetz of Florida has renewed his support for Ohio's Jim Jordan, a founder of the Freedom Caucus who was a previous challenger to McCarthy for the position.
The day after the midterm polls opened, Gaetz reshared an interview he conducted with Jordan on his Firebrand podcast in which the possibility of the Ohio congressman becoming House Speaker was raised.
Gaetz tweeted out the interview along with the caption: "Current mood." However, Jordan recently dismissed the suggestion that anyone will come forward to challenge McCarthy, even after the GOP's floundering midterms results.
"What I've said all along is, the guy who gets you to the Super Bowl, even if it's a game in overtime, gets to coach the game, in my judgment," Jordan told Fox News. "So I have not heard of anyone stepping forward and don't necessarily anticipate that."
McCarthy has been contacted for comment.