Kevin McCarthy Changes Taiwan Plans as Island Frets Over China Wrath
House Speaker Kevin McCarthy will meet with Taiwan President Tsai Ing-wen next month in California instead of in Taipei, according to reports on Monday, as the island nation seeks to avoid another unpredictable and inflammatory response from China.
The senior Republican was previously said to be considering a visit to Taiwan this spring, having backed predecessor Nancy Pelosi's right to do the same thing last August. However, caution from Taipei has convinced McCarthy to move the meeting to his home state instead, according to the Financial Times.
China's Communist Party leaders maintain a decades-long claim to Taiwan but have never ruled the island, which rejects Beijing's sovereignty claims. Washington doesn't recognize Taiwan as a country but retains a robust economic and security partnership as part of its unofficial relationship with its democratically elected government.
"I don't think China can tell me where I can go at any time, at any place," McCarthy said last month after Chinese officials issued a fresh warning about his hypothetical travel plans.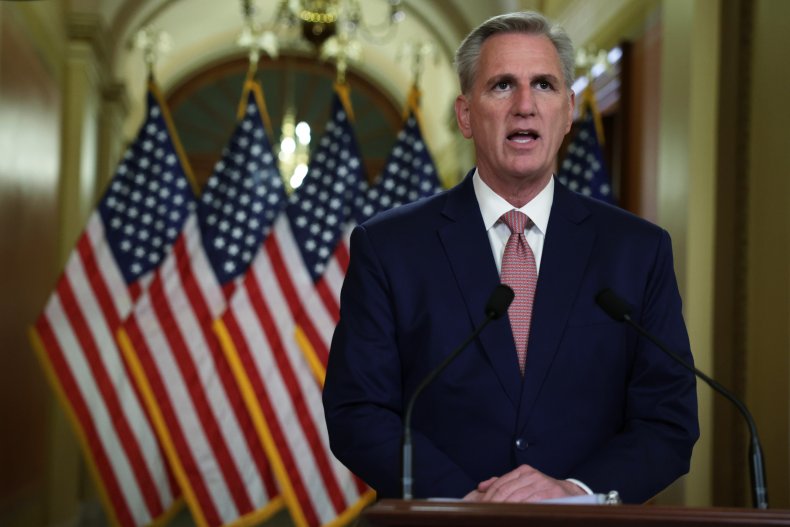 Taipei's reported insistence, however, could help it evade a further erosion of the cross-Taiwan Strait status quo in Beijing's favor after the Chinese military spun up war games in response to Pelosi's trip and used it as a pretext to conduct operations closer to the island's shores.
Tsai's administration shared intelligence with McCarthy's team about China's potential reaction, said FT. The security considerations appeared to concern the current vulnerable and unpredictable mood of the Chinese leadership.
"There might be policies even more irrational than in the past emanating from Beijing," a Taiwanese official was quoted as saying. "If we can try to control this together, the risks it brings for everybody can be contained better."
Tsai and McCarthy will meet in early April when Taiwan's president transits the United States en route to Central America, the newspaper said. She's also been invited to speak at the Ronald Reagan Presidential Library and will make a second stop in New York.
Separately, Reuters said the meeting could replace McCarthy's anticipated visit to Taipei this year, but it wouldn't preclude a trip to the Taiwanese capital in the future.
Joseph Wu, Taiwan's foreign minister, told reporters on Tuesday that Tsai's itinerary would be announced only when finalized. Inside the Taiwanese parliament, he said reports linking ongoing planning to potential Chinese aggression weren't entirely accurate, without elaborating.
McCarthy's office didn't respond to a request for comment before publication.
The Ronald Reagan Presidential Foundation and Institute confirmed in a statement to Newsweek that it had invited Tsai to the Reagan Library. "At this time, we have no confirmation if she'll accept or when she would come if she did."
Taiwan's public supported Pelosi's visit and backed McCarthy's potential trip, too, according to recent polls, despite recognizing that the eventual fallout left the island worse off in its long-running military standoff with China.
The White House and Pentagon had quietly advised against Pelosi's travel plans, but both affirmed Congress' independent authority to act as a co-equal branch of government.
Taiwan's defense minister, Chiu Kuo-cheng, said at a committee hearing on Monday that Beijing was waiting for a pretext to possibly make incursions into Taiwan's territorial sea or airspace. He cited high-level visits by U.S. officials and U.S.-Taiwan military exchanges as possible reasons.
The U.S. government has facilitated Tsai's transits in the past, the latest in 2019, drawing protests from China each time. Her attempt to deny Beijing more room for escalation comes in what is her last full year in office before Taiwan's presidential election in January 2024 and the end of her second term that May.
However, a milder Chinese reaction is far from guaranteed and ultimately could hinge on who Tsai meets and how her trip is presented.
Qin Gang, China's foreign minister, said at his first press conference on Tuesday: "Mishandling the Taiwan question will shake the very foundation of China-U.S. relations."
Do you have a tip on a world news story that Newsweek should be covering? Do you have a question about China? Let us know via worldnews@newsweek.com.
Update 3/7/23, 12:25 p.m.: This article was updated with a statement from the Ronald Reagan Presidential Foundation and Institute.