'I'm Good at My Job' Says Kentucky Clerk Kim Davis as ACLU Files Motion Against Her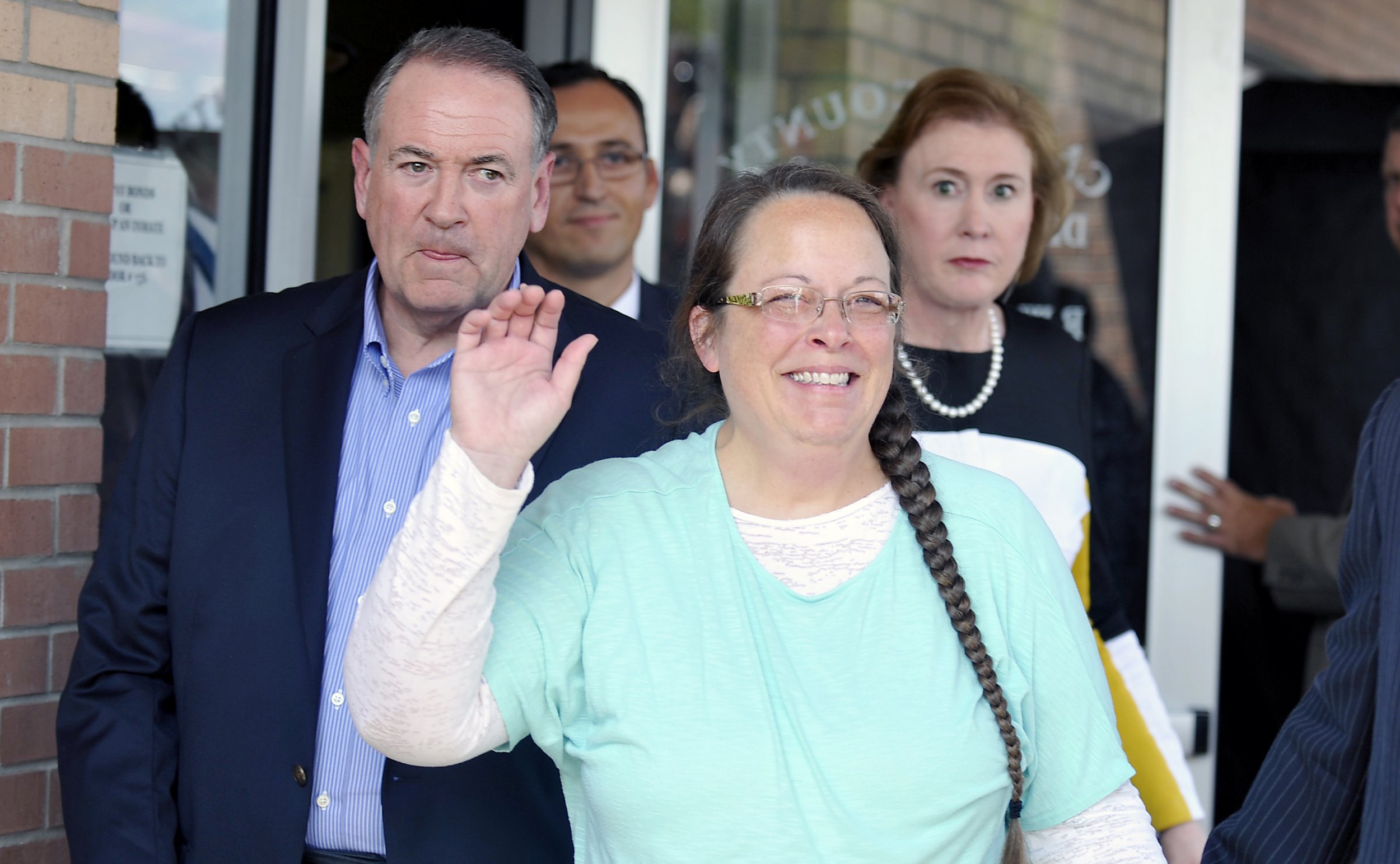 Kentucky court clerk Kim Davis has no plans to resign despite spending six days in jail for violating a court order and refusing to issue same sex marriage licenses, setting off a nationwide debate. Her decision not to resign comes as the American Civil Liberties Union of Kentucky filed a motion to enforce previous court orders which determined the Rowan County clerk must issue same-sex marriage licenses.
Arguing it was against her religious beliefs, Davis refused to issue marriage licenses to gay couples after a Supreme Court decision ruled state level gay marriage bans unconstitutional. On August 26th, a U.S. appeals court ruled she must issue the licenses. She refused once more. The ACLU requested she be held in contempt and fined. The Judge David Bunning agreed Davis should be held in contempt but felt a fine was not a harsh enough punishment for Davis, who could raise funds for any fines from supporters. She was jailed on September 3 .
Judge Bunning released Davis after marriage licenses in Rowan County were altered to remove her name and replace it with the county's name. Her deputy clerks began giving out marriage licenses in the county on September 4 . "Plaintiffs have not alleged that the alterations affect the validity of the licenses," Bunning wrote at the time of her release .
Now that Davis is back at work, she's continued not issuing marriage licenses. Davis' name has been removed from the form currently in use as she refuses to sign any same-sex marriage licenses. Her deputies continue to have to issue the licenses. Davis has claimed the licenses without her name aren't legal, despite Judge Bunning's ruling that they are binding.
When asked why her office is continuing to use the altered marriage license, she explained: "I can't put my name on a license that doesn't represent what God ordained marriage to be."
In their motion, the ACLU said Davis has been interfering with the deputy clerks' abilities to issue marriage licenses since returning to work on September 14. Citing a notice filed by clerk Brian Mason, the ACLU described one of Davis' interferences:
"Rather than standing aside while Deputy Clerk Mason issued the same marriage licenses upon which this Court relied in its September 8 Order lifting the civil contempt finding and releasing her from custody, Davis 'confiscated all the original forms, and provided a changed form which deletes all mentions of the County, fills in one of the blanks that would otherwise be the County with the Court's styling, deletes her name, deletes all of the deputy clerk references, and in place of deputy clerk types in the name of Brian Mason, and has him initial rather than sign.'"
In one instance, Mason said he had to issue the marriage license as a notary, rather than as a deputy clerk. On that license, Davis removed the county's name. "Davis' decision to significantly interfere with the marriage licenses being issued... not only violates the Court's clear directive, but it also has resulted in material alterations to those licenses that render their validity questionable at best," the ACLU argues.
In the motion reviewed by Newsweek, the ACLU asked a court to direct Rowan County deputy clerks to "issue marriage licenses in the same form and manner as those that were issued on or before September 8, 2015." This would mean Kim Davis' name would have to appear on the license. The motion also requests Davis "refrain from interfering with the deputy clerk's' issuance of marriage licenses."
Speaking with ABC News , Davis said she had no plans to resign and would be willing to go back to jail if need be. "I'm good at my job," she said, noting God is the ultimate authority she works for, rather than the state or her constituents. Davis added she has denied marriage licenses to friends of hers who are in same sex relationships.
Because she is an elected officer, Davis cannot be fired. Davis and her attorney have previously said she wants to remove her name from all marriage licenses going forward. Considering the additional alterations the ACLU has noted in their motion, the court will have to decide if such altered marriage licenses can be used or if she is in contempt of two prior court orders to issue legal licenses to same-sex couples.