Kim Jong Un Woos World Leaders: First Trump 'Fell in Love,' Now Putin Has 'Personal Chemistry' With North Korean Dictator
North Korean dictator Kim Jong Un has quite the way with world leaders: first appearing to successfully woo President Donald Trump, and having a similar effect on Russia's Vladimir Putin.
The Russian president met with his North Korean counterpart for the first time in the port city of Vladivostok last week. Sharing several bottles of champagne, Putin and Kim spoke fondly of the encounter and their talks regarding denuclearization of the Korean Peninsula. On Monday, Alexander Matsegora, Russia's ambassador to North Korea, reported on the rapport between the two leaders.
"I highly appreciate the outcome of the summit; without any exaggeration this has been a historic summit," Matsegora told Russia's Tass news agency. "This was the first meeting between our leaders, and I felt that during this meeting they had personal chemistry."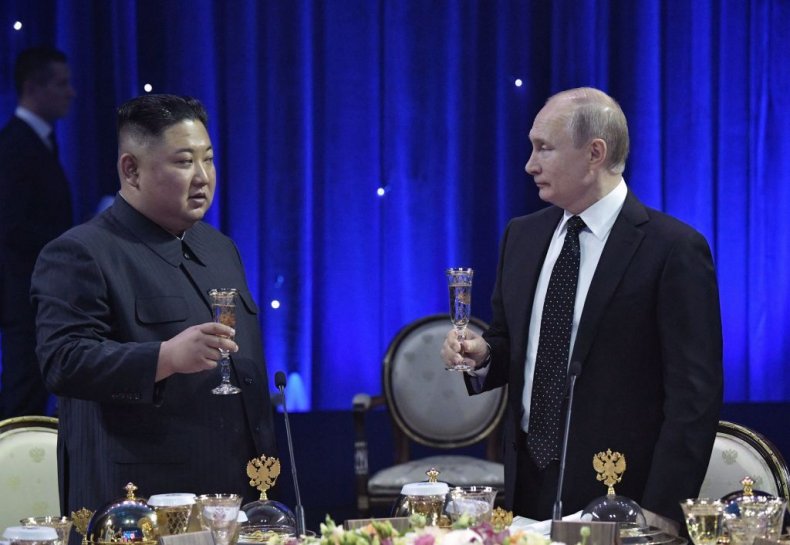 For his part, Kim described the meeting as a "very meaningful one-on-one exchange."
Kim has also developed an unusual relationship with his counterpart in Washington. Although President Trump and Kim exchanged fiery rhetoric back in 2017, the tone has since warmed into what the U.S. president suggested was a budding a romance.
"We fell in love," Trump said last September. "He wrote me beautiful letters, and they're great letters. And then we fell in love."
Trump and Kim have now met face-to-face on two occasions, their first summit taking place in Singapore last June, the second in Vietnam in February. Although the president insisted that Kim aims to denuclearize his country, the discussions and positive sentiments have led to little meaningful progress in disarming the Korean Peninsula. At the end of January, Director of National Intelligence Dan Coats explained that the intelligence community assessment suggested that Kim was "unlikely to completely give up [North Korea's] nuclear weapons and production capabilities."
Some analysts expressed concern about Kim's decision to meet with Putin, especially since little progress has been achieved between Washington and Pyongyang.
"I think this was showing that Kim was hurt by the last summit [with Trump in February], by not coming back with something in terms of sanctions relief with his own people," former U.S. ambassador to the United Nations Bill Richardson warned last week during an interview with Fox News' America's Newsroom. Putin and Kim have "got a strategy, and they're probably up to not very good," he said, adding that he was "worried" about Trump's next steps in managing the U.S.'s relationship with North Korea.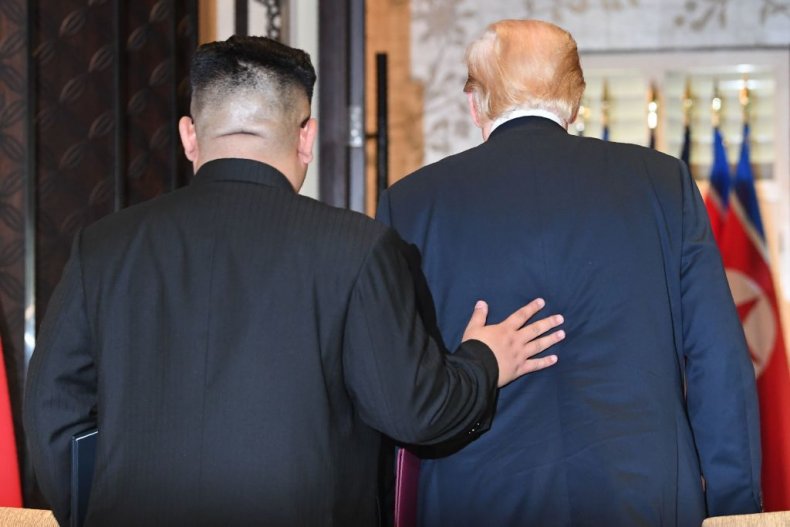 Republican Representative Lee Zeldin of New York said the love triangle only made sense considering the international implications of denuclearization. "This is something that is beyond a bilateral issue," the congressman told America's Newsroom. "Russia is also a permanent member of the United Nations Security Council."
Trump has routinely praised Putin in the past, pushing for closer cooperation between Moscow and Washington. However, with the shadow of special counsel Robert Mueller's investigation hanging over his administration, the president has faced significant criticism of his attempts to improve relations with Putin.
John Bolton, Trump's national security adviser, also suggested this past weekend on Fox News Sunday that the president preferred to keep his relationship with Kim exclusive, saying it wasn't the White House's "preference" to bring other nations into denuclearization discussions. The North Korean leader "has wanted the one-on-one contact with the United States, which is what he has gotten," Bolton said.