Kinzinger Stands Alone on 'Red Line' for U.S. Force Against Russia
Representative Adam Kinzinger's House resolution calling for a "red line" allowing U.S. military force to be used against Russia has thus far failed to gain any co-sponsors in Congress, while also drawing public criticism from at least one retired general.
The outgoing Republican Congressman, who represents Illinois, introduced the Authorization for Use of Military Force to Defend America's Allies Resolution of 2022 on Sunday. Kinzinger announced that he was putting forward the resolution during an interview with CBS News' Face the Nation, arguing that the U.S. should draw a "red line" against Moscow using weapons of mass destruction (WMDs)—such as chemical, biological, or even nuclear weapons—in its internationally condemned war against Ukraine.
"I'm introducing this AUMF as a clear red line so the Administration can take appropriate action should Russia use chemical, biological, and/or nuclear weapons. We must stand up for humanity and we must stand with our allies," the GOP congressman, who currently serves as a lieutenant colonel in the Air National Guard and also sits on the House Committee on Foreign Affairs, said in a statement posted to his House website shortly after the announcement.
"As the President of the United States has said, Putin must be stopped. Accordingly, the Commander in Chief to the world's greatest military should have the authority and means to take the necessary actions to do so," Kinzinger added.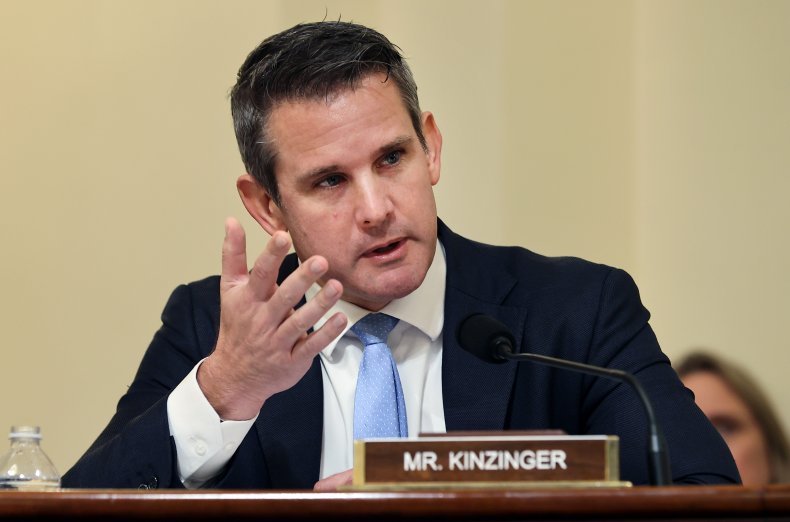 While congressional support for Ukraine amid Moscow's ongoing assault, which was launched by Russian President Vladimir Putin on February 24, has largely received substantial bipartisan backing, Kinzinger's resolution had not garnered any co-sponsors as of Thursday morning. Meanwhile, Ukraine's former President Petro Poroshenko urged the U.S. to draw a "red line" like the one Kinzinger proposed in an interview with Canada's CBC News on Thursday.
Poroshenko mentioned Kinzinger by name, urging Canadian lawmakers to adopt such a red line. "I definitely need support of this initiative of Adam [Kinzinger] from the Canadian parliamentarians and Canadian government," the former Ukrainian president told CBC News in Kyiv.
Newsweek reached out to Kinzinger's spokesperson, the White House, and press representatives for House Speaker Pelosi for comment.
Concerns have mounted from Ukrainian, American and Western European officials that Putin could deploy WMDs against Ukraine—or even potentially NATO countries—as his military continues to face major setbacks and losses. While no lawmakers have co-sponsored Kinzinger's resolution, some have publicly expressed sentiments that suggest agreement with what the Illinois Republican proposed.
"President [Joe] Biden should have been setting red lines from the beginning with the use of weapons of mass destruction. I believe that red line...that would be the line for NATO to become directly involved. We cannot allow chemical weapons, or God forbid, tactical nuclear weapons, to be the next rung in the escalation ladder that we allow Putin to go to," Representative Michael Waltz, a Florida Republican, told Fox News on April 12.
Senator Chris Coons, a Delaware Democrat, stopped short of calling for a red line but floated the possibility of sending troops to support Ukraine under certain circumstances.
"We are in a very dangerous moment where it is important that on a bipartisan and measured way we in Congress and the administration come to a common position about when we are willing to go the next step and to send not just arms but troops to the aid in defense of Ukraine," Coons, who sits on the Senate Foreign Relations Committee, said during an address to the University of Michigan in April. "If the answer is never, then we are inviting another level of escalation in brutality by Putin."
Several days later, the Democratic senator was asked about the remarks in an interview with CBS News. "Are you arguing that President Biden was wrong when he said he would not send troops to Ukraine? Are you asking him to set a red line?" Face the Nation host Margaret Brennan asked.
The senator responded by contending that if Putin "is allowed to just continue to massacre civilians, to commit war crimes throughout Ukraine without NATO, without the west coming more forcefully to his aid, I deeply worry that what's going to happen next is that we will see Ukraine turn into Syria."
"The American people cannot turn away from this tragedy in Ukraine. I think the history of the 21st century turns on how fiercely we defend freedom in Ukraine, and that Putin will only stop when we stop him," Coons asserted.
Retired General Mark Hertling, who previously served as Commanding General of U.S. Army Europe and the Seventh Army, criticized Kinzinger's resolution in a Monday tweet.
"Legislators need to legislate, and leave the foreign policy to the executive branch," Hertling contended. In a follow-up post, the retired general added: "I also think it's inappropriate for a congressman to attempt to limit the power of the executive in formulating strategies & foreign policies before they happen. And be careful thinking what is in the realm of expertise of any general officer."
Kinzinger pushed back in a Twitter thread on Wednesday.
"With respect General @MarkHertling I'd def read the AUMF and release before commenting. AUMF is within our jurisdiction, and this sends message that IF Putin uses wmd, he [President Joe Biden] has congress support. It also stresses this will not limit him from other decisions, or other lines [sic]," the GOP congressman wrote.
Russia has largely failed in its invasion of Ukraine. Putin reportedly believed that his forces would rapidly take control of much of the Eastern European nation and topple the government in Kyiv. But as the war trudges on in its third month, Moscow's troops have been unable to make significant advances. Ukrainians have reportedly killed about a dozen Russian generals and Kyiv's government remains firmly in place.
"In modern history, there is no situation comparable in terms of the deaths of generals," Retired Navy Admiral James Stavridis, the former NATO supreme allied commander for Europe, said Sunday during a radio interview on WABC 770 AM. "Just to make a point of comparison here, the United States in all of our wars in Afghanistan and Iraq...in all of those years and all of those battles, not a single general lost in actual combat."
Stavridis noted this demonstrated "amazing incompetence" by the Russian military.