Kremlin Dodges Questions on Putin's Future
President Vladimir Putin's top spokesperson has urged Russians to be "patient" on questions about the dictator's future, as the war in Ukraine wears on with no end in sight and presidential elections in both Russia and Ukraine looming in 2024.
Dmitry Peskov told the Russian Izvestia newspaper in an interview published on Tuesday that the elections scheduled for next year will be held, but Putin isn't yet ready to announce whether he will take part, as is widely expected.
"There will be elections," Peskov said, noting suggestions that the polls might be delayed by the ongoing invasion—which Moscow terms its "special military operation." Holding the elections, the spokesperson said, "is an integral part of the development process of our society and political system."
"Toward the end, [or] by the middle of the second half of this year, we will somehow enter the electoral season," Peskov added. Putin, he said, "has a lot to do" before he turns to questions about the coming election.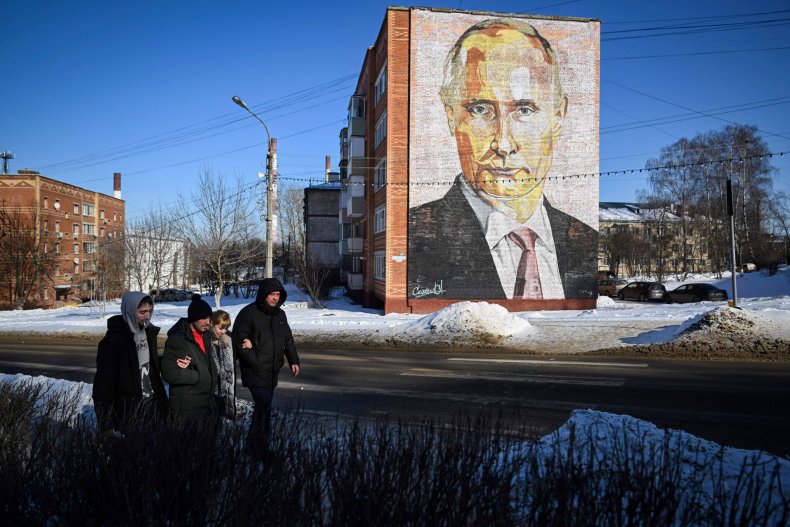 "We have not heard from him, so far, any statements where he would talk about the nomination or non-submission of his candidacy," Peskov said. Election talk is "a little bit premature," the spokesperson added. "You just need to be patient."
Putin is widely expected to run again and to win comfortably. Russia's 70-year-old dictator has no anointed successor. He went to great lengths to amend the Russian constitution to ensure he can stay in office until 2036, when he would be 83 years old.
Russia's election results are not an expression of popular will, given the institutionalized rigging that will ensure power for Putin and his United Russia party.
It's difficult to gauge public opinion in Russia given the repercussions for honest expression. Recent polls indicate stubborn support for its long-time leader, and opinions on the war ranging between in favor, apathetic, and unsettled.
Peskov claimed that the "vast majority of Russian society fully supports the president," and entirely backs the goals of Moscow's invasion of Ukraine. "The vast majority of our population supports the economic course of development based on their own strengths," he added. "And, probably, this is the key to the fact that we will maintain this delicate balance of trust."
Rather than undermine the president, Peskov claimed that the escalating confrontation with Ukraine and its Western partners would galvanize more support. "Society is truly consolidated in the face of a new aggressive confrontation with the collective West that we are facing," he said.
"Society is absolutely monolithic in its judgments, approaches and vision of what is happening," the spokesperson added.